Do you have plans for a cosy date with your beau this Puja? Or are you planning your first date with your crush? With the Puja-Puja bhaab taking over everyone's senses, it's time to feel the prem and get to planning. Take a look at these adorable spots in town to have the perfect date!
Miss Ginko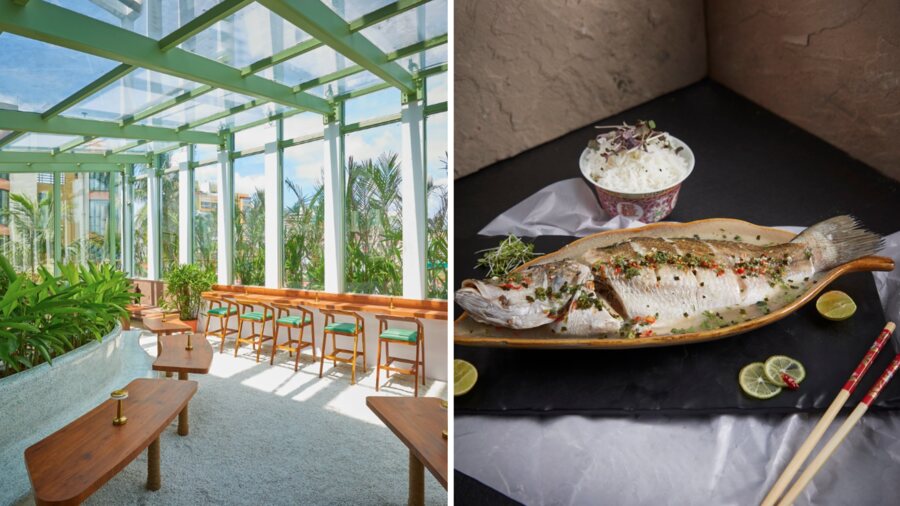 What makes the three-week-new Miss Ginko the perfect date destination any time of the day?  During the day, it is awash in natural light highlighting the floor pebbles, shades of green, and pastel wall murals featuring storks and ginkgo leaves. After dark, the sheer curtains, glowing walkway, and misty glass house make you all warm and fuzzy. The high-energy bar stirs up handcrafted cocktails and an array of Asian dishes like Ebi Prawns, Panko Fish and Cashew Chicken. The venue frequently hosts artistes so be rest assured your date night with beau will be musical and magical. "Love makes one a dreamer. Just like Miss Ginko, the crane, who with her long-spanning wings spreads happiness whenever she takes flight," says owner Johanne Mantosh. 
Location: 169 Rashbehari Avenue (atop Citi Mart near the Gariahat crossing)
Glenburn Cafe
The quiet and cosy interiors of Glenburn Cafe are a sharp contrast to the bustle of commercial Russel Street where it is located. From the house of Glenburn boutique resort in Takdah near Darjeeling, the four-month-old cafe is done up in shades of green and white, with checkerboard floors, wooden chairs and lots of old-world charm. Owned by the Prakash family, one of India's leading tea planters, guests can pick from a range of Assam and Darjeeling teas. There are all-day breakfast picks, 'Things on Toast' (chilli cheese to rare roast tenderloin), Mini Burgers with chunky fries and in-house flatbreads. Satisfy all your sweet cravings over eclairs and carrot cake as you exchange sweet nothings with boo. You can also check into The Glenburn Penthouse, seven floors above, for a staycation, or continue the culinary journey with a more elaborate meal curated by chef Shaun Kenworthy.
Location: Kanak Towers, ground floor, 7A Russell Street, Kolkata, 700071 (entrance from opposite Jeevan Deep Metro station)
Poach Kitchen
A flight of steps through the Poach bakery leads to delicately-done interiors of Poach Kitchen. The upstairs is divided into zones, each wearing soothing shades of pastel green with a rustic European decor. You'll spot the resemblance with sister brand Marbella's in Hindustan Park like the faux floral arch and the textured walls… yet Poach Kitchen holds its own. "We opened in September to tap into the festive crowd and the response has been great so far," says co-owner Nikhil Chawla, the man who brought Riyaaz Amlani's Mocha to Kolkata back in the day. From the main course, Nikhil recommends the Prawnstar, Fish Steak and Chicken Wings. The dim sums, Pesto Au Gratin and coolers are good, too. The best part? They're pet-friendly, so your furry friends can join you on a date.
Location: P562, Lake Road, Hemanta Mukherjee Sarani, Lake Terrace (same building as Oudh, opposite Kamala Girls' School)
Za Bistro
This new Italian Bistro is the place to be for a date. The interiors are cosy and aesthetic, perfect for conversations over cups of coffee and hand holding over hand-rolled gluten free pizza. Don't miss out on their burrata and definitely don't skip their decadent desserts — there's tiramisu and Biscoff cheesecake! They also make a mean bowl of pasta and a great fondue. The bistro also has vegan options so no one has to miss out.
Location: 10, Wood St, Mullick Bazar, Elgin
Pinkk Sugars
Do you want a Madam Puddifoot's like location for a date with your Potterhead beau? Well, we've got the perfect place in town for you. This pink-themed cafe and patisserie has strong cottagecore and vintage vibes, which will transport you to your happy place. They serve decadent desserts like Belgian Chocolate Cruffins (croissant meets muffin) and Rose and Pistachio Tres Leches to name a few. The cute eatery also has options for savouries like mezze platters and pizza.
Location: AD-37, AD Block, Sector I
Eddy's
If partying is your couple vibe, Eddy's is the perfect place for a date. Sip on cocktails and snack on dishes like Tandoori Pomfret or Mutton Seekh Kebab and dance your heart away. With cosy outdoor seating and modern interiors, this place is great to have a fun night out with your beau.
Location: GP Block, Sector V