There's a new food trend that has taken over the Internet — the 'butter board'. So far we have seen cheese to charcuterie boards, and even breakfast and desert boards. This is new. As early as 2020, people had moved beyond cheese and meat boards, and boards were being heaped with pancakes, salads, fries and anything else we could find. Anything to get that perfect Instagram shot, right? It's time to hail the butter board.
Making a butter board
To get into the groove, get a good looking communal wooden board and smear with softened butter and then top it with all manner of savory and sweet accoutrements. Here it's less about having a recipe; it's the technique that matters. The trend that's popular at the moment is drizzling honey, grating some lemon zest, scattering some edible flowers or some chili flakes and then adding maybe jalapeno or olives. Of course, if you are using unsalted butter, then sprinkle flaky salt. Serve it with bread. Remember, it's recommended that you use room temperature butter.
In case you are wondering if you can use plastic cutting boards, which are lighter and require almost no care… don't. Wood boards are more sanitary.
Let's go back a bit
The board was created as a simple and inexpensive alternative to cheese and charcuterie boards. At the same time, there can be limitless assortment of add-ins. In 2021, the attention was on feta cheese pasta (last year's most searched dish on Google) and it led to an increased global feta sales.
Having said that, butter boards are not inexpensive because cost of most food items has increased. Yet, that did not stop Justine Doiron from making this trend popular, first on TikTok and Instagram cottoned on. "This is essentially a glorified stick of butter. It's a more humble way of entertaining. Charcuterie boards have gotten so fussy and so done," Doiron has told The New York Times. Doiron, a recipe developer in New York, blogs under the name Justine Snacks. She credits the chef and cookbook author Joshua McFadden with the idea.
The butter board appeared in McFadden's James Beard Award-winning 2017 book, Six Seasons: A New Way With Vegetables, which he wrote with Martha Holmberg. He first served at a dinner on a farm for about 150 people.
Others soon followed Doiron's lead, posting images and videos of butter boards topped with figs, rosy radish slices and ripe strawberries. There are butter boards that go beyond the simple brief, like a board spread with whipped cream cheese and topped with berries and jam, with bagels for dipping.
But remember…
There are skeptics of the butter board on social media because the pandemic is not yet over. Many are worried about double-dippers and the idea of communal-style eating. Then there is the hassle of cleaning the board (usually a bread or cutting board). Some are even willing to throw away the board than wash it, even though a good scrub with soap and warm water would do it.
According to CNet, don't clean the board in the dishwasher or submerge it in the sink because water will deeply penetrate the wood, making it more difficult to dry. Scrape it as clean as possible with a plastic spatula and scrub it down gently with a sponge, warm water and a little soap. Dry the board immediately with a rag and wipe it down until no moisture is visible on the surface and it feels dry to the touch. Once you've washed and hand-dried your board, place it on its side with both sides of the board exposed so it can air-dry the rest of the way.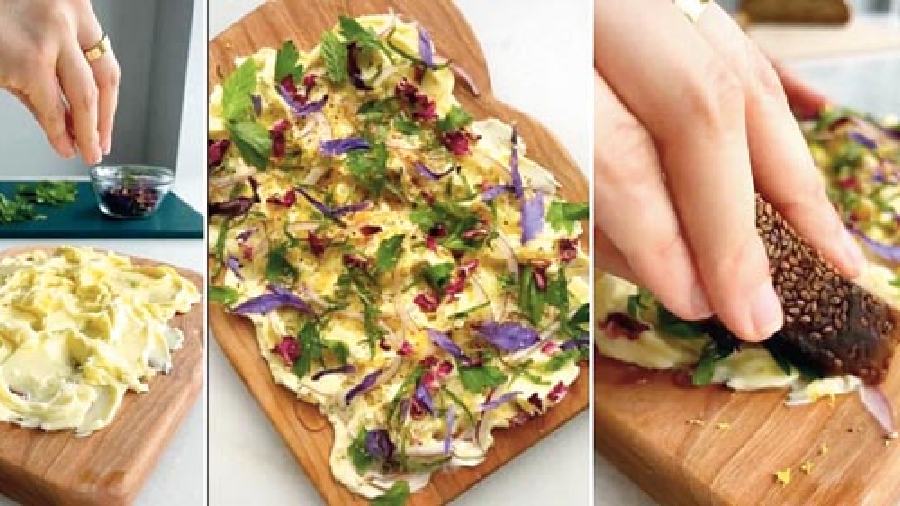 How to make the best butter board
Don't use butter that's too hard. Leave the butter out on the counter 15-30 minutes before you want to spread it. Use the back of a spoon or an offset spatula to swirl it the way you would frost a layer cake.
On the Internet we see butter being spread right onto the board. Use wax paper if you don't want your board to get messy.
Dipping bread into the butter seems to be the norm but you can serve it with a knife, requesting people to take some from the board with the knife and then spread it onto their bread.
Sprinkle over your choice of toppings. Aim for a balance of flavours, textures and colours but try not to overdo it. Things that work are grated lemon zest, edible flowers and herbs. Serve with bread or crackers.