Duare biryani! Few things are better than a plate of biryani delivered to your doorstep. And the residents of Howrah's Shyampur Thana area are enjoying this very benefit, thanks to one man's initiative.
While it has nothing to do with the eponymous West Bengal government project, Bidhan Chakraborty's enterprise has become the talk of the town. Even with food-delivery apps becoming an essential part of our daily lives and providing stiff competition, Chakraborty has managed to gain popularity in the neighbourhoods of Shyampur Thana.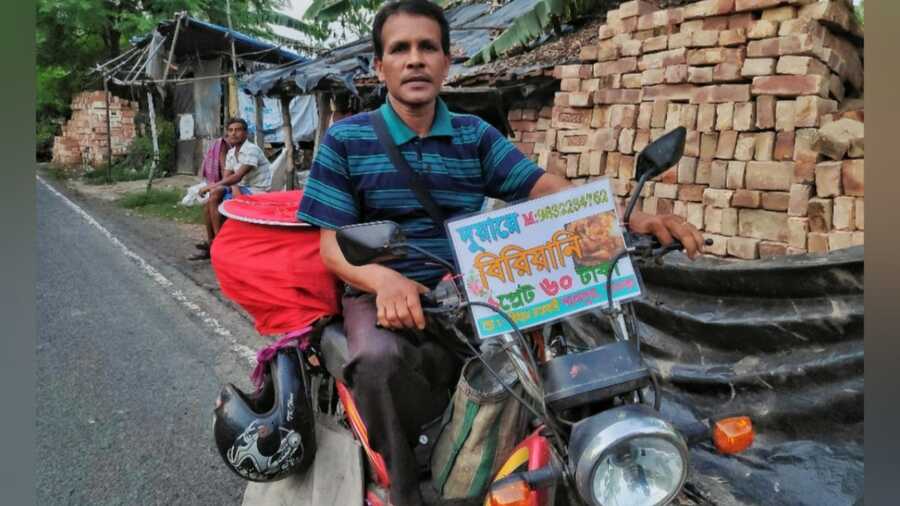 Being an ardent follower of Mamata Banerjee was part of the reason behind the name of his business
An innovative enterprise
The 45-year-old carries a huge haandi of biryani on his bike and sells it door to door. The front of his bike and the haandi have a small sign with the name of his business – Duare Biryani. Apart from his pocket-friendly prices — Rs 60 a plate for chicken biryani — the name itself has created a lot of buzz.
When asked how he came up with it, Chakraborty had a simple explanation, "I deliver door-to-door. Duar in Bengali means door, hence the name." Apart from being self-explanatory, the name also takes from the fact that he is an ardent follower of Chief Minister Mamata Banerjee), he explains, referring to the state government project Duare Sarkar.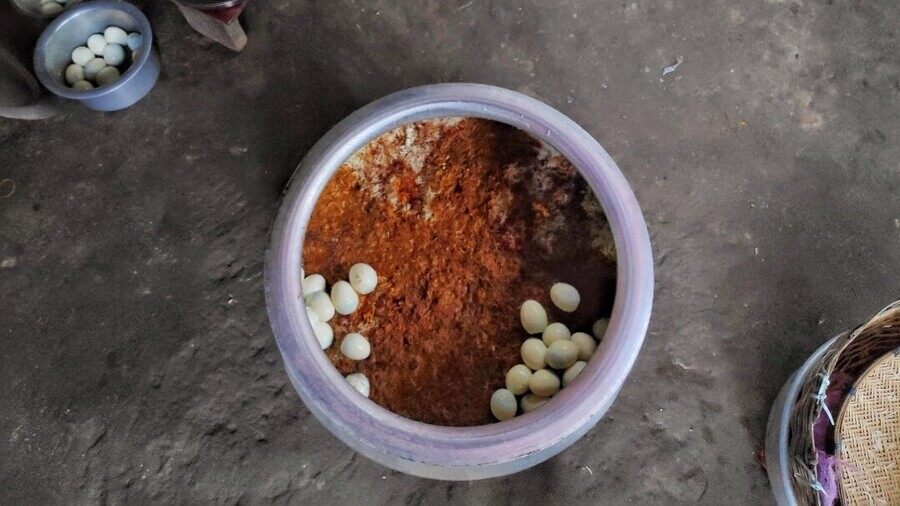 Chakraborty serves his briyani with a piece of chicken, one egg and aloo, along with the rice
His choice of dish is driven by popularity. Biryani is a crowd pleaser and ranks as many people's favourite, which is what made him choose the dish.
Patience pays off
Chakraborty used to be a priest by profession. Years earlier, he had travelled to Rajasthan to conduct pujas. When there, he used to eat inexpensive meals from street stalls. The experience stayed with him, and he wanted to serve pocket-friendly food to people. The idea was there, but limited resources meant he had to wait and save money before he could start off.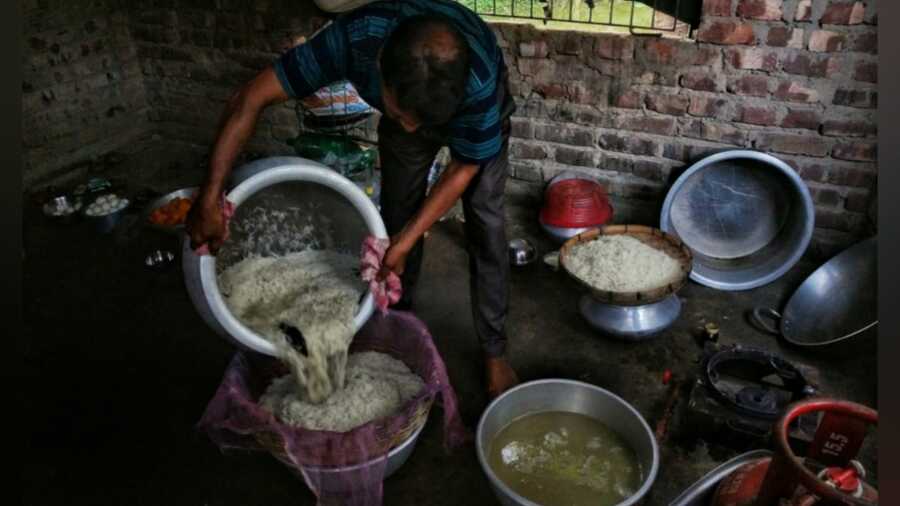 Chakraborty did a six-month stint at a catering service to understand more about cooking before starting his business
It was after many hurdles that in February, 2021, he started delivering biryani door-to-door. He bought a bike, learnt to make biryani from one of his relatives and did a six-month stint at a catering service to understand more about cooking before starting his business. While it's just been a year and half, his venture has already caught the attention of many, so much so that he is popularly known as biryani kaku. In his own words, "bumper sale hocche."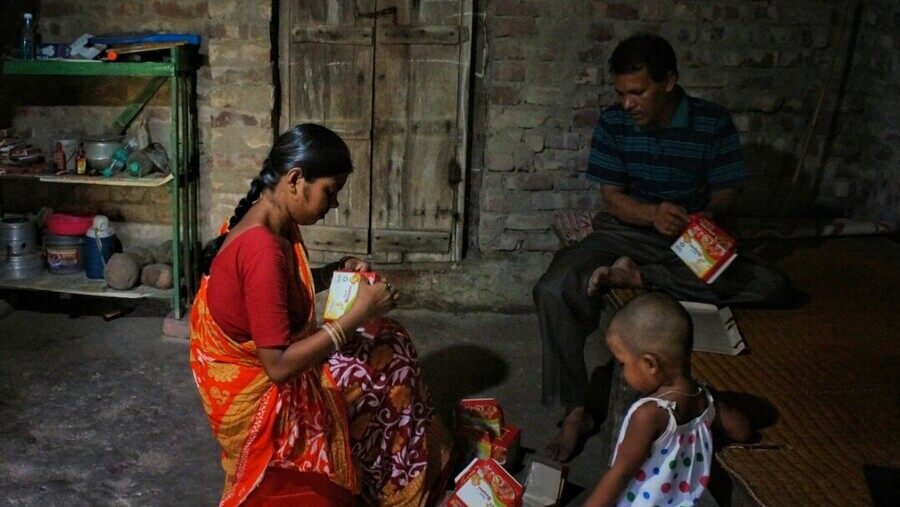 All the work from cooking to delivery is done by Chakraborty and his wife
A family initiative
Each packet of Duare Biryani's serving of chicken biryani comes with a piece of chicken, one egg and aloo along with the rice. Preparation starts in the early morning. From shopping for ingredients to cooking and delivery, everything is done by Chakraborty and his wife. He sets off with the food at around 5pm every day and by 9pm, not a grain of rice is left in his haandi.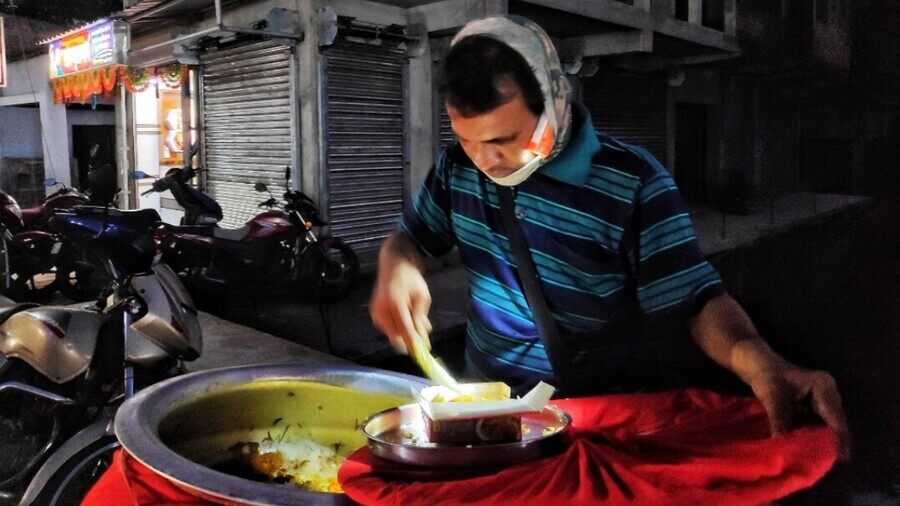 Chakraborty rides out on his Duare Biryani bike at 5pm and is usually sold out by 9pm
The service has become so popular that he is flooded with phone calls daily. In fact, he often has to ignore calls. "Jokhon ranna kori, phone bondho kortei hoye. Eto phone ashe je kuliye uthte parina (When I cook, I have to keep the phone switched off. There are so many calls that I can't manage)", he says.