On a Tuesday afternoon, My Kolkata caught up with Banalata Sen and her older brother, Abhimanyu. The Sen family manages and runs the cloud kitchen Breaking Basmati from their home in Pune. Their culinary design is simple – to keep the nostalgia around traditional Bengali food alive.
Like so many family-run ventures, the Sens too dipped their toes in the independent food business after the first lockdown. Abhimanyu has been a chef for the past decade and has enjoyed an illustrious career with noteworthy brands.
The chef tells us that their first order landed out of the blue when a casual acquaintance called him to order food even before the brand was up and running. The overwhelming feedback made the family realise that maybe it was time to take a leap of faith with a cloud kitchen.
"We had no startup money or investment. All we had was hope and luck," says Banalata, a lawyer by profession. As the creative voice of their brand, she is constantly looking to present the very best of Kolkata. "Our city (Kolkata) offers a diverse range of cuisines, be it Peter Cat and Mocambo's continental food or Anglo-Indian curries and the Chinese fare," she adds.
Breaking Basmati's pulao menu is no doubt the showstopper. "We have 22 variations of pulaos," says Abhimanyu. The Bagan Pulao (made with garden-fresh veggies) is one of the top-selling numbers, along with the Dekchi Dum Murgi (a signature slow-cooked marvel with a hint of coconut cream).
"People also never seem to get enough of our Akhni Pulao," smiles Banalata. The Mangsher Akhni Pulao is a one-pot recipe from East Bengal and features Basmati rice and mutton cooked in ghee and mutton stock.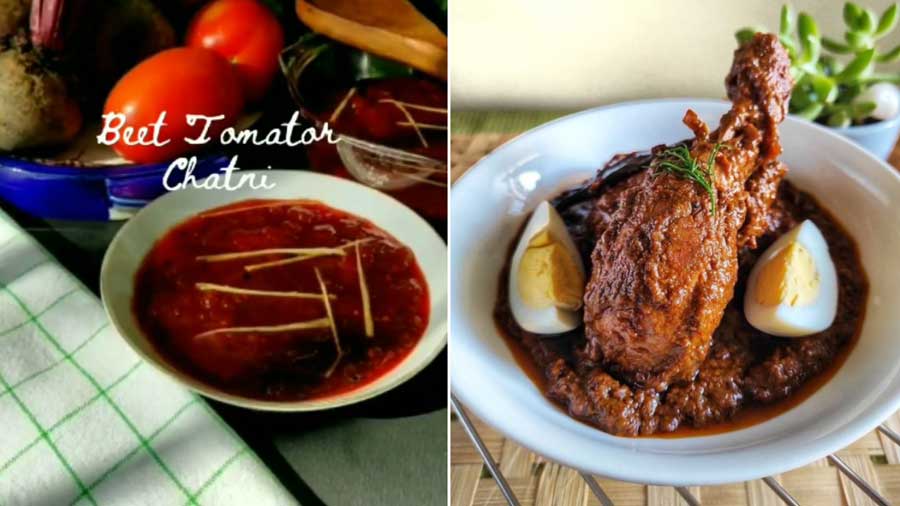 A Bengali-style beet and tomato chutney (left) and a Murgi Modira, which is a chicken curry made with dark rum and red onions
@breakingbasmati/Instagram
The name Breaking Basmati is, of course, an ingenious take on the phrase 'breaking bread,' which often alludes to the act of sharing a meal. It's fitting considering how the Sens share their food along with their WFH duties.
While Abhimanyu and his mom create magic in the kitchen, Banalata manages logistics and Sreemanta, their youngest brother, takes care of the accounts. Their mascot and biggest cheerleader, however, is Mishti Doi Sen, the rescue pet dog and constant giver of joy and hugs!
"Our mother is a repository of food history of Bengal — both east and west — so we were coming from a place of information and tradition, and we wanted to showcase it through our food," shares Banalata.
Some of the recipes are, in fact, a creative collaboration between Abhimanyu and his mother, Nandin Sen. Their Poush Parbon menu hit a home run as the Sens sold 125 Patishaptas and over 200 Gokul Pitheys, while the Shulo Mulo'r Kaliya was sold out even before the pictures could go up online.
The Pochishe Boishakh menu, on the other hand, featured lost recipes from the Thakurbari kitchen such as Kadambari Devi's Mishti Doi diye Alur Dom and Mangsher Rosholla.
Over the past year, the Sens realised that people respond well to rice, irrespective of geography. The Pune-based kitchen has a number of Marathi patrons who enjoy the Kolkata-style biryani and are also curious about dishes cooked with shorshe (mustard).
Since Maharashtra already considers fish a dietary staple, Breaking Basmati's sweet water fish preparations have found a lot of love, be it pabda or katla.
"You wouldn't expect non-Bengalis to enjoy fish cooked in mustard oil. But I feel that when food is presented well and tastes good, people do respond. If you give them the quality and quantity that makes them happy, they will come back for more," says Banalata.
Sourcing the right ingredients is, of course, quite a chore, especially when it comes to finding produce that's traditionally grown in and around Bengal.
"It is next to impossible to get our hands on gondhoraj lebu. We also don't get pui shaak, which is my favourite green veggie, and also kolmi shaak. Initially, it was also quite difficult to source the ingredients for biryani till I managed to source the classic horin chhap (Deer Brand) gulab jal among other things," smiles Chef Abhimanyu.
On January 26, Breaking Basmati recorded its highest sale in a day and had to extend the menu till the weekend. Nostalgia matters when it comes to food. It unlocks memories and breaks barriers. A taste or a hint of fragrance is all you need to be transported back in time. Breaking Basmati is all about bringing that nostalgia to the table because it is nearly impossible to take Bengal out of a Bengali.
"Everything that we make in our kitchen is created by my mother and brother. We have always been a family of food enthusiasts. My brother lives and breathes food. It fuels him," Banalata chimes towards the end of the call.