His love for Charminar ciggies and meetha paan is well known — but Feluda also had a taste for almost every kind of local delicacy, be it Lucknow's Sandila laddoos, Kathmandu's steamed momos or Nizam's mutton rolls. Unlike Hercule Poirot (who was an incredibly picky eater) and Sherlock Holmes (who barely ate), Feluda ate everything and he ate quite frequently. His keen tastebuds were a glimpse into his curious mind. Food has been a major story-telling device in Satyajit Ray's films and books — in Agantuk, for instance, the auteur uses the traditional shukto and bori to play up the globetrotting Manmohan's love for his roots. In the Goopy Bagha films, food is a powerful social motif.
In the Feluda stories, the sleuth's uninhibited love for food was meticulously planned — it highlighted both his cosmopolitanism and his Bangaliyana.
A true Bengali gourmand, his love for his post-meal paan is almost as consistent as his daily breakfast, comprising a hearty dim-ruti-cha (preferably the musky Makaibari tea from the Kurseong tea estate). Feluda often frequented New Market to buy his loose leaf tea and would make a pitstop at Sabitri Dalmoot at Hogg Market (Kalimuddir dokan). This 125-year-old shop was also preferred by Ray himself. In Joto Kando Kathmandute, Feluda, Topshe and Lalmohan babu visit New Market after a matinee show of Ape and Super-Ape, to get a fresh stock of dalmoot. 
"I loved watching the way he mixed all the masala, shaking the packet gently. Its contents, I knew, would taste heavenly," Topshe is quoted as saying.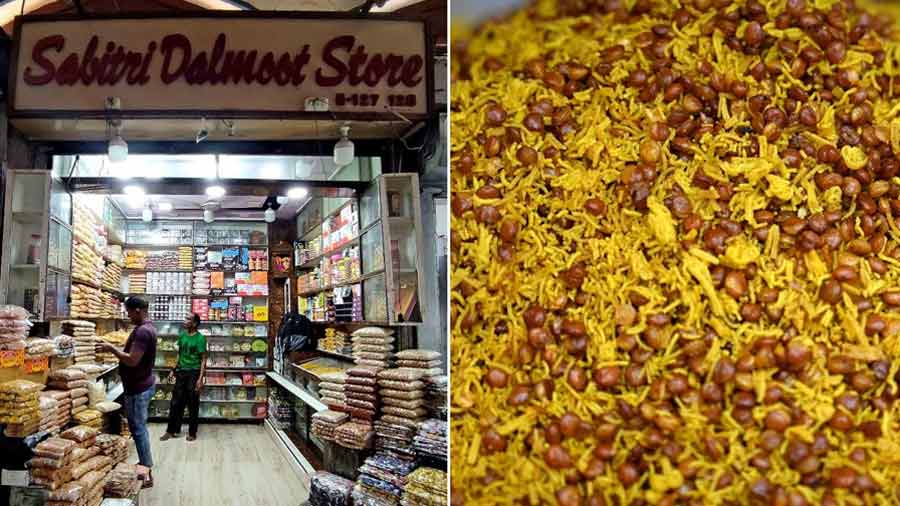 Sabitri Dalmoot at New Market
Amit Datta
References to dalmoot are also found in Ebar Kando Kedarnathe, Darjeeling Jomjomat and Bhusorgo Bhoyonkor. In the 1986 Hindi mini-series Kissa Kathmandu Mein (directed by Sandip Ray), Shashi Kapoor and Mohan Agashe, who play Feluda and Maganlal Meghraj, respectively, are seen munching on dalmoot from this store.
The sleuth who sips
Despite his loyalty to tea, Feluda wasn't averse to coffee. He loved a hot cuppa, especially if he could score a rooftop seat at Darjeeling's Keventer's. The heritage coffee shop features more than once in Feluda's stories. In fact, in Feludar Goendagiri, Feluda and Topshe are treated to some Keventer's hot chocolate by Tinkori Mukhopadhyay — Feluda's favourite Bengali crime writer, who later turns out to be the perpetrator in the story.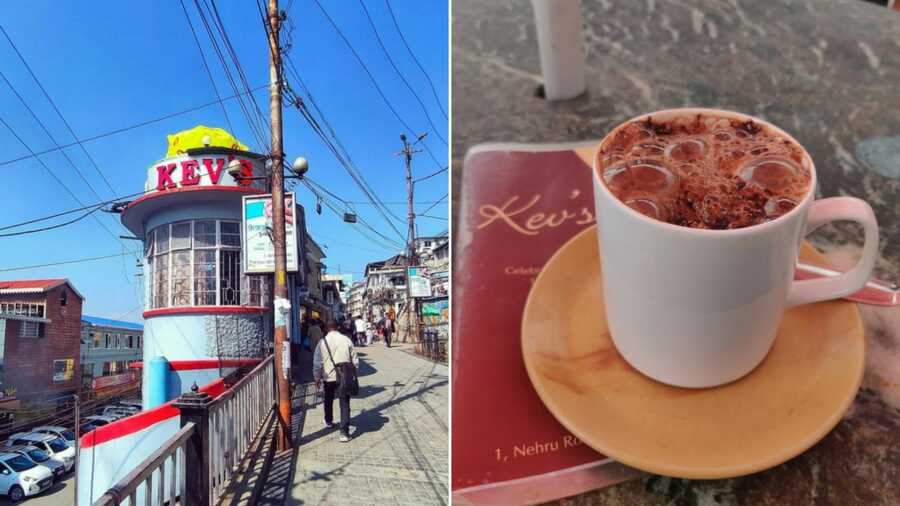 Keventer's (now Kev's) at Darjeeling and the hot chocolate they serve
adhiraj.biswas/Instagram, Rumela Basu
When it comes to pick-me-ups, Feluda is all for a cool swig of sharbat, be it lemonade (in Gosaipur Sargaram) or a Sikkim Orange (in Gangtokey Gondogol). Titles like Kailashey Kelenkari and Sammaddar-er Chabi also make a note of his love for sharbat. And who can forget the tense scene where the sleuth calmly sips on some sharbat at the Banaras lair of the infamous smuggler, Maganlal Meghraj, in the film Joy Baba Felunath? However, when he can't find a fruity sharbat, Feluda has been known to make do with a lassi.
Feluda, the foodie
Be it Gangtok or Lucknow — Feluda would often set off on foot after his meals to spot a paanwala. Of course, this exercise also allowed Feluda to get to know a place better. In Badshahi Angti, it was a trip to a paan store that helped him locate a sadhubaba, who was a potential suspect. In Kolkata, the paan shop next to New Empire has always been his go-to place for his khair-chhada (catechu-free) meetha paan, as referenced in Baksho Rahasya.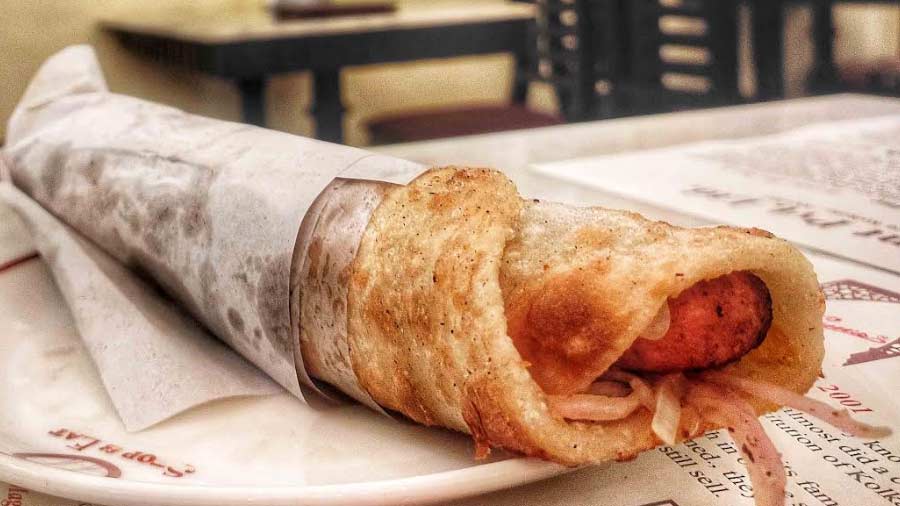 Nizam's roll was a steady favourite with Feluda and Co
Amit Datta
Some Feluda stories are more city-centric than others. Gorosthane Sabdhan is one such title. The story unravels around the Park Street cemetery and also mentions some other hotspots like Nizam's, Trincas and the now-defunct Blue Fox, which was famed for its sandwiches. It was a trip to Park Street's Blue Fox that changed the course of Feluda's investigation as he found Thomas Godwin's descendant playing live music at the restaurant.
In Doctor Munshir Diary, Lalmohan babu drops in at Rajani Sen Road with some piping hot singara from a neighbourhood shop called Khai Khai in Garpar (Maniktala area). In fact, Jatayu would drop in at Feluda's residence every weekend and would often bring along some savouries. In Napoleon-er Chithi he brings his friends some crispy kochuris from Mohan's sweetshop at Bagbazar. Funnily enough, Lalmohan babu would often quip that his novels are selling like hot kochuris, which was a fun spin on the idiom 'selling like hot cakes'.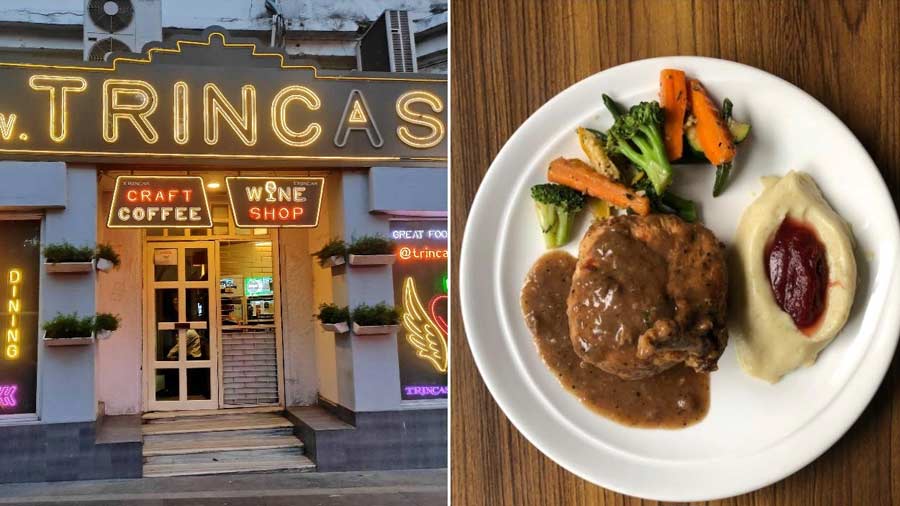 There are several references to Park Street hotspot Trincas
Amit Datta
Eye spy a sweet tooth
It's no surprise that Feluda also had a sweet tooth. In Bombaiyer Bombete, Lalmohan babu fetches some sweets from Kallol Mistanna Bhandar, located on Mirzapur Street. Jatayu opted for Kallol's five-mix sweetmeats, which is a mixed assortment of treats, priced at Rs 25. Feluda's favourite is revealed to be the 'Diamonda', which was a diamond-shaped sandesh filled with syrup. In Joy Baba Felunath, Feluda and Co are spotted devouring rabri from Hanuman Haluikar-er Rabri, located in the famous Kachori Lane in Banaras. Feluda would never drop an opportunity to savour some jalebi and tea from this lane (in fact, Maganlal was also a fan of this shop).
Ray sprinkled Feluda's love for sweets throughout his stories. In Gosaipur Sargaram, he is seen indulging in Rajbhog after tea and chicken cutlet. In Ghurghutiar Gondogol, he is seen having mishti and tea on reaching Ranaghat Station.
Feluda's love for street food and station food, especially, is what made him such a relatable foodie. He loved the humble lunches served at the railway canteens. In Hatyapuri, he is seen praising the railway canteen with a funny quip. "Railway-er onanyo service jemon kharap, hotel service temon bhalo (the railways' other services are just as bad as the canteen is excellent," the super sleuth had remarked.