A gloomy sky, and a threat of rain, is all Bengalis need to turn their thoughts towards the sumptuous and simple meal of khichuri. Simmering on the stove, filling the air with aroma — khichuri day at home is forever awaited. Khichuri is a symphony of simple flavours and spices that warms you from within, and hence its popularity on cold, wet days.
Kewpie's, the iconic Bengali restaurant, serving authentic Bengali cuisine in a 100-year-old house, has curated a special 'Khichurir Utshob' to celebrate Bengalis' monsoon romance — from August 14 to 16.
Kewpie's owner Rakhi Purnima Dasgupta has compiled her own and her mother Minakshi Dasgupta's recipes for this special menu. "Bengali's love for khichuri and rains is eternal. And while there's an Ilish festival everywhere, we decided to do something different. Whenever it rains, if you ask a Bangali what's for lunch? The answer is usually khichuri. We have curated our platters to give you the feel of home-cooked food. We will have some little surprises like goyna bori and 'plastic' or pineapple chutney during the festival."
The 'thalas'
Kewpie's 'Khichurir Utshob' brings four different khichuri thalas (platters) with options in both vegetarian and non-vegetarian.
The vegetarian thala is essentially a classic khichuri platter that has been a go-to meal of every Bengali household on rainy days. It comes with a serving of veg khichuri, topped with a dollop of ghee, which elevates the aroma and taste of this comfort food.
It is accompanied by pumpkin and brinjal fritters, labra (a Bengali-style mixed vegetable), chutney and papad. To conclude the hearty meal, there is sandesh. The price of this thala is Rs 550.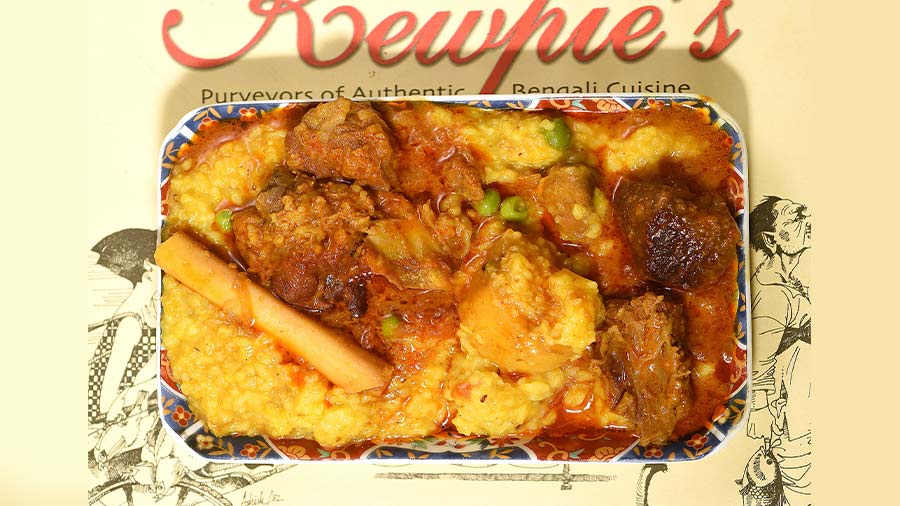 Mangshor Khichuri
The Mangshor Khichuri thala is for the meat-lovers. When perfectly cooked mutton pieces meet the simple khichuri, it is an exquisite affair. This too will be served with a modest pour of ghee and all other accompaniments of the veg thala. The pocket pinch for this sumptuous platter will be Rs 760.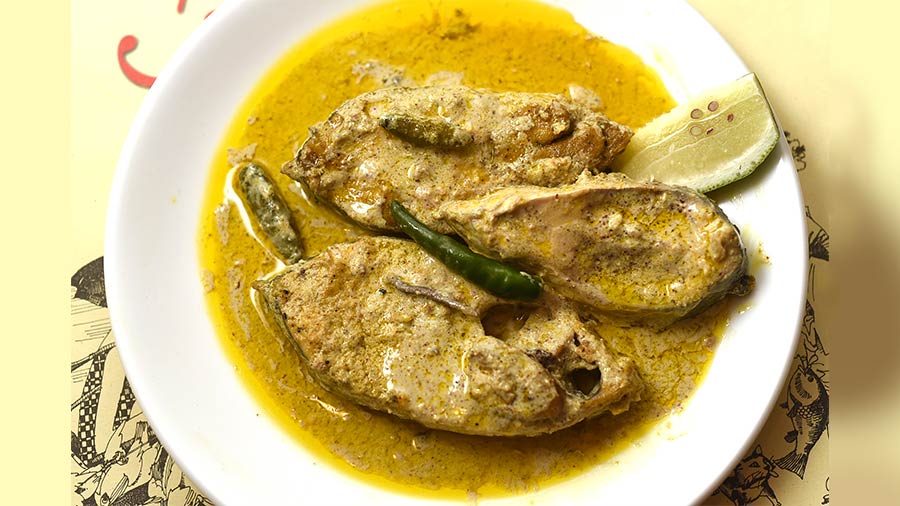 Shorshe Ilish
The Ilish Khichuri thala is the ultimate monsoon love affair. When two monsoon wonders come together, can any Bengali resist it? It comprises a vegetarian khichuri thala, with three options of ilish preparations — Ilish Bhapa, Ilish Bhaja or Shorshe Ilish. Pick your combo for Rs 800.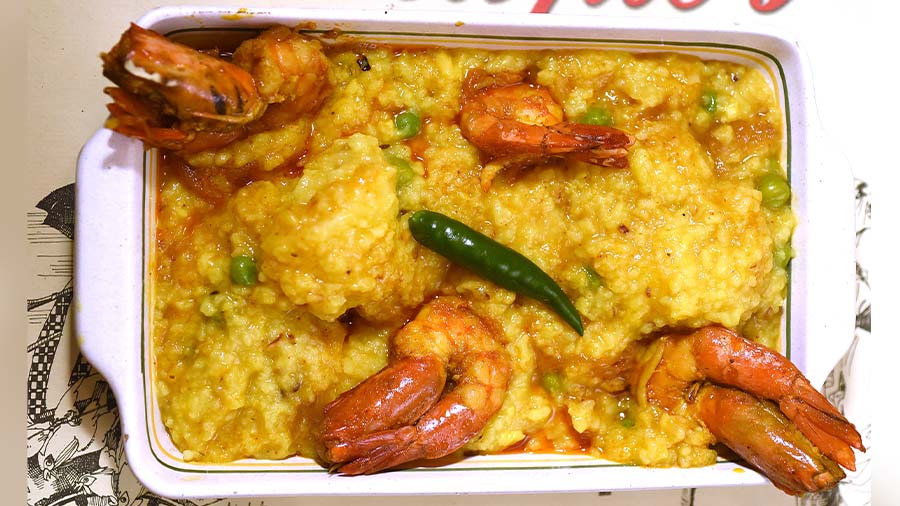 Chingri Machher Khichuri
Prawn lovers can rejoice too, as there is also a Chingri Machher Khichuri thala. Rice, lentils cooked with prawns in spices are sure to entice your taste buds. While you get a generous amount of prawns in your khichuri, all veg accompaniments are also included, for just Rs 725.
'Khichurir Utshob' is taking place at Kewpie's (2, Elgin Lane, behind Netaji Bhavan; contact: 03324861600, 9831677610) and at a pop-up at The Food Storey (P-241, Lake Road (Mezzanine Floor), diagonally opposite Lake Road CCD; contact: 9830640404)