The first of the season's festivities have begun and Ganpati Bappa has arrived! Ganesh Chaturthi, like every other auspicious day, is incomplete without something sweet. Traditional or unconventional, these truly promise a happy ending to the day.
From the celebration-apt modak (with a twist) to basundi, halwa and more — check out five sweet dish recipes that are simple to make and are synonymous to the day.
Chocolate modak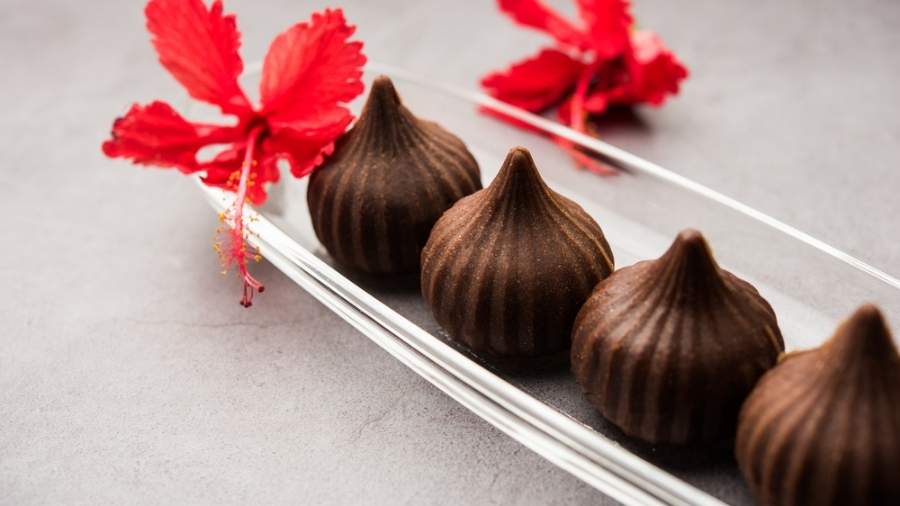 Shutterstock
There's no Ganesh Chaturthi without modak. While the steamed ukdechi modak is the traditional go-to for the day, there are many other versions you can try. Less than 30 minutes, and with a dash of chocolate — this modak recipe is one you can batch cook and gorge on through the week.
Ingredients:
For modak-
Grated mawa: 1 large cup
Grated milk chocolate: 1 small cup
Grated white chocolate: 3-4 tablespoons
Sugar: 2 tablespoons
Cardamom powder: ½ teaspoon
Ghee: 2 tablespoons
Modak moulds
For garnishing-
Finely chopped almonds: 2-3
Finely chopped pistachios: 3-4
Saffron strands: 1 teaspoon
Recipe:
Grease the modak moulds and keep aside. If you don't have modak moulds, shaping the modaks by hand works just as well
In a non-stick pan, add the grated mawa and start cooking it on low flame. Keep stirring to avoid burning
In about 2-3 minutes, you'll notice the mawa beginning to melt. Stir lightly and add sugar. Mix well and cook for another 1-2 minutes
Now, add the grated milk and white chocolate and give all the ingredients a good mix
Keep stirring until the mixture is thick
Add cardamom powder and cook until mixture has turned into a soft dough and does not stick to the sides of the pan
Switch off the flame and transfer the mix to a large plate
Let it cool before you start shaping the modaks
Place them on a plate and garnish them
Basundi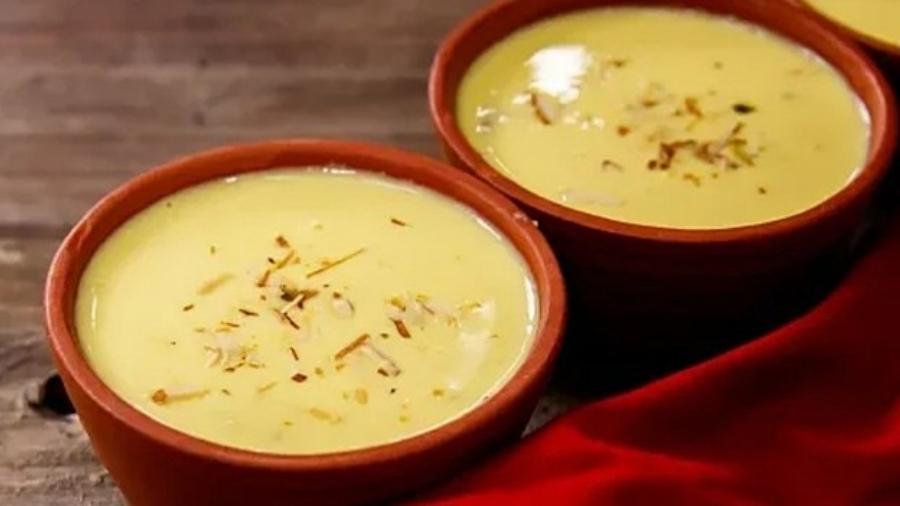 Wiki Commons
Lighter than kheer, but more than flavoured milk, basundi fits in perfectly in the light desserts category. Sweet, flavourful and very festive, This quick and easy drink and dessert is best served chilled during late-night addas.
Ingredients:
Condensed milk: 200 gm
Full fat milk: 1 litre
Cardamom powder: 1 teaspoon
Nutmeg powder: ½ teaspoon
Cashew: 8-10
Raisin- 8-10
Pistachio: 8-10
Almonds: 8-10
Saffron strands: ½ teaspoon
Recipe:
In a deep-bottom pan, add milk and the condensed milk and mix well
Place the pan on the oven and keep the flame low to medium. Keep stirring at regular intervals and cook for 25-30 minutes till the milk begins to thicken
Add nutmeg, cardamom powder and saffron strands
Add cashew, raisin, pistachio and almonds once the milk is of the desired consistency
Cook for another 2 minutes and turn off the oven
Serve luke warm or chilled
Shrikhand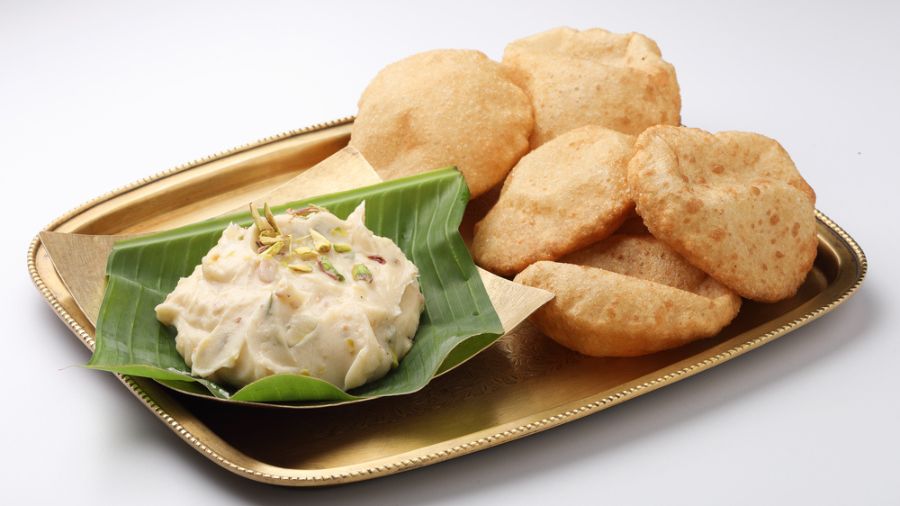 Shutterstock
The creamy yoghurt-based dessert is an indulgence, and really easy to make. Savour bowlfuls of the treat or fry up hot puris and have a festive meal of shrikhand-puri. Either way, this one should be featuring on the dessert menu for sure.
Ingredients:
Hung curd, fresh: 1 kg
Powdered sugar: 9-10 tablespoons
Cardamom powder: ½ teaspoon
Saffron strands: 1 tablespoon
Finely chopped pistachios: 8-10
Finely chopped almonds: 8-10
Finely chopped cashews: 8-10
Warm milk: 2-3 tablespoons
Recipe:
Mix half of the kesar strands with some milk in a bowl, stir well and set aside
Add hung curd in a bowl and add the powdered sugar. Gently fold and mix the two ingredients together
Add the saffron milk and the cardamom powder
Beat until smooth and light using an electric beater or using your hands
Add the nuts and refrigerate. Serve cold
Shakkarpara or shankarpali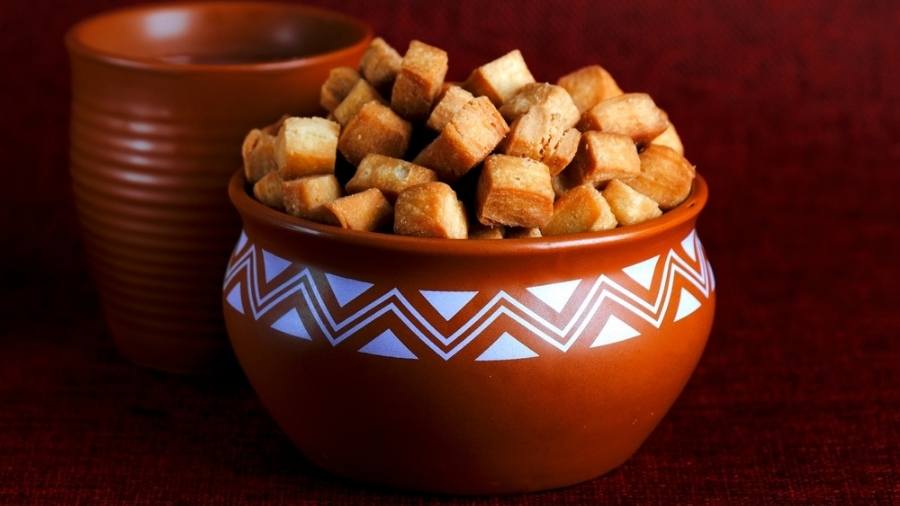 Shutterstock
Shakkarpara, more commonly called shankarpali, are crispy sweet nuggets ideal for the munchies, and for quickly-made sides on your plate of prasad
Ingredients:
For the dough-
Maida or all purpose flour: 1 cup
Semolina (suji): 1 tablespoon
Ghee: 2-3 tablespoons
Powdered sugar: ½ cup
Full fat milk: ½ cup
Salt: A small pinch
Vegetable oil
For sugar syrup-
Sugar: 1 cup
Water: ½ cup
Whole cardamom: 2
Saffron strands: 1 teaspoon
Recipe:
Add maida and ghee in a bowl and mix well. The maida should hold shape when clumped together and break easily as well
Add milk and knead into a tight, but slightly soft dough
Roll out the dough to about the thickness of a paratha
Cut into diamond shapes and deep fry till golden brown
Make the sugar syrup when you are almost done frying all the shakkarparas
The sugar syrup has to be sticky and have a thread-like in consistency
Add all the fried shakkarparas to the syrup
Place the sugar-dipped shakkarparas in a plate and let it cool so the sugar forms crystals on them
Store them in an airtight container and munch away
Tip:
Add the shakkarparas to the sugar syrup once they have come to room temperature
Moong dal halwa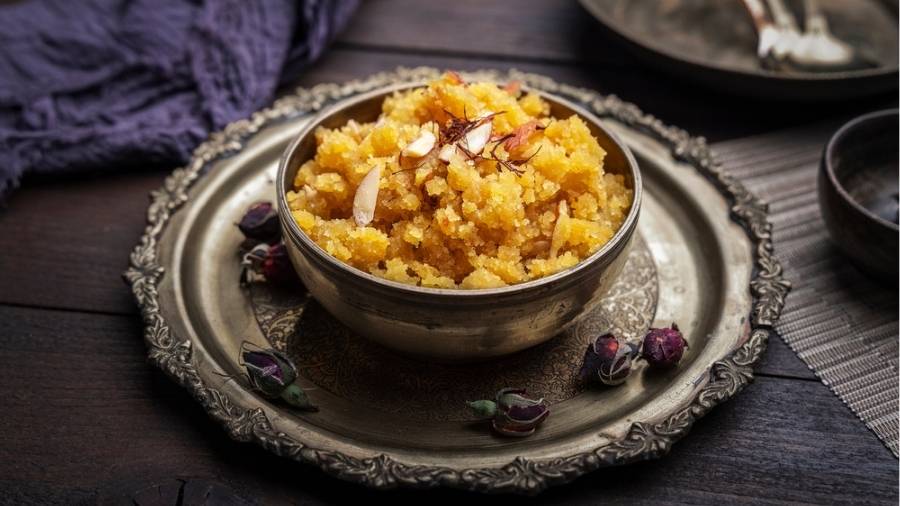 Shutterstock
If there's a dessert that's #SoulFood, it is perhaps halwa in any shape or form.
P.S. If you want to add a twist to the halwa and have readymade tart shells at home, then add dollops into the shells, garnish with slivers of nuts and dig in.
Ingredients:
Moong dal: 1 cup
Ghee: ½ cup
Whole cardamom: 2
Cardamom powder: ½ teaspoon
Full fat milk: 1 cup
Condensed milk: ½ cup
Salt: Small pinch
Broken or chopped cashews: 10-15
Milk soaked raisins: 10
Chopped pistachios: 8
Chopped almonds: 8-10
Water: ⅓ cup
Saffron strands: 1 teaspoon
Powdered sugar: 4-5 tablespoons
Recipe:
Soak the moong dal overnight. Drain water and make a smooth paste, using ⅓ cup water. Remember, the batter cannot be too runny
Take a deep pan and add ghee. Melt ghee and add the cardamom pods and the lentil paste
Start cooking in low flame, stirring frequently
Cook the moong dal until the raw smell is gone, there are no lumps, and the colour is golden
Meanwhile, in another pan, add milk, condensed milk, cardamom powder, saffron strands, powdered sugar and cook on low heat. Bring to a full boil and turn off the heat
Add the milk to the moong dal and give one good mix
Cook in low flame till the dal has absorbed the milk and the mix is not sticking to the side of the pan. The halwa should be soft in texture
Add the nuts and salt. Mix well
Check seasonings and texture and turn off the heat
Serve hot with toppings of your choice