Festivals in Bengal, or for that matter most of India, are intrinsically linked with food. So Kerala has its Onam sadya, Maharashtra has its modak for Ganesh Chaturthi, Punjab has makke di roti and sarson da saag for Lohri and Bengal has a wide variety of sweets for its baro maashe tero parbon (13 festivals in 12 months).
If it's Poush Sankranti, there will be pithe puli, for Janmashtami there is taaler bora and taal kheer, and for most pujas (Lakshmi Puja, Saraswati Puja, Durga Puja) there are naru and moa among other sweet delicacies.
Bijoya Dashami is, of course, incomplete without mishtimukh.
My Kolkata brings you the recipes of some sweets specially made at home during Durga Puja. 
Narkel Naru (coconut ladoos)
There are two main varieties of narkel naru — one made with sugar and whitish in colour, and the other made with gur or jaggery, which is a rich brown in colour. Making of narus used to be a collective effort by the women of the household and jars full of narus would be stored in the house, leaving everyone, especially children, wanting to reach out and grab a few. No, you can never be satisfied with just one naru and there can never truly be a limit to how many one can have if left to oneself. Now, of course, every dashakarma bhandar in the city's markets and even some well-known sweet shops stock up on narus but they can never match the taste of the homemade ones.
Gurer Naru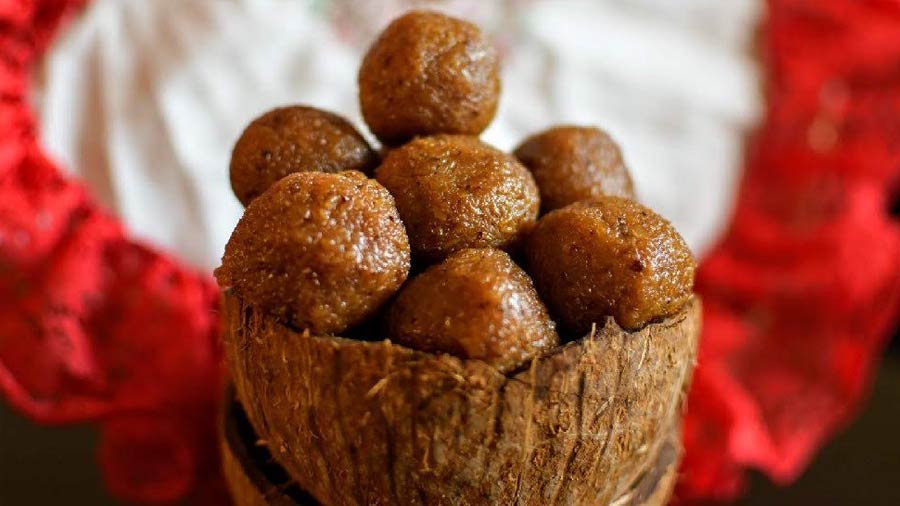 ABP Archives
Ingredients
Coconut: 1 (grated)
Aankher gur (sugarcane jaggery): 250gm
Ghee: 2 tablespoons
Method
Dry roast the grated coconut.
Add the jaggery and stir constantly until it reaches the required sticky consistency.
Take it off the fire when still a bit soft. Don't keep on fire too long or it may become hard.
To understand the required consistency take a little portion and make a small ball. If it doesn't break, the mixture is perfect.
Let the mixture cool down a bit in the wok. Grease your palms with ghee and make medium-sized balls with the mixture while it's still a little hot to touch. If the mixture is cold, the narus will break while shaping.
NOTE: For chinir naru, just replace the jaggery with sugar
Narkeler Tokti (coconut barfi)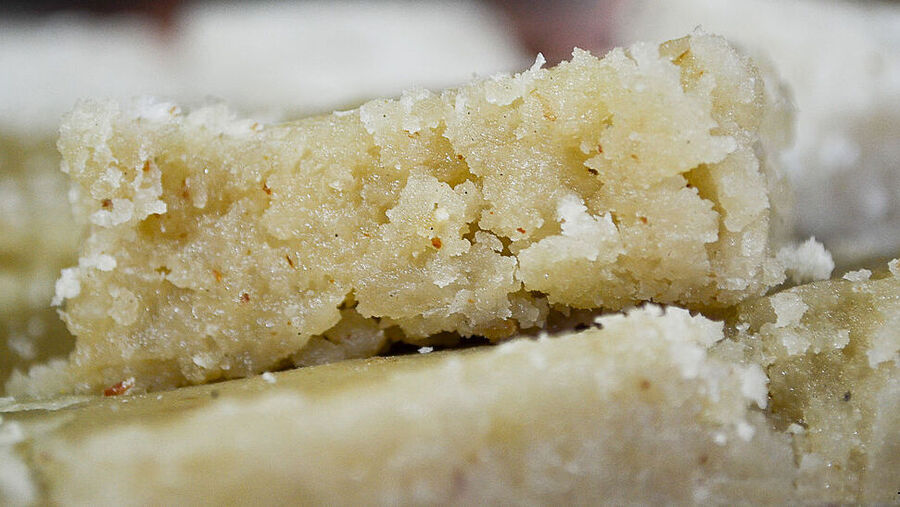 Wikimedia Commons
A kind of coconut fudge, tokti is usually served on Bijoya Dashami. Cut into diamond shapes or squares, tokti is also made with grated coconut, sugar, khoya and a pinch of edible camphor. Tokti is a quintessentially Bengali homemade mishti for the festive season. Unlike narus, tokti is yet to make its way to shops.
Ingredients
Coconut: 1 medium-size (grated)
Khoya kheer: 250gm (unsweetened)
Milk: 4 tablespoons
Sugar: 100gm
Cardamom powder: 1 teaspoon
Camphor (edible): 1 pinch (optional)
Method
In a wok or pan, take the khoya kheer and add milk. Stir constantly till it melts.
Add grated coconut, sugar and cardamom powder. Stir constantly on low flame until you get a dough-like mixture.
Turn off the gas and mix in the camphor.
Grease a plate with ghee. Spread the mixture evenly on the plate. Cut into diamond shapes and let it cool.
After it cools down, take out the tokti and store in an airtight container.
Narkel Chhap Sandesh (Moulded coconut sweets)
Chhap Sandesh is a traditional homemade sweet that can be made both with chhana and coconut. During festivals, chhap sandesh is usually made with coconut. There are two variations — one made with jaggery and the other with sugar. Families would have beautiful moulds with floral designs to make chhap sandesh.
Ingredients:
Coconut: 1 small (grated)
Milk: 100ml
Condensed milk: 2 tablespoons
Sugar: 2 small cups
Cardamom powder: 1 tablespoon
Ghee: 1 teaspoon for the mixture, 1/4 teaspoon to grease the mould
Method
Mix all the ingredients except cardamom powder and ghee in a wok.
Stir continuously. After some time, add cardamom powder.
When the mixture gets to a dough-like consistency, turn off the gas.
Add 1 tablespoon of ghee and mix well.
Let it cool down a little.
Grease the moulds. Put a little dough in the mould and press it in with your hand. Take the moulded sweet out and allow it to cool down.
Tiler naru (sesame/ til laddoos)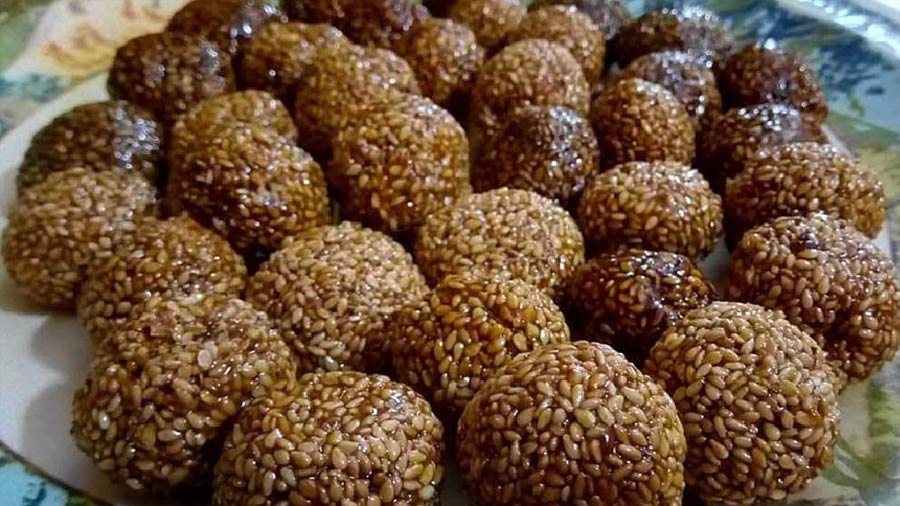 ABP Archives
Tiler naru is another traditional naru that is made specially during pujas. Made with til (sesame seeds) and jaggery, tiler naru are loved for their crunch. The harder the better! A similar sweet made with the same mixture but broken into pieces is tilkoot.
Ingredients
Til (sesame seeds): 250gm
Liquid jaggery (jhola gur): 350gm
Mustard oil: for greasing hands
Method
Clean sesame seeds (without water) and dry roast them until golden brown. Keep aside and let it cool.
In a pan, take a quarter cup of water and add jaggery to it. Let it boil, stirring continuously until it turns sticky.
In a small bowl of water, put a drop of this jaggery. If it drops down to the bottom of the bowl, then the gur is perfectly done.
Add this jaggery to the til and mix well in a separate big bowl (without heat).
Grease your hands and make small balls or naru. Alternatively, pour the mixture on a plate greased with mustard oil and cut immediately into squares.
Tiler naru needs to be shaped when hot, otherwise it becomes dry. If you use mustard oil on your palms, chances of burning your hands is minimal.