Cafes
Crispy Treat serves European and Middle-eastern bites at Kalikapur
The Telegraph gets you the first look
By
Farah Khatoon
| Published 13.10.22, 01:01 AM
"I have been cooking since the age of 13. Burnt my first batch of cookies and the vessel so bad that mum had to throw away the dish! My mom is an excellent cook and my grandfather owned a restaurant. So, cooking runs in my genes. Also, I am a big foodie and have always dreamt of starting my own café. Thankfully I got investor Pradip Sen as my partner and I could realise my dream with the blessing of my family," said Ayesha Sultana Mohiuddin Gopalan, co-partner Crispy Treat.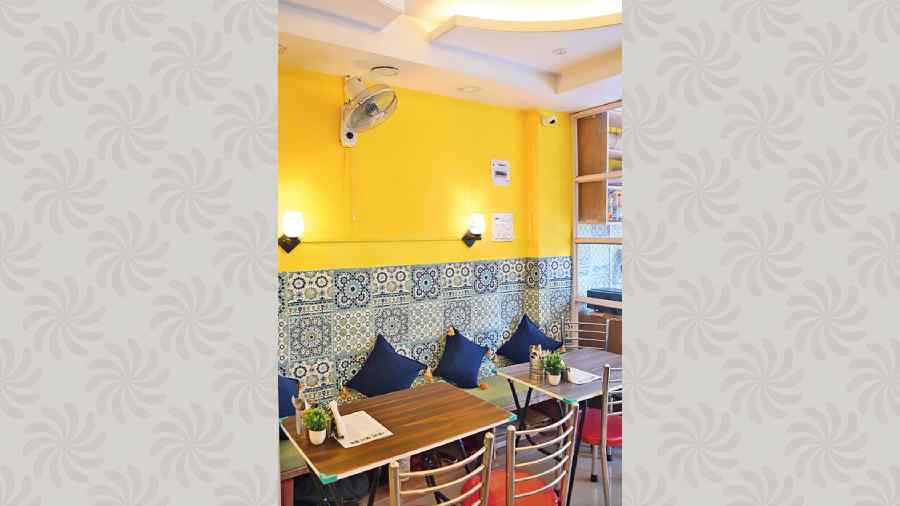 Journalist turned foodpreneur Ayesha Sultana Mohiuddin Gopalan, who started off her culinary journey with a cloud kitchen after coming back from Mumbai, opened a cafe, Crispy Treat, on October 3. Located at Kalikapur, the cosy 20-seater cafe specialises in European and Middle-Eastern fare and wants to stand out from the melee of cafes in the city with its fresh produce and homestyle recipes. When we dropped by to check out the cafe, the entrepreneur was busy finishing off her kebab on the hot skillet and taking orders from repeat customers for Chicken Shawarma.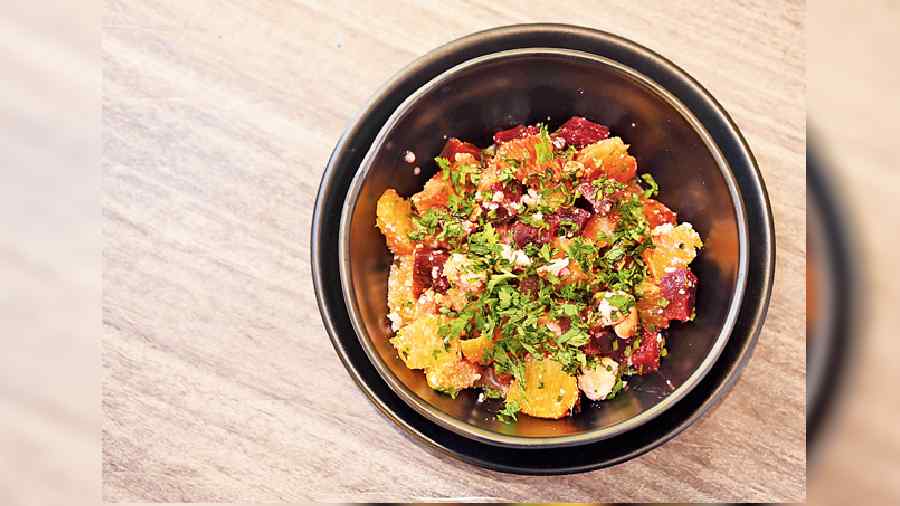 Salads form a major part of Crispy Treat and this was a riot of colours in a bowl. While oranges lend a sweet and tangy note to the salad, the chunks of cooked beetroot balance the profile quite well with the dressing of olive oil, feta and parsley.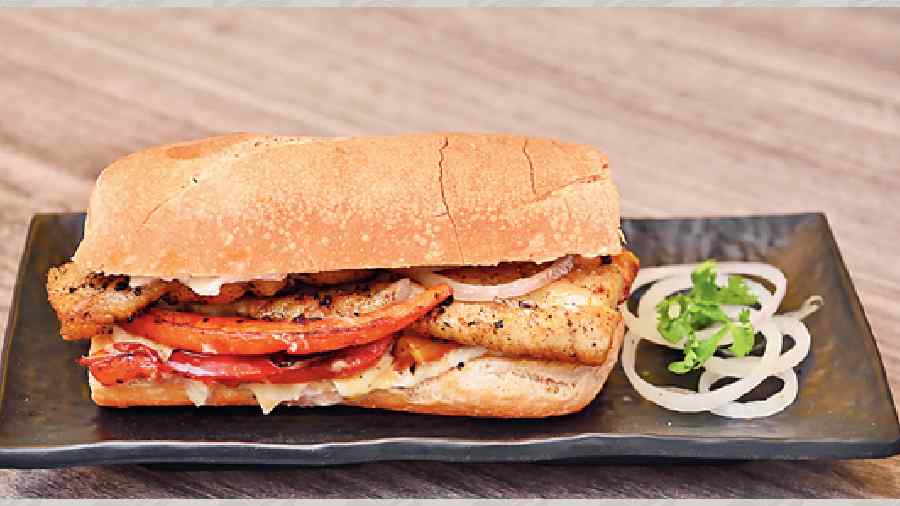 Very Fishy Sandwich is a great option for brunch or even lunch. Crunchy baguette gives way to suculent bhetki and every bite is juicy thanks to the homemade sauces.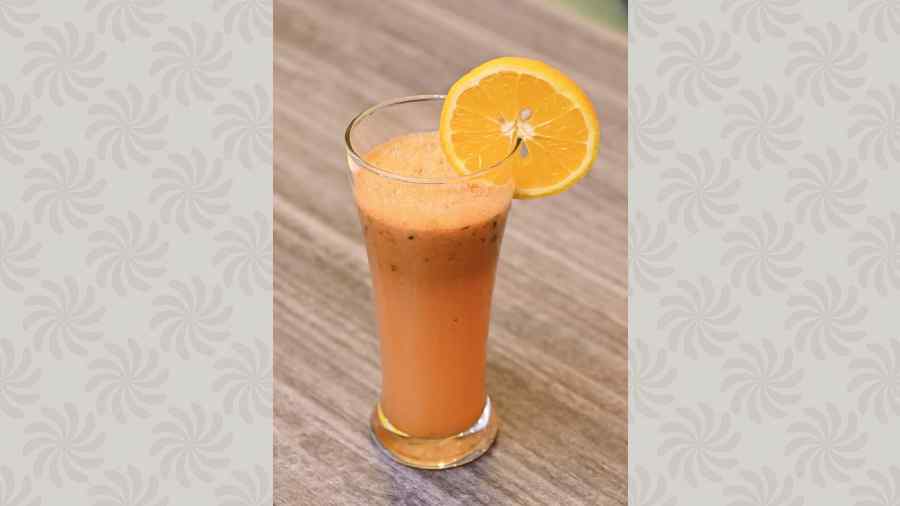 Super powered orange: High on Vitamin C thanks to freshly procured juices of malta and pomelo, this is certainly a healthy start to your day.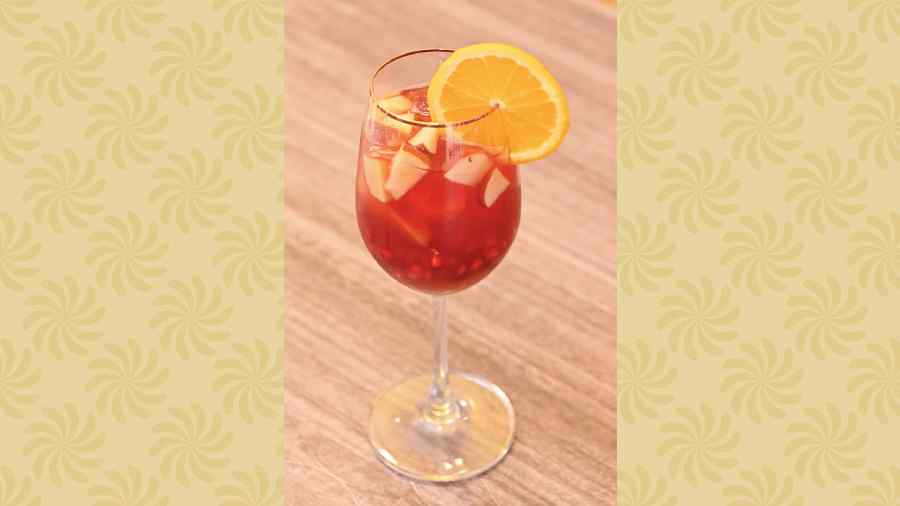 Fancy Sangria but want to avoid wine? Sip on this non-alcoholic Sangria made with fresh fruits and Rimpocha first flush musk tea. The chunks of fresh fruit add to its fruity profile.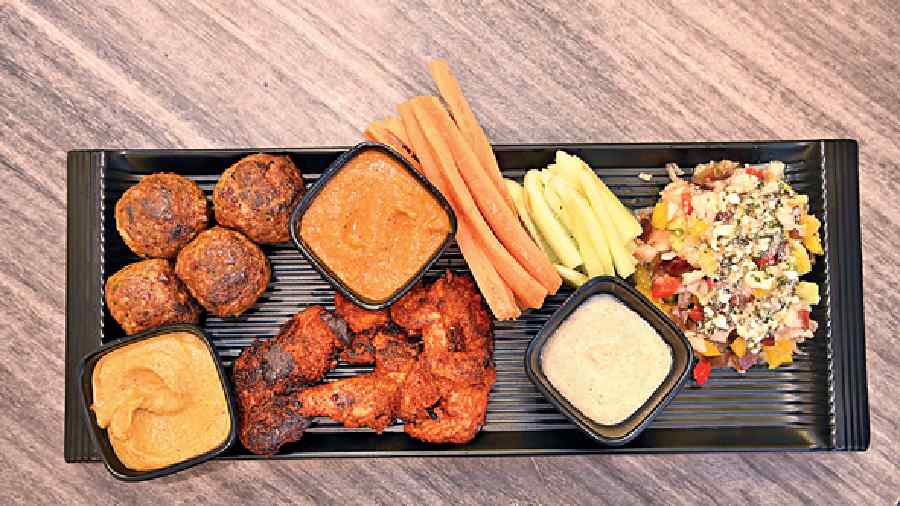 Settle down with this meaty non-veg platter if you are looking for something wholesome. Served with Armenian Losh Kebab, Chicken Shawarma Satay and three types of dips — red pepper hummus, plain hummus and tahini sauce — it stood out for its juicy Greek prawn and crab salad.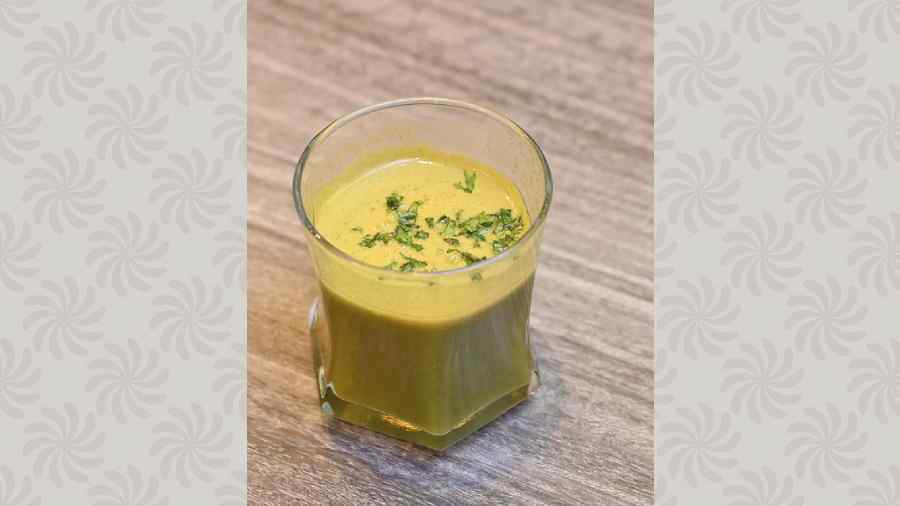 Green Grenade might not look appetising enough but it appealed to the taste buds. The mix of veggies like spinach and celery is enhanced with the punch of ginger, and apple juice lends a pleasant sweetness to the drink.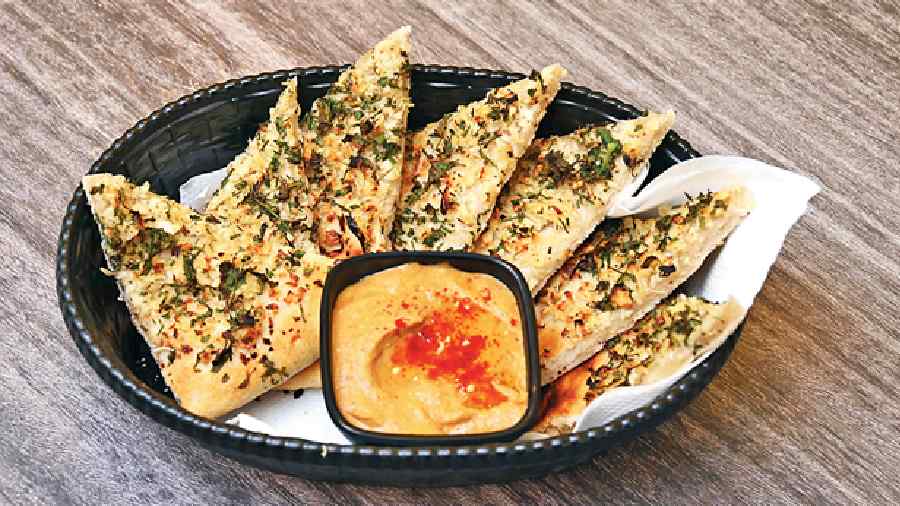 We loved how Ayesha gave a spin to a classic garlic naan and turned it into a Mediterranean munch. Prepared just like the naan but kept in the tandoor longer enough for it to become crispy like a pita bread. Served with hummus, drizzled with oilve il, this one is binge-worthy.
More about it:
Address: 906 Kalikapur Road,beside Raipur Electronics
Pocket pinch: Rs 800 for two