It's Christmas time, and naturally, everyone's stocking up on festive offerings. This season, apart from the quintessential fruit cake (not that we're ever tired of it!), there are a whole lot of other confectioneries on offer — from gingerbread houses and cheesecakes to almond biscotti and jam cookies — along with heady homemade wine, snacky artisanal breads and fresh cold cuts. Here's what and who to order from so you're sorted when good ol' St Nicholas comes a-knockin'.
Chocolate Gingerbread House from Brown's by Vanita Tondon
Brown's took the city by storm when it started operations in 2020 and it has an exciting festive special — edible Christmas decor. "We're making these adorable gingerbread houses that you can order and set up as a decoration in your homes. However, instead of making them with gingerbread, we're making them with chocolate, because that is more popular," says Vanita Tondon, the graduate of École Lenôtre in Paris and the University of Nottingham, who helms Brown's. The chocolate gingerbread house replicas are decorated beautifully with swirls of iced sugar.
Along with the gingerbread houses, Brown's, which recently opened doors on Sarat Bose Road, is also offering "the jammiest yummiest sugar star cookies" which are Linzer cookies with an in-house raspberry jam and a sprinkling of sugar dust. Christmas cakes cocooned in colourful marzipan are also available. "We torch the marzipan to finish off the cake, which gives it a beautiful caramelised look," says the baker.
Popular pick: Gingerbread houses
How to order: Visit the store at 174, Sarat Bose Road, Lake Terrace, Bhowanipore (next to Dunkel Braun) between 11am and 9pm
Boozy Fruit Cakes by chef Rahul Arora
With dry fruits soaking in a boozy bath for a month, chef Rahul Arora is ready to bake some cakes this Christmas. With limited orders, these home-baked cakes and tea cakes will be available from December 18, and have alcohol and non-alcoholic versions. Rahul Arora says, "People have been loving the cakes for 15 years and I bake them myself. Each batch is baked carefully. The demand is high this year, as usual. Orders have already started coming in."A Christmas Day special menu is also on the cards and Arora plans to source local winter vegetables and give them a twist. The menu will be revealed soon.
Popular picks: Special Choc-Rum Christmas Cake, Autumn Spiced Pumpkin Walnut Cake, Carrot Raisin Cake. The cakes are priced between Rs 350 and Rs 490.
How to order: Place your orders by calling 9836760160. Home deliveries will be made through Swiggy Genie and pick-up is available from Salt Lake and Hazra.
Raisin Wine from 'A Taste of Home'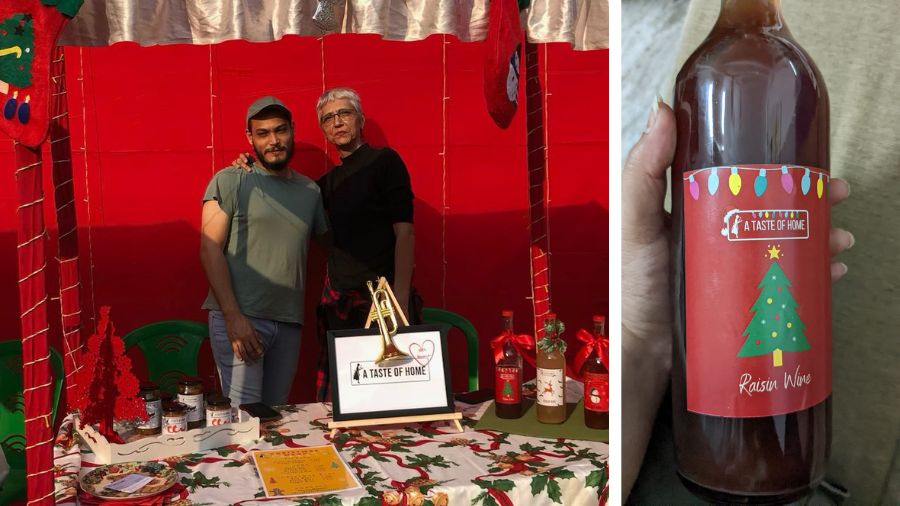 Dale and Sharon Mogose and their raisin wine
A Taste of Home; Karo Christine Kumar
Put aside your sparkling pours this month and opt for a heady homemade wine, instead.
Sharon and Dale Mogose of A Taste of Home, a seasonal cloud kitchen that began in the winter of 2021, have three wine variations for you to enjoy — raisin, ginger and rice. "The raisin wine is a dry wine with a few notes of ginger in it. The ginger wine is a spiced wine made with chillies and different spices, and the rice wine is more complex and tastes almost like a whiskey," says Sharon.
Sharon has been bottling wines each December for 30-odd years, but only began monetising them during the pandemic. "I started A Taste of Home when we realised there was a demand for good homemade wine. I have always made wine for my friends and family during Christmas, so now I just make more and sell," says the entrepreneur, who runs the small business with her son Dale, and Daniella Dcruize.
A Taste of Home will be selling its wines at Calcutta Rangers Club on December 20. "We have something new planned for our live station — hot ginger wine," smiles the winemaker.
Popular pick: Raisin wine
How to order: Call 83334967016 to place orders
Stollen from Citron Patisserie
The cloud kitchen with the goal of "bringing beautiful yet hearty desserts to the table" has decadent treats on offer this season.
"We're making a German holiday sweet bread also known as stollen, which is a Christmas classic," says Radhika Chatterjee, the Le Cordon Bleu graduate, who co-owns the label with Srishti Seal. Stollen is chock-full of rum-soaked dry fruits, exotic nuts and marzipan — making it as festive as ever. Spiced Carrot Cupcakes, Strawberry Crumble Teacakes, and Orange and Almond Biscotti are also up for grabs.
"We also have traditional Christmas fruit cake on offer — it's made with spices and dry fruits, which are aged in rum for months!" says the baker, who runs operations from a cloud kitchen in Salt Lake.
Popular pick: Stollen
How to order: All orders are on pre-order. Call 74399 28387 to place orders.
Christmas Tree Cream Cakes & Dundee Cake from Cafe de Caramelle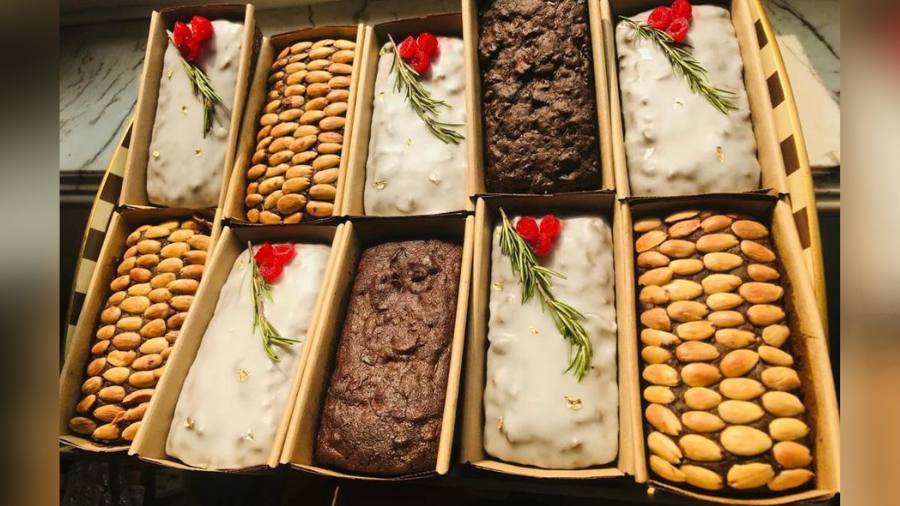 The almond-topped Dundee Cakes, iced plum cakes and fruit cake
Cafe de Caramelle
Head to Cafe de Caramelle for rich plum cakes, fruit cakes, and the Dundee Cake. "I always do something interesting during Christmas, because it is that time of the year when families come together and friends reunite," says solopreneur Pritika Sen Suraiya, who is a graduate of Le Cordon Bleu Paris. The Dundee Cake at Cafe de Caramelle has a rich mix of dry fruits, plum and brandy, topped with roasted almonds giving the traditional Christmas cake a dash of smokiness.
The cloud kitchen is also baking cream cakes, which come in festive shapes. So, if you prefer creamy bakes over traditional ones, try their crunchy truffle, coffee and chocolate, or buttercream. "We're shaping our cream cakes — which come in 15 different flavours — into Christmas trees and wreaths to add a festive touch," says Pritika. A wide range of berry tarts, cheesecakes, and mousses are also on offer to fill up your dessert trays.
Popular pick: Dundee cake
How to order: All orders are on pre-order. Call 9051135313 to place orders.
Garlic Bread Knots & Masala Sausages from Swati's Boutique Kitchen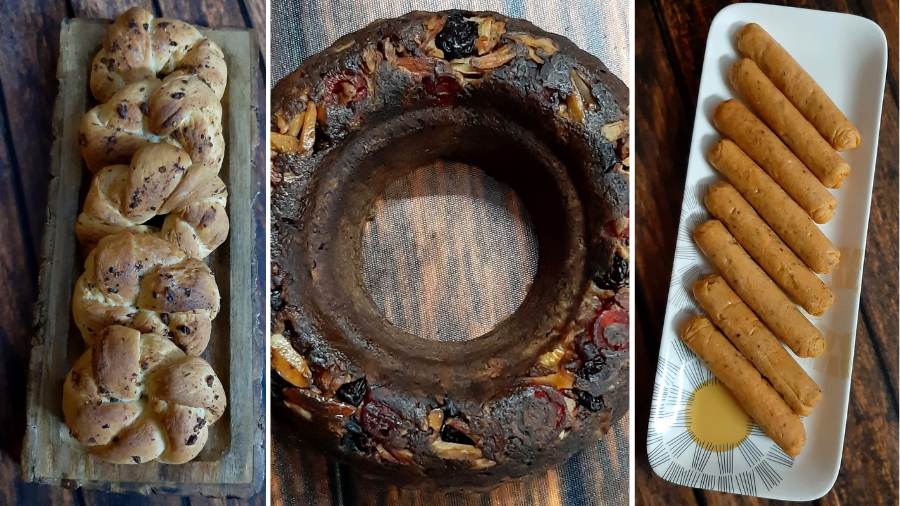 Garlic bread knots, fruit ring cake and spiced sausages
Christmas treats can also include savouries, and Swati's Boutique Kitchen is offering delish choices. A passionate home chef based in south Kolkata, Swati Banerjee is a food stylist, who has been busy this month baking her signature fruit cakes, eclairs, garlic breads, ring cakes, cookies and more. The boutique kitchen also offers meats and cold cuts like spiced sausages and salamis, along with Garlic Bread Knots that are the chef's own recipe and has a special spice mix that makes it taste different from regular garlic bread.
Banerjee says, "All my baked items are devoid of artificial flavours. The Nolen Gur Cake I make is made only with natural jaggery and there is no artificial flavour to it. It doesn't even add sugar so the natural sweetness is maintained." Made on order, all items are eligible for home delivery and pick-up.
Popular picks: Nolen Gur Cake, Garlic bread knots, Ring cakes, Tandoori Masala Chicken Sausages
How to order: Place your orders 2-3 days in advance at 9831248042
Büche De Nöel (Yule Log) and Infused Rum Balls from Berliner's Bakery
The student-run home bakery has an exciting Christmas menu featuring about 22 items from plum cakes to cheesecakes, and pies to pizzas.
Annesha Chanda, a second year English Honours student of Shri Shikshayatan, started Berliner's Bakery in 2021. Her mini birthday cakes and Berliners are best-selling items all-year round. Talking about one of the special festive offerings, Chanda said, "The Büche De Nöel is the special item this year on the menu. It is a French Christmas dessert that is like a cake roll filled with fruits and a layer of chocolate mousse and coated with chocolate. I am currently making it without rum, but rum can be added on request for a minimal charge."
Popular picks: Infused Rum Balls, Büche De Nöel (Christmas French Dessert), Choco Cherry Cake,
How to order: Place your orders 2-3 days in advance by calling 8777636414