Chinoiserie, a top name in authentic Chinese dining in the city, gets a menu refresh under its new chef, Travis Loh, a Malaysian chef who has over two decades of experience in Chinese cuisine and has worked across some prime properties in Malaysia, Bali and Hong Kong with a small stint in New Delhi as well.
Loh is a chef who's true to his form and skill and masters the art of dim sums and other quintessentially Chinese recipes. TT sat down for a full-blown lunch to taste some dishes from his repertoire that's being added to Chinoiserie's menu.
We also chatted with chef Travis about cuisine, culture and more...
How would you describe your style of cooking?
I would describe myself as a passionate, confident, creative chef. I skilfully plan the menus. I work towards preparing outstanding food, manage budgets and lead a team of chefs to deliver quality products and services to guests.
Is your style of Chinese specific to a region or is it an amalgamation of the entire Chinese food culture in general?
I do entire Chinese specialities along with South East Asian Food. Though my speciality and love are for Cantonese food.
Chinoiserie as a brand is very well received in the city. What are your plans regarding the restaurant?
I am reviewing the present Chinoiserie menus. I would like to introduce some modern Chinese cuisine items along with the all-time favourites for Chinoiserie. I would like to enhance Chinoiserie further, serving top-quality food and take the brand to next level.
From scallops to truffle edamame, the dumplings you created were fabulous. Is it a speciality?
Absolutely, I do a lot of dim sums along with modern South East Asian and Chinese food.
Did you receive any special training for it?
I started my career working with the best of Chinese masterchefs from Hong Kong and Kuala Lumpur. I picked my specialities from them and have practised now for over 25 years.
What are your personal favourites from the menu?
I love food, so it is hard to think of just one favourite sort of food. Though I like a lot of my dim sums.
You've worked in India before. How acquainted are you with Indian food and culture?
My stint in Delhi taught me a lot about Indian culture. I now understand the demanding Indian guests and know their love for spice and sometimes "the extra curry bit". I appreciate the food culture here which uses millet, rice, wholewheat flour and a variety of lentils.
Do you have any fave Indian dishes?
I like popular dishes such as Butter Chicken and Butter Paneer. I also like home-style chicken curry with rice.
What's your favourite cuisine and why?
My favourite cuisine is Cantonese barbecue like char siu pork,  roasted pork belly, roasted duck or goose. Canton is the former name of Guangdong, a province located on China's southern coast. The Cantonese barbecue that we know and love today evolved from the centuries-old Chinese tradition of roasting meat over a wood fire (although most modern Cantonese barbecue ovens are charcoal or gas-powered).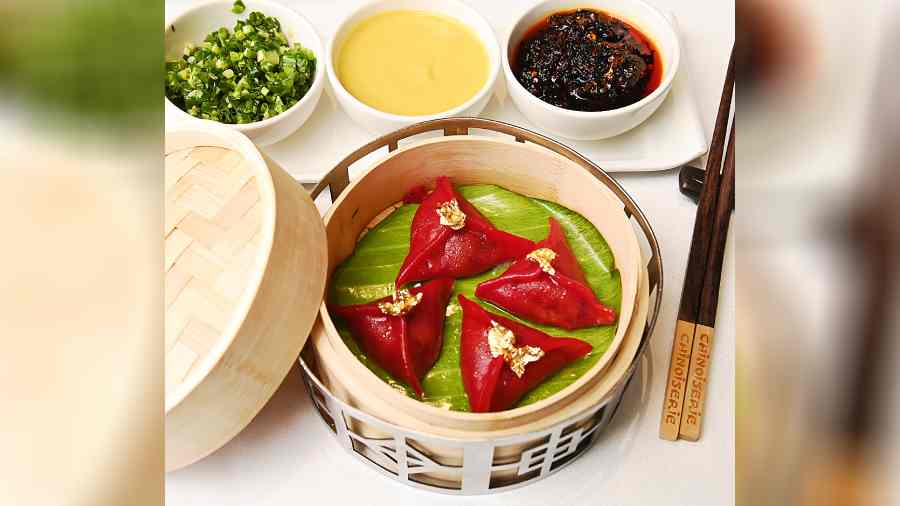 Juicy, well-spiced and melt-inthe-mouth silky, these Sichuan Lamb Dumplings with gold leaf are easily one of the best lamb dumplings in the city at the moment.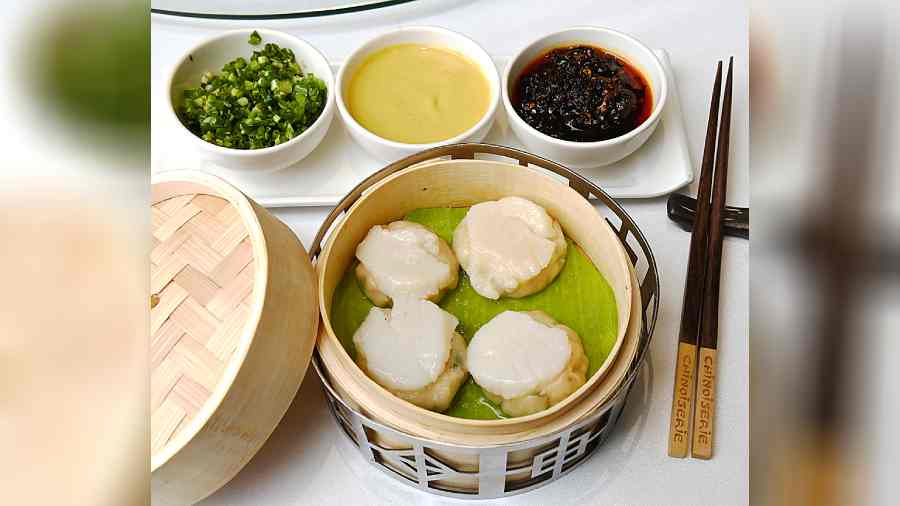 If you're a seafood lover, then these Scallop Stuffed Prawn Paste Dumplings will blow your mind. Buttery and fresh scallops are super exquisite.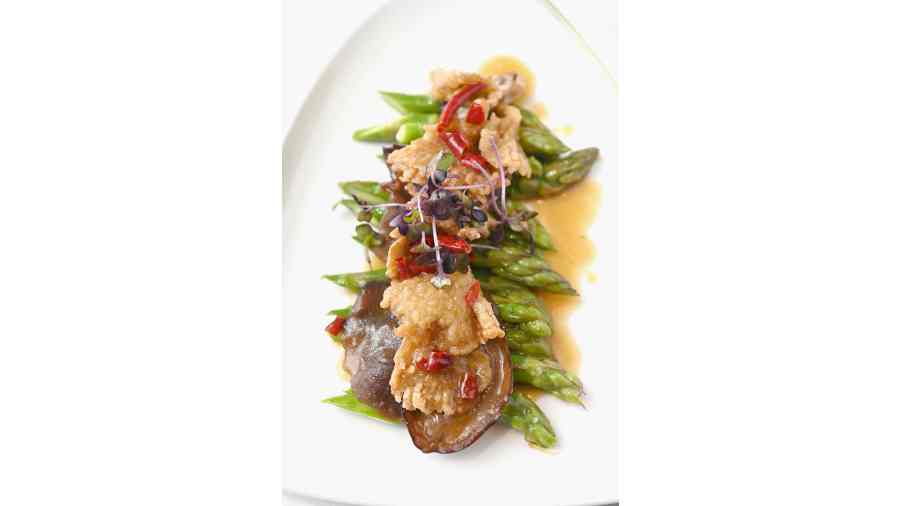 An exotic veggie plate, this Stir-fried Asparagus with black fungus and deep-fried oyster mushrooms in a chilli garlic sauce is a must-try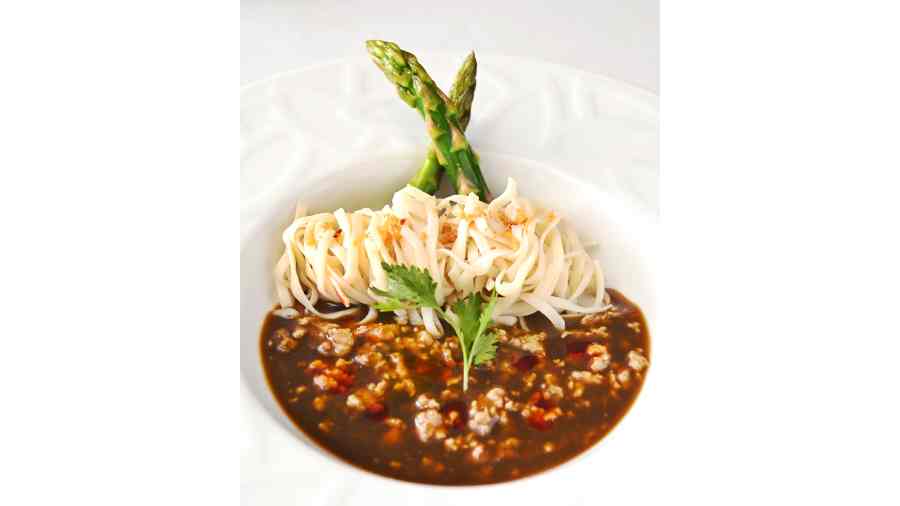 A hearty meal bowl, here is the Braised Shanghai Noodle with dan-dan style minced chicken gravy that's a comforting main course.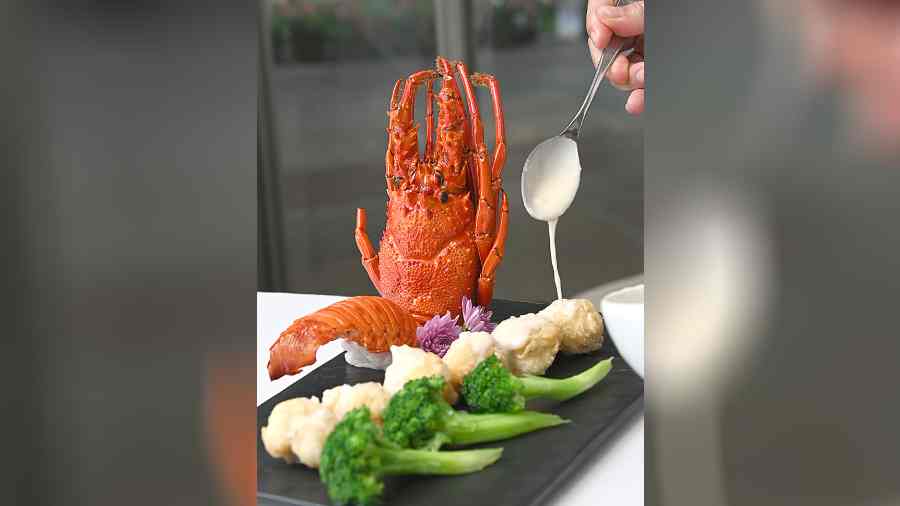 If you fancy lobsters, check out these wok-fried lobsters in butter and cheese sauce. The creamy sauce is a good contrast to the crunchy coated lobster.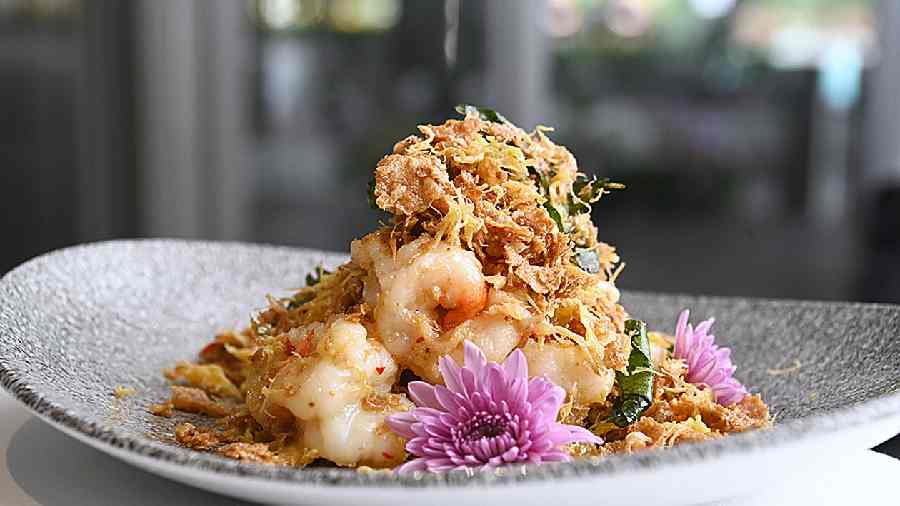 Dig into this stellar appetiser that pairs sweet butter prawns with oats and crispy shredded eggs to create a chewy and crunchy plate.
Name three ingredients you can't do without.
Everything is possible. I plan my dishes according to availability. I love cooking with fresh seafood.
How different or similar is the Calcutta-style Chinese food to the one back in China?
Mostly foreign Chinese restaurants, where almost everything is stir-fried, most Chinese food in the Chinese mainland is boiled, steamed, braised, or baked. But deepfrying in oil such as fried chicken isn't as common. Chinese generally stir-fry lightly and quickly in little oil.