Defined by its tropical geography and diverse array of influences, from Persian to Indian, Bangladesh's cuisine roars with richness, spices and aromatic qualities. The cuisine of Bangladesh has been shaped by its diverse history and its riverine geography. The staple is rice and fish. They also have a lot of beef compared to West Bengal. Bangladeshi people follow certain rules and etiquette while eating. This is known as Bangaliketa, which includes presentation of serving utensils in a proper manner. Here I am showing you a few of their favourite and popular dishes though they have a large repertoire of amazing street food as well as Michelin star-quality dishes.
Shorshe ilish (Fish in mustard paste)
Bangladesh is a riverine country, where the majority of the population eats fish. Hilsa is the national fish of Bangladesh and the country is responsible for almost 70 per cent of the Hilsa fish production across the world. Shorshe Ilish is cooked in savoury mustard gravy and served with rice. This is a dish that bursts with flavour and it is beloved across the country.
Ingredients
Hilsa Fish: 5 thick pieces (marinate with little salt, turmeric and a pinch of red chilli powder). Keep aside for 15 minutes.
Yellow mustard seeds: 2tbsp  Black mustard seeds: 2tsp. Soak in water for 10 minutes.
Green chillies: 5-6
Salt: ½tsp
Onion: 1, made into a fine paste
Mustard oil: 4tbsp
Water: 1 cup
Turmeric: ½tsp
Kala Jeera (black cumin seeds): ½tsp
Raw mustard oil: 1tbsp, for drizzling in the end
Salt: To taste
Green chillies: 4-5 whole
Method
Heat oil in a pan wide enough so that the fish will fit in. Then place the fish gently and fry only for 1 minute on each side. Remove gently and keep aside.
Now make a smooth paste of mustard seeds, green chillies and salt. Keep aside.
In the same pan add kala jeera. Once it starts spluttering add the onion paste and saute till the raw flavour goes and it becomes slightly brown.
Then add the mustard paste and saute just for a minute.
Then add water and let it come to a boil, after which you cook on low flame for 10 minutes.
Then gently add the fish and cover and cook for 10 minutes, turning the fish once only. The gravy should be slightly thick. Add 4-5 whole green chillies while the fish is being cooked.
Then drizzle with 1tbsp raw mustard oil. Cover for 5 minutes before serving with steaming hot rice.
Kacchi Mutton/Chicken Biryani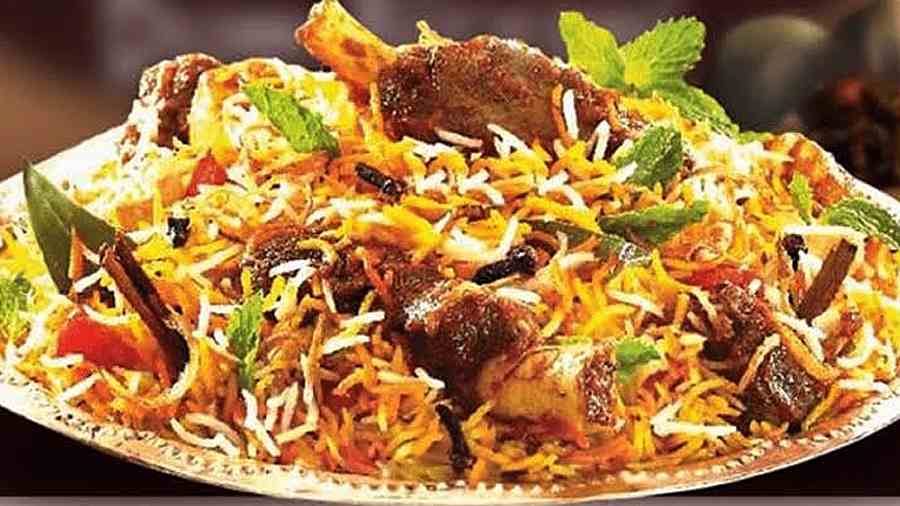 Kacchi Biryani is a vital part of Bangladesh. Kacchi means raw. The meat here is first marinated with spices and placed at the bottom of the cooking pot uncooked. Then rice mixed with spices is added on top. Sometimes they add potatoes also. This biryani is eaten all year round.
Ingredients
For the masala, grind all the ingredients below to a fine powder in a mixer:
Shahi jeera (caraway seeds): ½tsp
Black cardamom: 1
Green cardamom: 5
Cinnamon: 2 small sticks
Black peppercorns: ½tsp
Cumin seeds: 1tbsp
Nutmeg: ¼ piece
Mace (javitri): 1 piece
For the main preparation:
Potatoes: 6; fry in oil with a little turmeric or yellow food colour till it is a little brown. Keep aside
Yellow food colour: ¼tsp (or just a pinch may also suffice)
Cooking oil: 2tbsp
Mutton: 1kg (biryani cut)
Garlic paste: 1tbsp
Ginger paste: 1tbsp
Green chilli paste: 1tbsp
Turmeric powder: ½tsp
Red chilli powder: 2tsp, or according to taste.
Garam masala powder: 1tsp
Salt: ½tbsp
Lemon juice: 1½tbsp
Curd (thick): ½ cup
Fried onions: 1 cup
Kewra water: ½tsp, (or 1tsp rose water, whichever you prefer)
Kebeb Chini: 1tsp (all spice; available where you get masalas)
Raw papaya paste: 2tbsp (actsas a tenderiser)
Water: ½ cup or as required
Ghee: 2tbsp
Dry milk powder: 4tbsp (aix ½ cup cooking oil, 1tbsp ghee and 1 cup hot water from making rice. Mix all the ingredients well and keep aside)
Aloo Bukhara (dried plums): 6-7
Basmati rice: ½ kg, soaked for ½ hour
Bay leaves: 2
Cinnamon: 2 sticks
Black cardamom: 2
Cloves (laung): 5 pieces
Fried onions: ½ cup
Method
For marinating the meat
Take the biryani dekchi or any vessel you have which has a thick bottom.
Put the washed meat.
Then add the ground spices you made.
Add ginger, garlic and green chilli paste.
Add curd. Mix all the ingredients very well.
Add red chilli powder, fried onions, rose water, papaya paste and salt about 2tsp; mix well and marinate for 4 hours.
Now you can add the milk powder mixture.
Now layer the meat with potatoes. Put Aloo Bukhara and then pour the milk powder mixture over it. #For making the rice
Take 500-600g rice, soaked and drained.
In a pot add water. Add bay leaves, cardamom black and green, cloves, 2-3tbsp salt.
Once the water boils add the drained rice into it. (See that the rice is well drained after soaking for ½ hour.)
Once the rice floats to the top after 2-3 minutes strain the rice at once. (This is 40-50 per cent cooked.)  Now spread the rice on top of the meat. And flatten it a bit with spatula.
Now take 1tsp rose water. Add saffron. Then spread over the rice.
Add 2tbsp melted ghee around the sides.
Spread fried onions over the rice.
Now seal the vessel with atta dough (wheat flour dough).
Put the lid on it. Make sure the dekchi is well sealed so that no steam escapes. (This is very important).
Now place the dekchi on a tava. Then put the flame on high and cook for 10 minutes.
Now put the flame on low and cook for 1 hour.
After that you can break the seal, uncover and serve.
Always remove biryani with a small flat plate. Gently put the rice to the side and remove the mutton and potatoes.
Enjoy with Bohrani and onion salad.
Borhani (A popular traditional drink)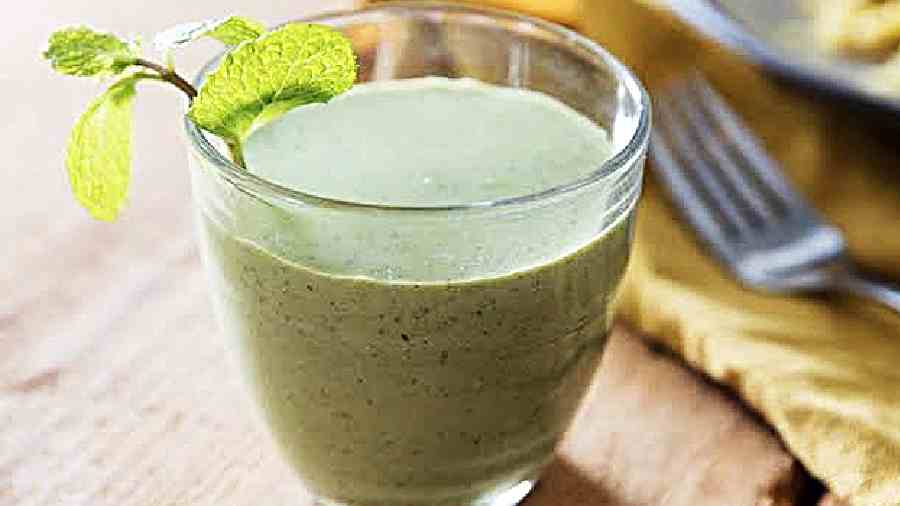 If you attend a wedding in Bangladesh there is a high chance you will be served Borhani with your meal. It is a traditional drink popular in Dhaka and Chittagong. Borhani is a uniquely sweet, spicy and tangy beverage, unique to Bangladeshi cuisine. It helps in digestion, especially after a heavy meal.
Ingredients
Borhani masala (for 1kg curd). You can grind more and keep in the fridge. Here I am showing the ratio of the masalas.
Roasted cumin powder: ½tbsp
Roasted coriander powder: ½tbsp
Yellow mustard seed powder: 1tbsp
White peppercorns powder: 1tsp
Black salt: 1tbsp
Normal salt: 1tbsp Mix all the above ingredients together.
Method
In a pan put 1 cup chilled water. (For 4 cups curd you start with one cup water. Later you can add extra according to the thickness).
Add 3tbsp sugar to the water.
Now add 1tbsp coriander leaves paste.
Add 1tbsp mint leaves paste. Then add 1tsp green chilli paste (or according to taste).
Now add 1½tbsp tomato ketchup.
Now add the ground masala.
Mix everything well till the sugar dissolves.
Now take 1kg curd and whisk well.
Now take a strainer and pour the spice water mix into the curd. Squeeze out all the juice with a spoon. Discard any roughage left in the strainer.
Now again whisk the curd well. Check for consistency. If it is too thick you can add ¼ cup water more.
Check for seasoning like sugar and salt.
Pour into individual glass. Garnish with a mint leaf and enjoy the wedding style Borhani of Bangladesh.
Mutton/Chicken Haleem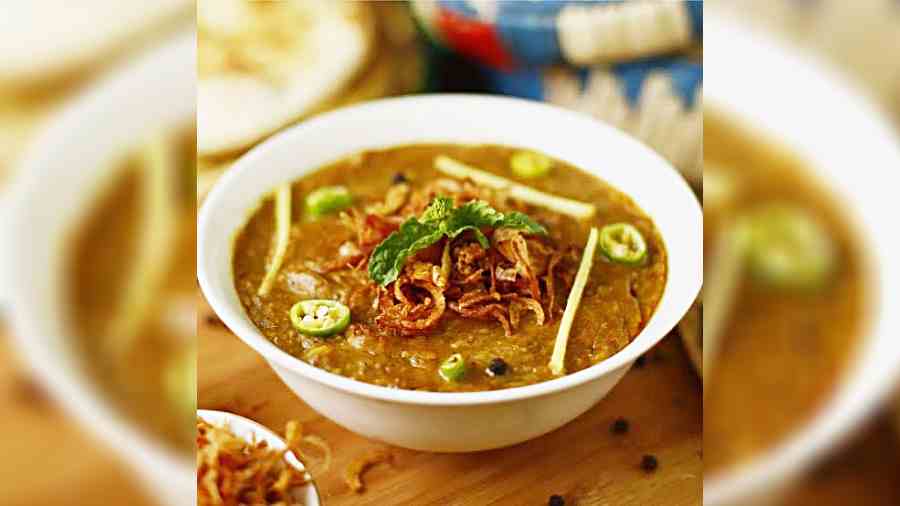 Haleem is basically a stew composed of meat, lentils, and pounded wheat. It is originally an Arabic dish and was introduced by the Chaush people during the rule of the Nizams. Haleem is consumed a lot in the Islamic month of Ramadan during Iftar (the evening meal that ends the day-long fast as it provides instant energy and is high in calories). The finished dish is garnished with caramelised onions, coriander leaves and a slice of lemon.
Ingredients
Mutton: 500g (buy some boneless and some with big bones)
Wheat: 150g, soaked in water overnight
Urad dal: 50g
Moong dal: 2tbsp
Red masoor dal: 2tbsp
Chana dal: 3tbsp
Tuvar dal (arhar): 2tbsp
Basamati rice: 3tbsp
(All toghether it comes to about 350g. Even 300g is ok. Mix all the dals, wheat and rice together.)
For the masala to grind for the haleem:
Black cardamom: 2, remove the hard cover
Cinnamon: 2 small sticks
Black peppercorn: 1tbsp
Green cardamom: 6-8
Star anise: 1 piece
Nutmeg: ¼ piece
Javitri (mace): 1 piece
Kebab Chini (all spice): 1tsp
Shah Jeera: 1tbsp
Laung (cloves): 3 (Grind all the above ingredients to a fine powder.)
Coriander powder: 2tsp
Cumin powder: 1tsp
Turmeric powder: ½tsp
Red chilli powder: 2tsp
Cashews: 8
Almonds: 8
Pistas: 10 (Grind together the nuts into a fine powder)
1 cup curd.
Method
In a cooker add the soaked wheat and all the dals. Add 2-3 whole green chillies, 1 cinnamon stick and 2 bay leaves.
Now you add about 2½ glasses of water and 1tsp salt. Mix well and pressure cook for 5-6 whistles.
In another cooker add 1 cup oil (you can add ghee if you wish). When the oil is hot add 1 cinnamon stick, 2 bay leaves and 2 big onions sliced fine. Fry the onions till transluscent but do not make it brown.
Now add the meat. Stir well. Add 1tsp salt. You can always adjust it later.
Add 2tbsp of ginger and garlic paste.
Add coriander powder, cumin powder, turmeric powder and red chilli powder
Add 2 green chillies whole.
Then add few mint leaves, about 2tbsp.
Add few coriander leaves, about 3tbsp.
Then add the curd.
Saute all this for at least 5 minutes. You will see that the mutton has released some water.
Now add about 2 glasses of water.
Mix well and pressure cook for at least 2 whistles on high flame and 3 whistles on medium flame. *Coming back to the dals, once cooked, mix in a grinder or with a wooden spoon masher. You can even use your spatula to grind the dal (this is the better way).
Now coming back to the mutton, open the cooker. The meat should be very tender. There will be oil floating on top. Remove the oil for use later.
Remove the bones from the meat.
Blend the mutton till it becomes completely mashed.
Add the cooked dals to the meat.
Add cashew, pista, etc., powder to the mutton.
Now add the ground garam masala.
Add ¾ cup of fried onions.
Add juice of 1 lemon.
Mix everything well.
Now add little hot water to thin down the Haleem. Keep stirring. It should be slightly thick and not runny. I used about ¾ cup hot water.
Now put in a serving bowl.
Add the oil you took out from the mutton.
Then sprinkle little fried onions.
Garnish with coriander leaves, little julienned ginger, little fried onions and lemon slices.
Haleem is ready. You can have it as it is, or with Khameeri roti, naans etc.
Chicken rezala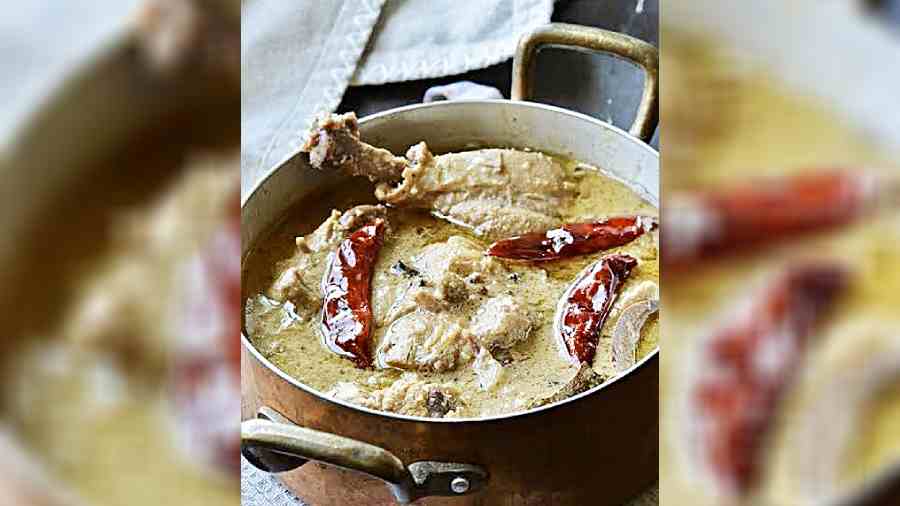 This is a very popular and authentic Mughlai dish of either Turkish or Persian culinary origin. This dish was brought to Bengal, and, therefore, Bangladesh, by the last Nawab of Awadh, Wajad Ali Shah, who was exiled to Bengal. Chunks of chicken in a rich and aromatic white gravy made with curd, cashews, poppy seeds, milk and subtle spices make this dish rich, flavoursome and delicately delicious.
Ingredients
Chicken: 1, cut into big pieces
Ghee: 3½tbsp
Onions: 1½ cup finely chopped
Cinnamon: 1 stick
Green cardamoms: 4-5
Cloves: 4
Sugar: 1½tbsp
Cashew and poppy seeds paste: 2tbsp
Garlic paste: 2tsp
Ginger paste: 2tsp
Green chilli paste: 2tsp
Garam masala powder: 1½tsp
Curd: ½ cup
Khoya (solidified milk): 2tbsp, grated
Milk: 1 cup
Red chillies: 3, dry
Rose water: 2tsp
Method
In a pan heat ghee. Then add cinnamon stick, 4 cloves and cardamoms. Then add onions and saute till transluscent and slightlybrown.
Now add ginger, garlic and green chilli paste. Add 2 bay leaves and 2 dry red chillies. Saute for 2-3 minutes.
Add the chicken and mix well. Roast the chicken for 2-3 minutes.
Add curd and cook for 2-3 minutes stirring all the time.
Add salt and sugar. Mix well.
Add milk stirring all the time while adding it.
Now you can add cashew poppy seed paste. Mix well.
Then add khoya. Mix well. If the gravy is too thick add a little hot water. Cover and cook on low flame till the chicken is tender and gravy is of right consistency. Not too thick or too runny.
Add ½tsp garam masala powder and rose water. Cover and cook for 5 minutes so that all the flavours mingle and blend well.
Serve hot with parathas, naans etc.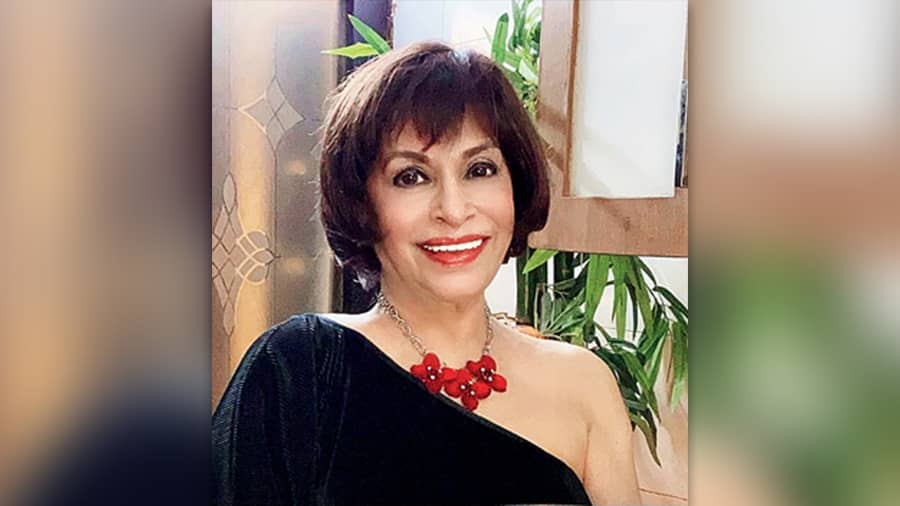 Durri Bhalla is a cookery expert and author of Indian Bohra Cuisine and Inner Truth To Good Health And Weight Loss. You can find her @ durribhallakitchen on Instagram, @ Durribhallakitchen on Facebook andDurri Bhalla on YouTube