A lot has changed for Debasree Roy Sarkar, and yet it all feels familiar. Thirteen years ago, she joined Peerless Hotels, which was founded by her grandfather RS Roy in 1932. Guided by her father, the late SK Roy (1944-2022), she looked after the five hotel properties. One of her first responsibilities was to expand Aaheli, so the restaurant remains close to her heart. As Kolkata's first fine-dining Bengali restaurant turned 30 on May 18, 2023, My Kolkata caught up with the hotelier, foodie, and new mother about the past, present and future.
My Kolkata: In 2017, I interviewed your father. the late SK Roy (former chairman of Peerless Hotels Ltd), when Aaheli turned 24. It is wonderful to see you continue his legacy. 
Debasree Roy Sarkar: We miss dad a lot. I remember you visiting our home on Southern Avenue and taking his interview. You won't believe it… yesterday I took out that file and read the interview. His stories about Aaheli will always remain special. 
What is your earliest memory of Aaheli? 
The restaurant opened on May 18, 1993, a month after The Peerless Inn started operations, but I visited it for the first time a few years later. I was very young, probably eight or nine years old. Aaheli was the first fine-dining Bengali cuisine restaurant in Kolkata, possibly India. The restaurant has always been in the same spot, but the decor was very different then. There would be a huge queue of people waiting to have a meal. When this outlet became popular, we had to increase the covers. Aaheli has always been a reflection of Bengal's culture — from the madur (woven mat) on the tables and batik-print cloth napkins to the traditional food that is served.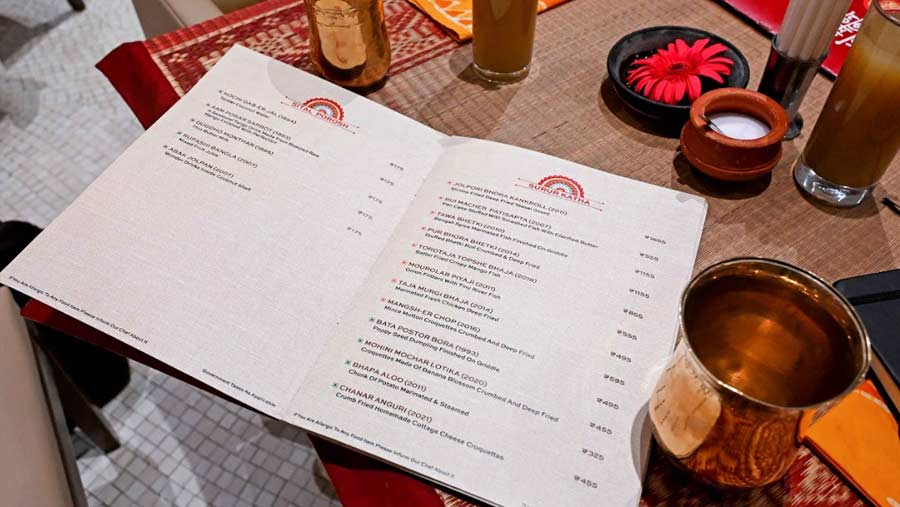 'Aaheli has always been a reflection of Bengal's culture — from the [tableware] to the traditional food that is served,' said Sarkar. The fine-diner has also started serving alcohol from this month
Amit Datta
You joined Peerless Hotels in 2010. What was your first assignment?
When I joined in 2010, my first responsibility was to open Aaheli in Axis Mall Rajarhat that same year. That gave Aaheli wings. And then in 2021, we opened our third restaurant at 190A Sarat Bose Road (near South Calcutta Girls' College). The objective was to reach areas that were fast becoming F&B hubs.
In between, the brand experimented with Aaheli Xpress. Why did that wrap up?
We wanted to experiment with Aaheli and introduce a different format. The Aaheli Xpress concept didn't take off, so we took a conscious call to wrap it up. Quick Service Retail (QSR) is a completely different ball game, and the extreme opposite of fine dining. The Xpress format still exists within the premises of both the restaurants in Axis Mall and Sarat Bose Road, but our primary focus is Aaheli. That said, it was a learning experience for us… what to do and what not to do with a successful brand.
What is your focus now for Aaheli?
We have plans to relaunch Aaheli with a completely revamped menu, also keeping the price point in mind. When we recently introduced a few economically priced thalis, we saw a good response, so we hope to make Aaheli more accessible. We have already brought in a lot of cuisines from thakurbaris, owing to their penchant for good food. We are doing R&D on the food from the great families of Bengal. Going ahead, we will be using a lot of local produce as well. Of course, focusing on food standard and quality is an ongoing process. The rest I will reveal when we relaunch Aaheli!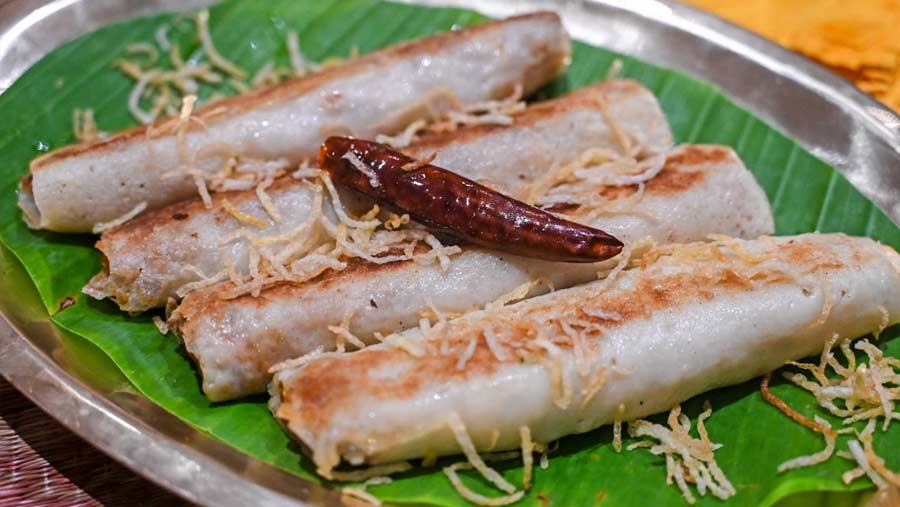 Dishes like the Rui Maacher Patisapta (featured) and Chitol Muitha come from family recipes
Amit Datta
Tell us the story behind the Rui Maacher Patisapta, which your father introduced to the menu…
It was inspired by a relative. More than 16 years ago, my father visited our relatives staying in Bangalore. They accompanied him for a meeting and carried some patisapta. When he tasted it, he asked my relative what the ingredients were. Like most ladies, she tactfully avoided revealing the secret of the recipe. So then he said, 'Oh, very nice, give me one more'. He tasted it slowly and tried to find out what was inside (laughs)! Our mother (Shikha) who is a good cook and our chef put on their thinking cap. They experimented with ingredients and the Rui Maacher Patisapta became one of the top sellers at Aaheli. It is stuffed with two types of fish — rui or bekti — and ilish when its in season. Many other dishes like the Chitol Muitha have also come from our family.
What do you eat for lunch at the hotel every day?
If there are no food trials, my standard meal is a clear chicken soup and a salad, or our cafeteria food. My cheat meal is luchi-mangsho from Aaheli and lamb chops from Oceanic.
You got married in 2018. Are your husband and daughter foodies?
My husband Bikram is a lawyer and yes, he enjoys his food. Last Jamai Sasthi, my mother sent him two huge Boal Maachh, which is his favourite, placed royally on a tray with the customary fruits. Mom had her special dishes which she cooked for him. My two-year-old daughter, Madhujha Mirra Sarkar, also loves to eat, listen to Rabindra Sangeet like Phule phule dole dole, Pran chay, and dance.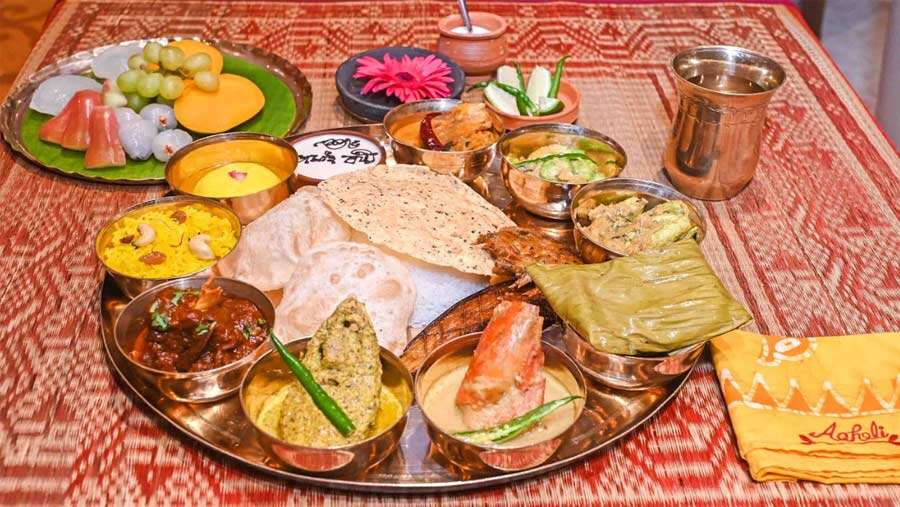 The Jamai Sasthi thali is priced at Rs 2,795 plus taxes. As Aaheli turns 30, get flat 30% off the menu till May 24 all three outlets — The Peerless Inn Kolkata, Sarat Bose Road and Axis Mall Rajarhat
Amit Datta
As managing director of Peerless Hotels, what is your role and vision?
As MD, I oversee the entire hospitality wing. It's been a year. When I took over, it was right after the pandemic and everything was in a mess. Hard decisions had to be taken about leadership changes and today it is giving us good dividends. We brought in talent like Kuldeep Bhartee (ex ITC Hotels) who is CEO of Peerless Hotels. His experience and contribution is making a big difference.
Our short-term vision is to set the house right. Consolidate our operations and focus on guest experience in our five properties (Kolkata, Hyderabad, Durgapur, Mukutmanipur and Port Blair). Apart from the Hyderabad property, all the other four properties are more than 25 years old.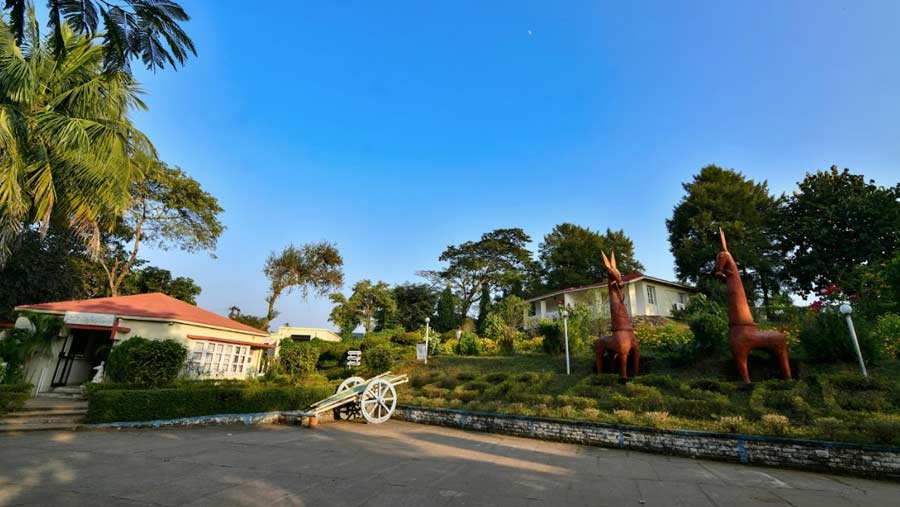 Peerless Resort Mukutmanipur is being revamped
Courtesy: Peerless Hotels
After this is done, we would certainly like to go asset-light, but nothing has been set at the moment. [An asset-light business model in the hotel industry means focussing on managing hotels and not necessarily owning them].
Do you have a favourite property or will you give me a neutral answer because your teams will read this interview?
(Laughs) See, we have five properties. Our hand has five fingers. It's as simple as that.
Your favourite spot in this hotel (The Peerless Inn, JN Road) then?
Room 709 — because I feel dad's presence there. And sitting on one of the decks in Oceanic from where I can stargaze.