We knew reaching Dhaka's Chowkbazar may take us a whole day. Our driver picked the path that ran parallel to the Buriganga. My travel mate Joy explained that a) only the locals of Puran Dhaka (Old Dhaka) will know these routes and b) the younger inhabitants never use this road, considering the piles of garbage and the stinky air. And Joy was right! We managed to reach Chowkbazar in no time!
In Kolkata, Zakaria Street has always been a preferred destination for food lovers, especially during Ramzan evenings. But in Dhaka, there are countless counters selling Iftar food across the capital — from the centrally located Dhanmondi to Uttara in the north. In fact, barring a few restaurants like Star, most eateries stop selling lunch and open Iftari counters right from the afternoon.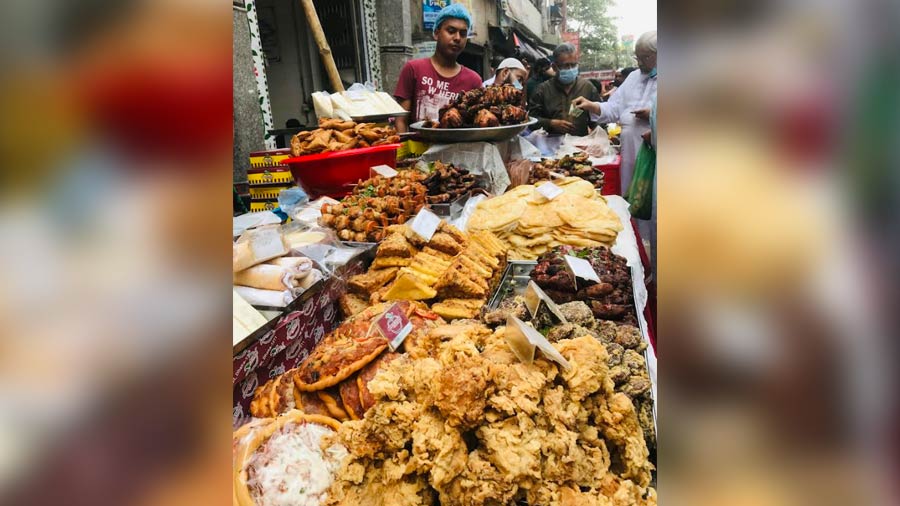 An array of fried snacks and skewered meats at Chowkbazar
I would never have believed that an entire road can transform itself into one giant buffet of specialities if I hadn't experienced the spread myself. There were countless food vendors selling their items, from grilled meats to the shahi jilapi (with a diameter ranging from 3cm to 30cm). The crowds thronging these counters can be compared only to pandal-hoppers during Durga Puja in Kolkata.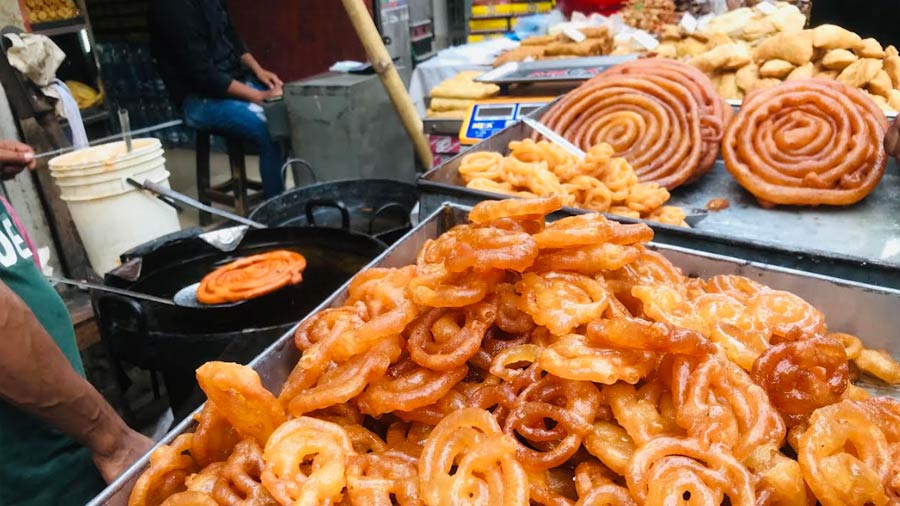 Chowkbazar is studded with an array of desserts
A feast like no other
Dhaka's Iftari spread is perhaps more Bengali in spirit than what we experience in Kolkata. After breaking the fast with dates and other customary food items, people love to go for the traditional doi-cheere-kola (a medley of curd, puffed rice and banana) and instead of juice, many prefer mathha (ghol in Kolkata).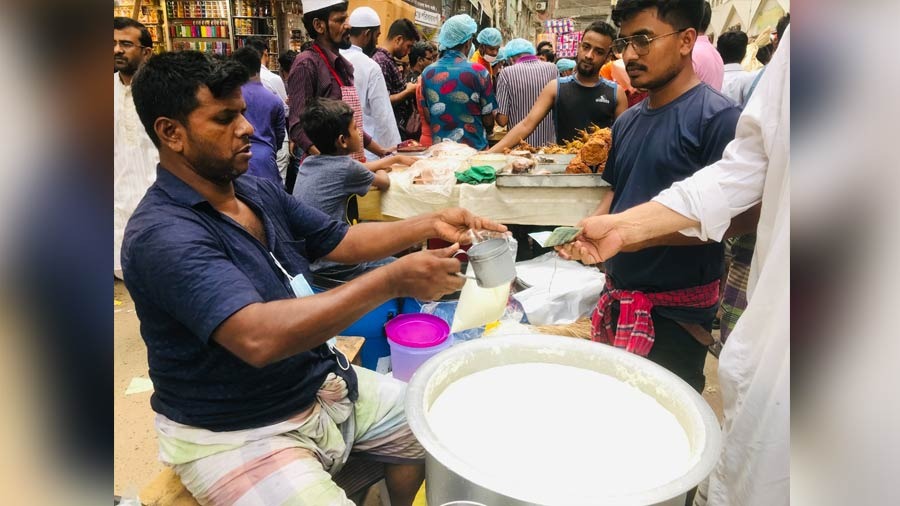 An old Dhaka Iftar necessity – ghol, popularly known here as mathha.
At Chowkbazar, you can find it all. Starting from muri/ chire, doi to ghol/matha in sealed bottles, from normal chhana, special mixes, vegetable singara and meaty samoocha (samosas with a non-veg filling) — name it and it's there.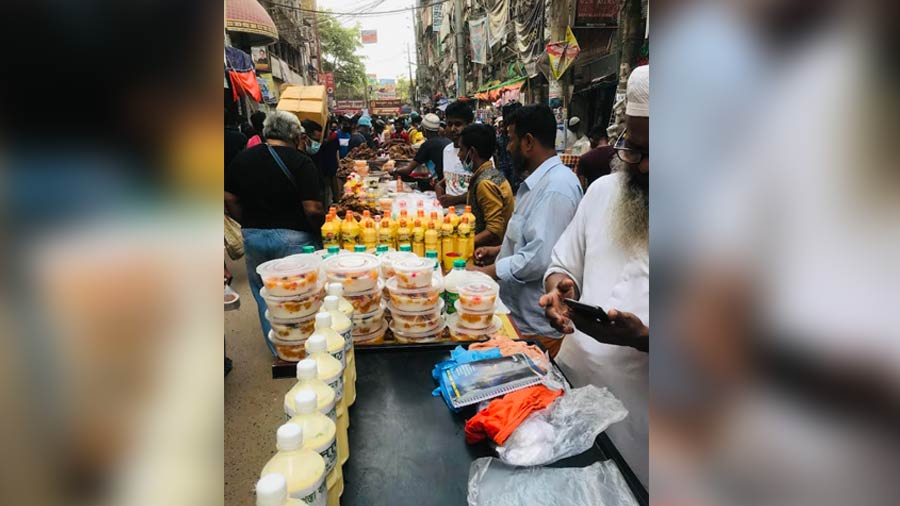 Jafrani sherbet, fruit salads and doi bora
We also spotted an array of seasonal fruits. From watermelon and muskmelon to a variety of dates — it is as if the entire phal patti of Kolkata's M.G. Road had been accommodated into one bazaar — with the added attraction of fancy cuts and fruit carvings that are done right on the road!
The smokey notes of the kebabs fill the air right from early afternoon. From chicken roasts to fries, wings and legs, sootli kebabs, seekh kebabs to fried fish and of course, haleem (huge containers get emptied in under 20 minutes), you'll be spoilt for choice!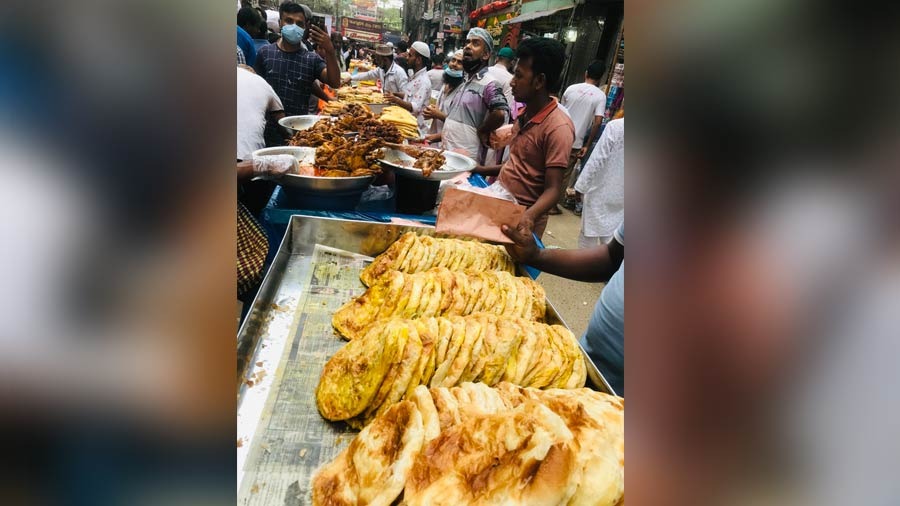 The paratha spread at Chowkbazar includes keema paratha, chicken paratha, egg paratha, and Mughlai paratha. Beside that, there is murg musallam and mutton leg roast
The big bite
Despite the unbelievable array of foods, the showstopper remains the same every year — the Boro Baaper Polai Khai (what the rich man's son eats) — a dish that's part of Dhaka's history. The nawabs of Dhaka were famous for setting up a dastarkhwan (imperial feast) at their Iftar parties, where getting an invitation itself was considered an honour. The buffet comprised biryani, kofta, kebabs and various types of red meats, along with a range of pulao and desserts. Legend has it that almost the entire dastarkhwan would come back to the kitchen — mostly uneaten but all mixed up — because the rich nobles could hardly eat full portions. And the royal bawarchis would lie in wait for the mixed feast.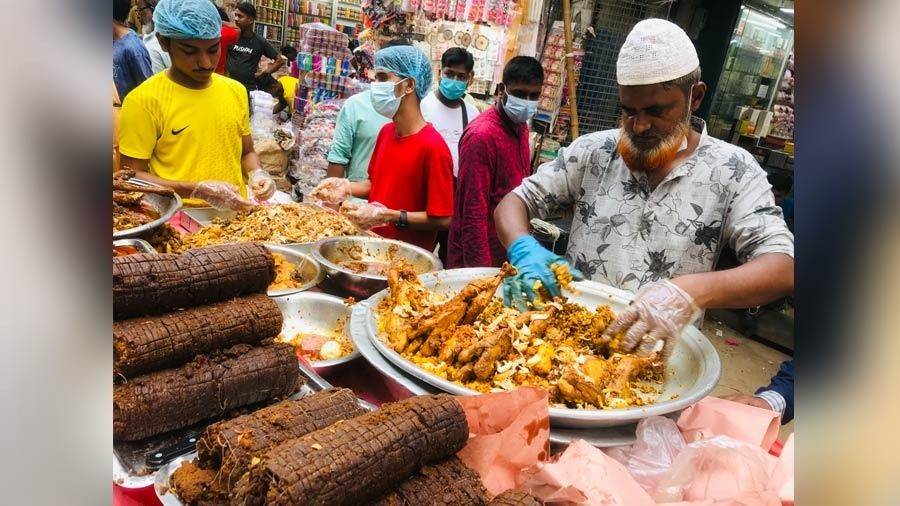 'Boro Baaper Polai Khai' (What the rich man's son eats) — a dish that's part of Dhaka's history
A delicious 'dastaan'…
We spent quite a few hours simply taking a stroll down this path. Later in the day, Joy and his wife Susmita were expected at an Iftar feast and suggested I join them.
Now, I had already had the opportunity to experience an Iftari feast at my acquaintance Farooque bhai's home a few days ago. I already had a pretty good idea about what it entails. I reluctantly agreed to accompany them and readied myself for an afternoon of indulgence.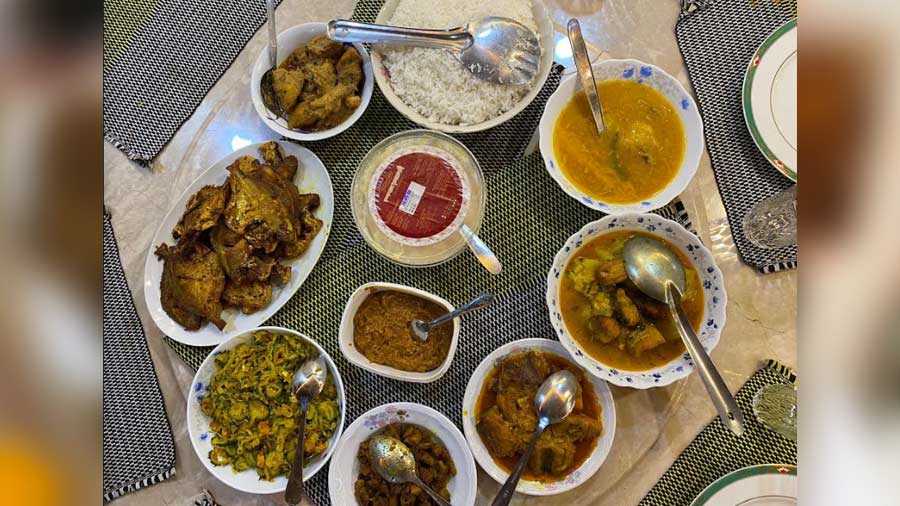 A dinner spread followed by Iftar containing uchche chingri bhaja, aam daal, shidol shutki bhorta, mutton bhuri bhaja and lots more
All the guests were served with three types of juices (papaya, fresh lime and coconut water), a range of fruits, curd and cheera, chicken drumsticks, mutton and beef kebabs and a wide array of sweet dishes. Upon learning that I'm from India, Susmita's aunt insisted that we try Sehri food. In her words, we don't do justice to the Iftar food back home.
As Sehri was assembled, just before the break of dawn, we found ourselves surrounded by roopchand promfret, Bagha Airh (giant catfish), shol (murrel) cooked in papaya broth, shidol puti (a type of dry fish) bharta, shrimps with bitter gourd, dal cooked with mango pulp, malai murgh, lamb intestines along with rice. It was almost too much!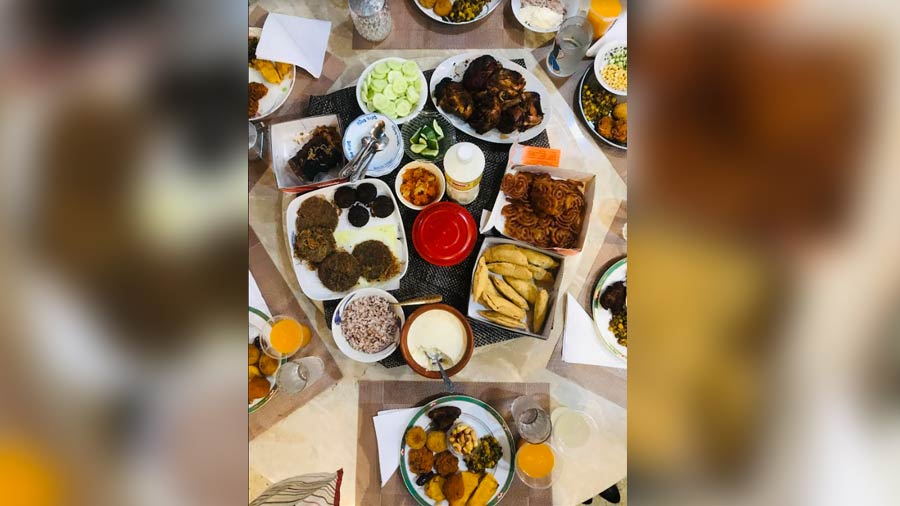 An iftar spread consisting of everything from doi and cheere to shami kebab and grilled chicken
As we crawled our way back home in the wee hours of the morning, I had an epiphany — in Dhaka, Benjamin Franklin probably would have to reconsider one of his most famous philosophies because people here, actually do live to eat and not the other way round.