With the screeching of brakes, I opened my eyes, and for some time, I thought that I was in Shaktigarh on Durgapur Expressway — a series of shops lined up on the highway and shopkeepers beckoning me to their restaurants with a smile and a bow. It was only after stepping out of the car that I saw that the signages of the shops didn't feature langchas, but photos of hilsa. I realised I am at Mawa, Bangladesh, on the bank of the Padma, nearly 400km away of Shaktigarh.
I haven't seen people buying a pair of hilsas from Bagbazar Ghat or Babughat on their way home from work, handing them over to the lady of the house and in no time have the neighbourhood filled with its aroma. I have read about them only. But I have definitely had the opportunity of tasting the hilsa bought from the morning markets of Maniktala or Lake Market in the late '80s. The best quality hilsas were not beyond reach then. They were affordable even in the '90s, not yet shelved into memory. And when cooked simply with a dash of mustard oil and cumin seeds, it would taste heavenly. But all these are distant memories. Just like I used to doubt the Bagbazar Ghat story in my younger days, I am sure the next generation will doubt our account of the taste of hilsa in Kolkata.
A gastronomical pilgrimage
Since reaching Bangladesh, and keeping myself quarantined as desired by the university where I teach, Susmita Khan, a research scholar and my guardian angel in Dhaka, used to pep me up with stories of Mawa's ilish, biryani and leg roast of Star Kabab & Restaurant and Bismillah Kabab Ghar of Puran Dhaka — alluring and assuring me that she would take me on a gastronomical pilgrimage at the earliest opportunity.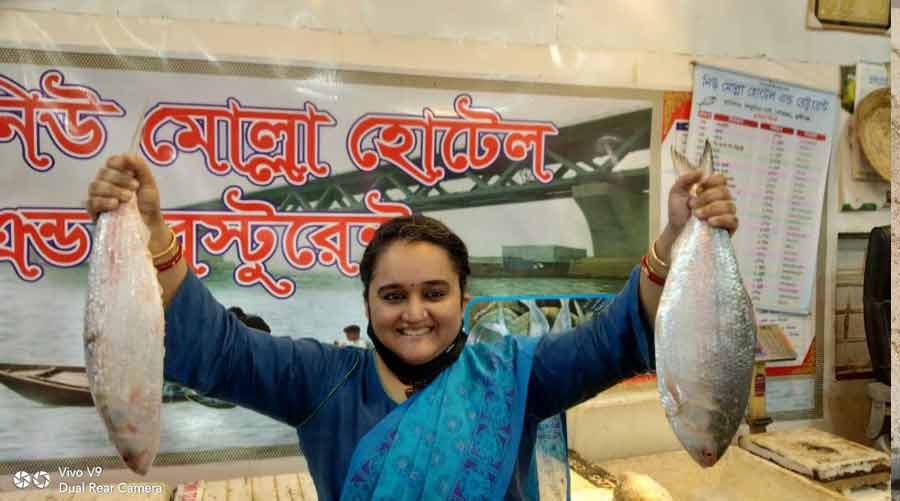 Susmita with her haul
Courtesy: Susmita Khan
But what interested me the most was the hilsa trail. I was able to convince Susmita that our journey should start from Mawa, the hometown of the queen of fish. Susmita and her husband Joy picked me up from my place one night at 11pm and we set off.
Mawa is situated on the banks of the Padma, right at the edge of the Padma Setu, which is expected to be operational from June and cut down the Dhaka-Kolkata travel time by half. The road connecting Dhaka to the Padma Setu has been built, and travelling on that, we reach Mawa at 2am.
Even at this hour, nearly 20 restaurants, with names like 'Gharoa', 'Nirala', 'Ilish Ghar' and 'Jol er Rani', are buzzing with customers. Dodging traffic, Susmita takes us to our destination, the New Molla Hotel and Restaurant. The manager of the restaurant, Fazlul, has known Susmita since he was a kid cleaning utensils on the bank of Padma.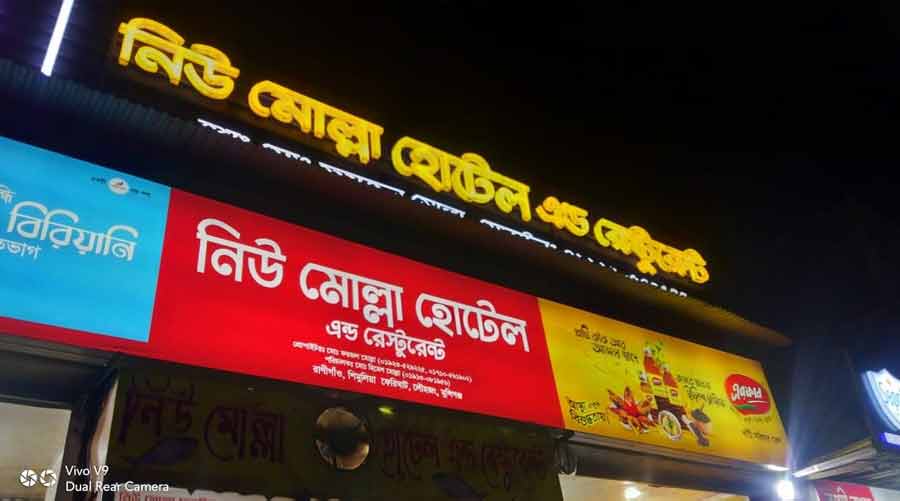 The New Molla Hotel and Restaurant in Mawa, well after 2am
Susmita Khan
Fazlul takes us to the side of the restaurant, where ice boxes are stacked with hilsa. Susmita chooses two pieces, and in less than five minutes, they are cut into pieces and ready to be cooked. Fazlul enquires about our choice of preparation — whether we want them fried, or simmered in a mustard gravy, or the simple 'tel-jhol' preparation.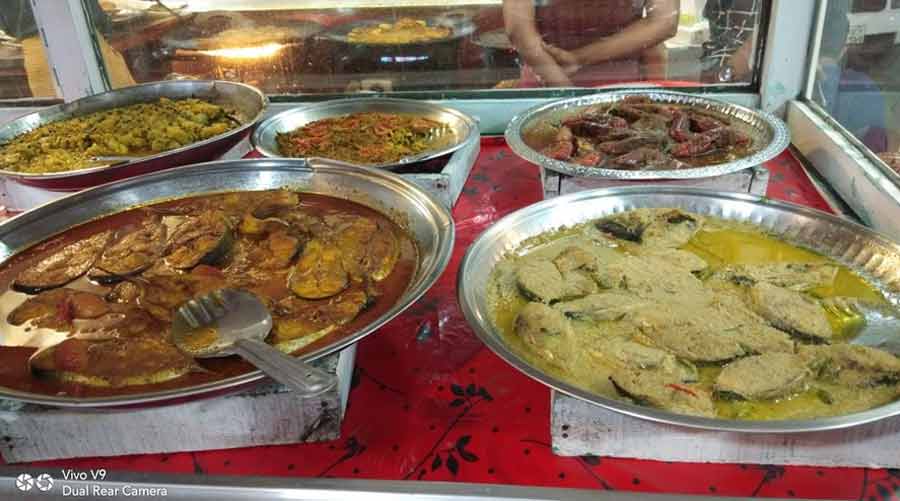 Different preparations of ilish displayed at a restaurant
Susmita Khan
Susmita also selects a few lobsters and gives instructions on their cooking. Next, she picks up some Pangas fish and goes to the back of the restaurant to cook it herself! Yes, the restaurant even provides regular customers a separate kitchen to cook an item their own way!
Bangladesh is a country that loves bhortas (bharta), and can make them from almost any ingredient. From tomato and 'taki' fish to brinjal and Bombay Duck, their expertise in making bhartas is unmatched. However, I could never imagine a bharta made out of the tail — the boniest portion — of the hilsa. I am taken to the kitchen to see the cooking process. First, the tail was bisected, covered in turmeric and deep fried. Then, the fried piece is put in a mortar and pestle and pounded till the bones disintegrate. Onion, dry chillies, a pinch of fried cumin and mustard oil are added, and the mix kneaded and mixed properly. The result? It is the tastiest tail I have ever tasted!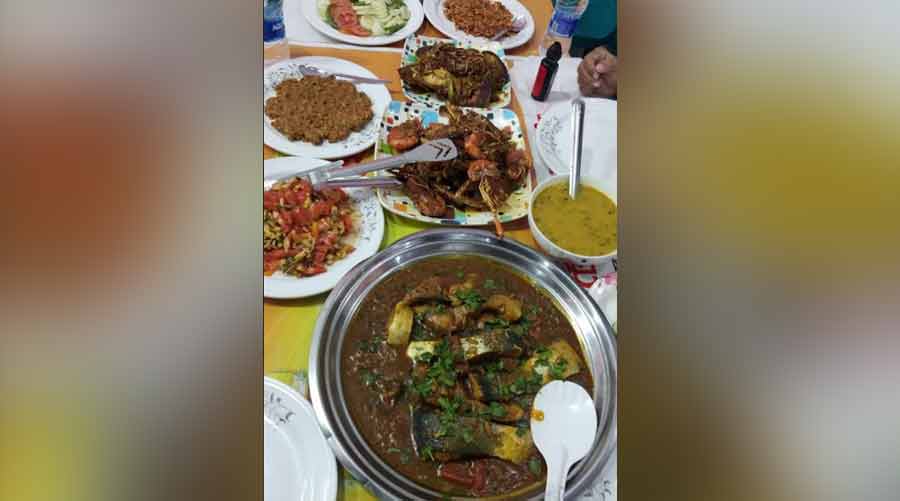 The dinner spread at the New Molla Hotel and Restaurant
Susmita Khan
The complete dinner is served soon. Steaming hot rice, ilish lyajer bhorta, ilish bhaja, sorshe ilish, pangas tel-jhol, chingri bhaja and begun bhaja comprise this feast. We reluctantly end dinner at 4.30am. Being too full to roll out of the restaurant, we decide to rest in the restaurant till sunrise and then set feet on the ground. However, Fazlul insists I must visit the wholesale fish market of Mawa, without which my journey would remain incomplete.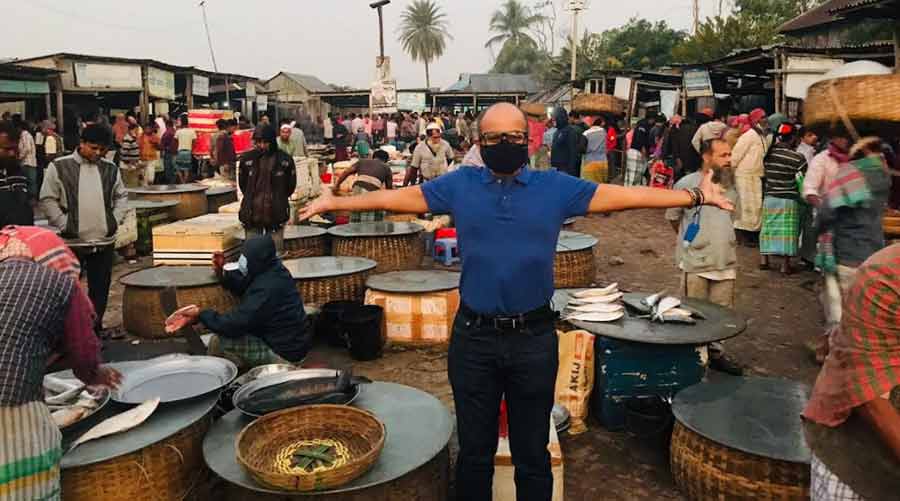 Susmita's husband Joy at the Mawa wholesale market
Susmita Khan
And he is correct, our visit to Mawa would indeed have been incomplete had we returned without seeing this market. Only a mile away from the restaurant, adjacent to the old ghat, the wholesale market operates on all days of the year. Stacks of fish are put up for auction and sold within minutes.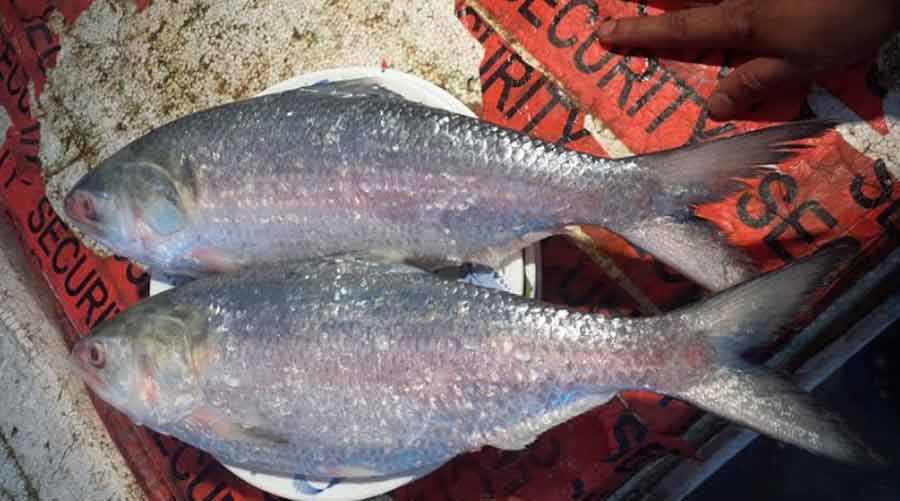 A 'jora ilish' at the market
Susmita Khan
From various types of prawns to various sizes of hilsa, as well as any other fish — you name it and they have it. Seeing hilsas of 800/900gms being sold at 300 taka, I pinch myself to check if I'm dreaming. It reminds me that only few years ago, the hilsa production of Bangladesh had nose-dived. The government intervened, corrective measures were taken, and in the process, hilsa production of increased three times and the size of the fish grew. Most of the ilish we get in Kolkata now come from Bangladesh.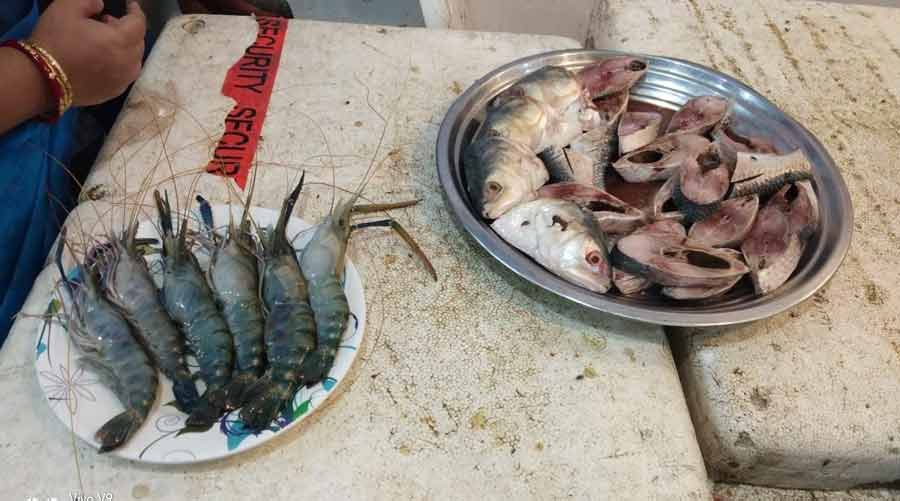 Chingri or ilish? In Mawa, there's no debate
Susmita Khan
By the time we finished touring the market, the sun was beaming. It was time for us to move on to Rekabi Bajar of Mirkadim, Munshiganj to taste the matha there — served only from 6am to 8am, and from there to Srinagar Bajar to savour the 'Seka Roti'. But that's a story for another day.