The latest edition of the Tolly Monsoon Cup unfolded at Tollygunge Club between July 22 and 24, with over 400 players taking part in a two-ball better ball Stableford format.  
Sanjiv Dhir and Sujit Sen were crowned the overall winners in the handicap net team event with a stableford tally of 48, followed by the duo of Krishna Kant Shah and Kuo Thai, who finished with 48. Deepak Tandon and Suvomoy Saha also registered 48 points, but had to settle for third place on account of countback points. 
In the nine-hole senior category, Asim Banerjee and R.N. Das emerged as the winners with a tally of 23 points, two ahead of P.K. Dutt and Probir Gupta in second. The 18-hole bracket saw the team of Kiran Desai and Raghav Lall come out on top with a score of 47, just one more than runners-up Anil Bhargava and Dipak Barma.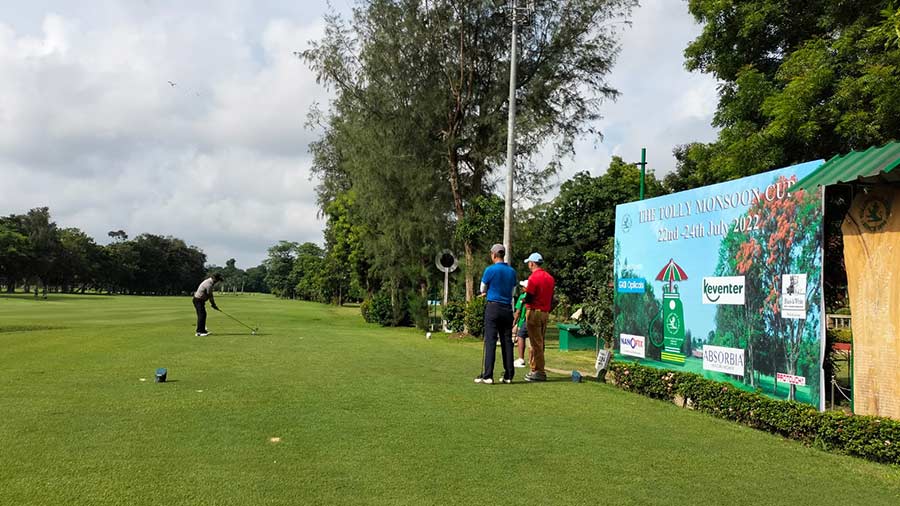 The three-day tournament saw some of the most dynamic golfing action the city has seen all year
Protouch Sports
The overall ladies category was won by the duo of Monisha Ajmera and Rasna Bhandari with 43 points while 47 points was good enough to hand the title to Aarav Kapoor and Prashant Agarwal in the overall juniors category. In the best gross division, Rudraksha Banerjee and Suveer Kapoor achieved pole position with 40 points, with Karan Varma and Sandeep Yadav coming in behind them.
In terms of the daily best net, the opening day belonged to Feroz Khan and R. Chakravorty while days two and three saw the same honour go to the teams of Debashis Sur and Anand Totla and Kaushik Pyne and A.R. Bardhan, respectively.
In the other awards, the straightest drive went to Raghav Lall, the longest drive to Uzair Firdausi and the closest to pin to Prawal Tulsyan.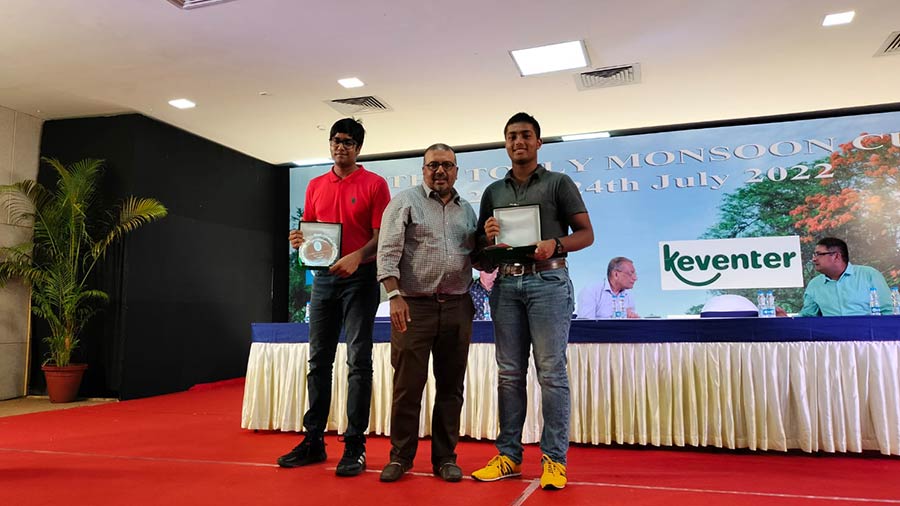 Suveer Kapoor and Rudraksha Banerjee receive their award from Gaurav Ghosh
Protouch Sports
The prize distribution ceremony was graced by Joydeep Datta Gupta, president, Tollygunge Club; Gaurav Ghosh, captain, Tollygunge Club; Deep Banerjee, vice captain, Tollygunge Club; Anil Mukerji, chief executive and managing member, Tollygunge Club.   
The Tolly Monsoon Cup 2022 was sponsored by GKB Opticals, Nanofix, Keventer and Absorbia. The liquor partner for the evening was Black & White. The tournament was managed by Protouch Sports.