Back after a hiatus of two years, CIMA Art Mela, the largest affordable art fair in the country, got off to a promising start on Friday, the first day of the three-day fair. Although the fabled crowd, which used to queue up from 5am or 6am in the past for the fair which opened at 11am, was a tad thin this year, veteran collectors had started queuing up early.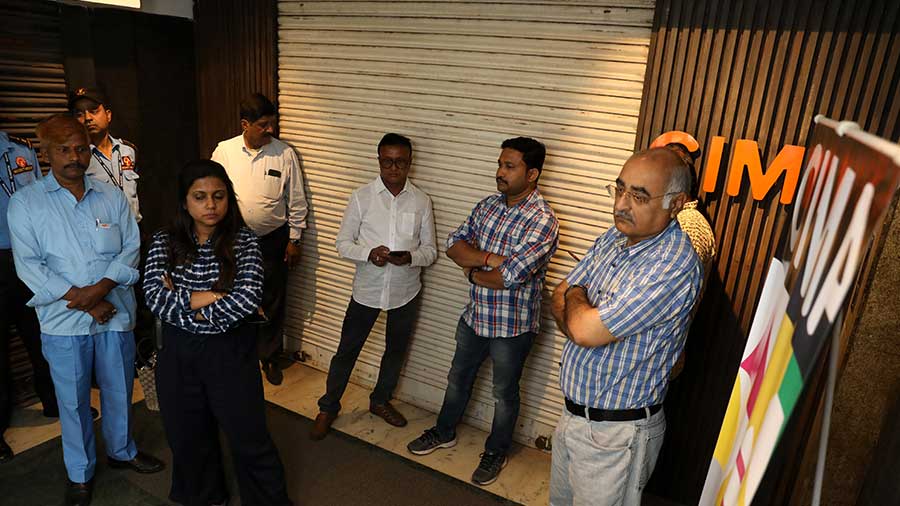 Art lovers wait for the fair to open on Friday
There was quite a rush as soon as the gates opened. "If you don't lock a sale soon enough, there is a chance that it might be picked up by someone else," admonished an elderly visitor to a younger companion who was lagging behind.
One of the biggest reasons the Art Mela has become popular over the years is that the artworks on display are affordably priced. People who would like to possess a work of art, but are intimidated by the prices, find it easier to pick up a work or two at a pocket-friendly price at this annual art fair.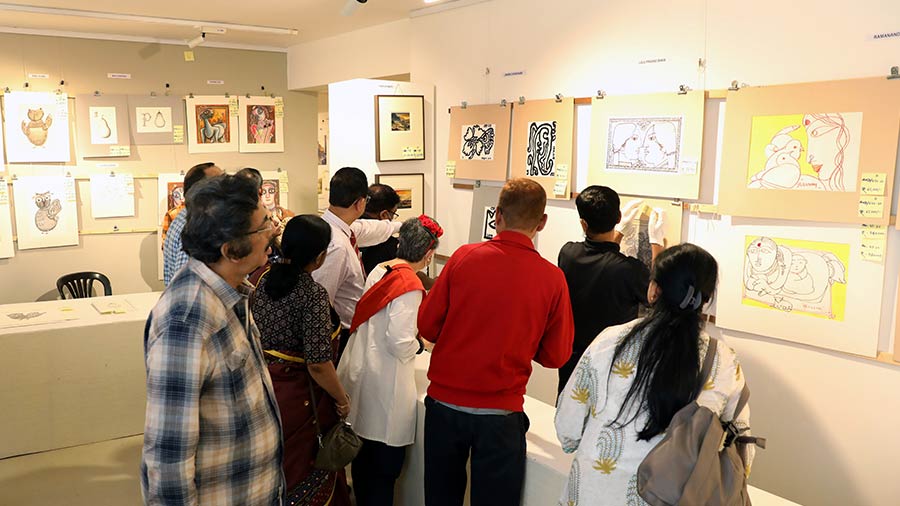 There was quite a rush as soon as the gates opened
Some of the art buyers had their minds made up, inquired about the signature artists of their choice and headed for the display. It was only after they had picked up the artwork of their choice, did they take a look around, sometimes following up with a few more buys, especially of new artists.
"I have been coming to Art Mela since 2008 and been a regular buyer since 2010," said Subhabrata Ghosh, an IT professional and an art lover. "One of the best things about the fair is that you find a range of artists under one roof. I have bought works of Lalu Prasad Shaw, Somenath Hore, BR Panesar and several others in the past. This year, I chose a painting by Jogen Chowdhury," he added.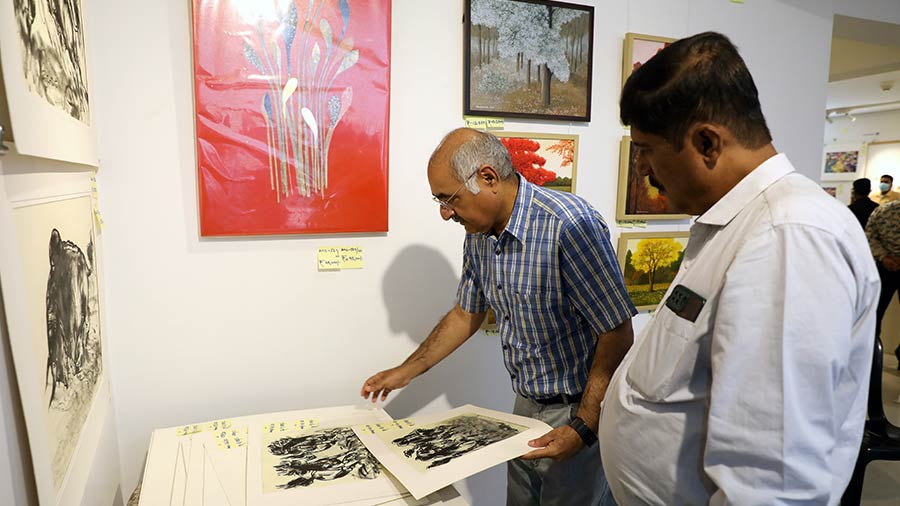 Visitors have a range of artists to choose from
Sundeep Chadha of Chadha Designs, had picked up his first set of black-and-white paintings in less than an hour since the opening. "I was keen to buy a few black-and-white artworks for my house," he said. "Now I will browse for a bright piece of work to complement these black-and-white paintings. I make it a point to visit the Art Mela every year and pick up something reasonably priced."
Visitors were impressed by the variety of artworks on display
Another keen buyer said she was impressed by the variety of artworks on display, which ranged from oil paintings to watercolours, from graphics to sculptures, and even folk paintings, such as Madhubani or Patachitra also graced the walls. Shweta Arya, another regular at the Art Mela, appreciated the informed curation of the artworks, especially that of the upcoming artists.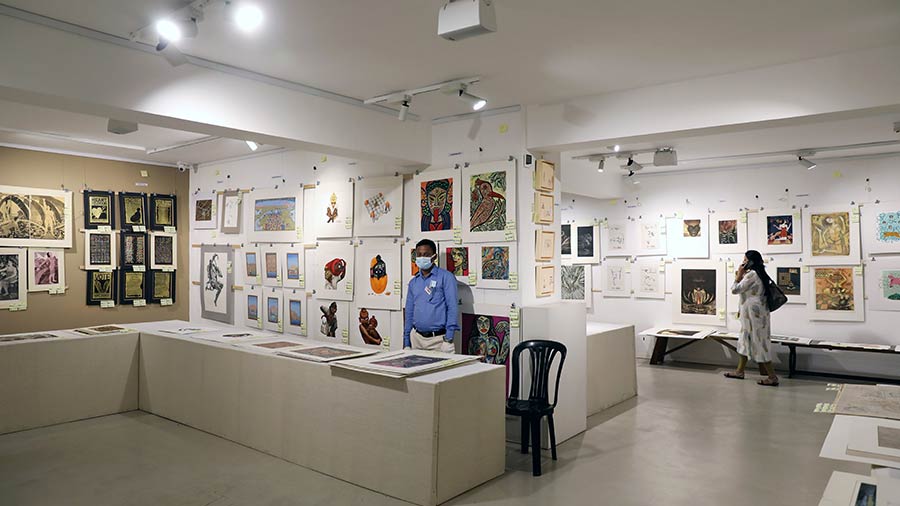 A view of the gallery
The Mela this year is showcasing over 65 artists, veteran and young, from across the country. Artists featuring this year include Jogen Chowdhury, Ramananda Bandyopadhyay, Lalu Prasad Shaw, Sanat Kar, Madhvi Parekh, Paresh Maity, Samir Aich, Subrata Gangopadhyay, Bimal Kundu, Jayasri Burman, Rm. Palaniappan, Ashoke Mullick, Atin Basak, Shyamal Roy, Sunirmal Maiti, Satyajit Roy, Shakila, Chandrima Roy, Dolanchanpa Ganguly, Sandip Roy, Partha Dasgupta, Gourishankar Soni, Baiju Parthan, Sonal Varshneya, Asim Pal, Sougata Das, Partha Pratim Deb, Partha Dutta, Dipankar Chowdhury, Swarna Chitrakar, Anwar Chitrakar, Chandan Panda, Shrevasi Chatterjee, Ramendranath Kastha, Swapnesh Vaigankar, Sankar Das, Rajashree Nayak, Sukanta Adhikari, Sadikul Islam, Amit Saha, Prashant Patil, Jagieet Kumar Rai, Manish Moitra, Sanjay Kashinath Sable, Santanu Roy, Suman Kabiraj, Mainaz Bano, Yashpal Singh and Vogesh P Naik.
Visitors such as Ghosh and a few others said that they preferred to buy from the Art Mela because they knew the gallery had vetted the artworks.
"I am not a regular art collector," said Anuja S (name changed). "I am not trained to differentiate the genuine from a well-executed fake. The Art Mela gives me the assurance that what I am buying is a genuine work of art, even if it is from a lesser known or a new artist."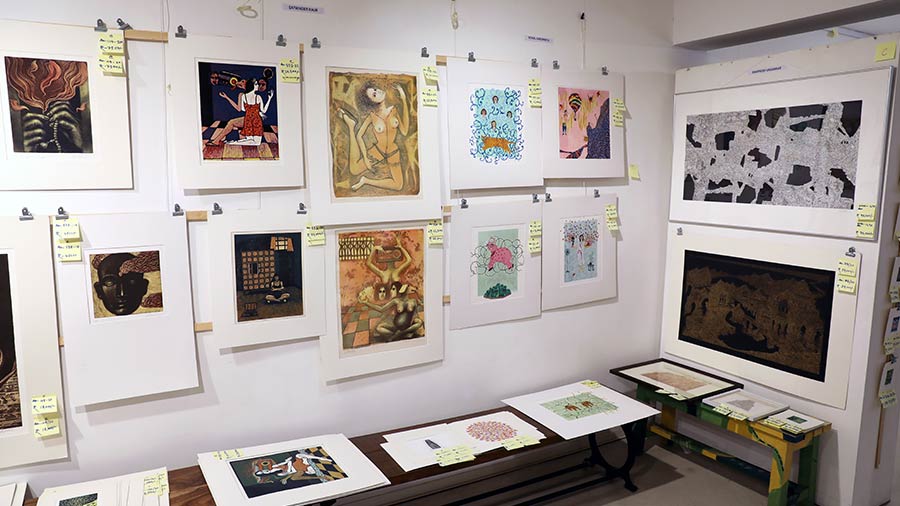 Another section of the gallery
Popular contemporary artist Atin Basak, whose work is on sale here, appreciated the fact that the gallery has given an opportunity to young artists. "The selection has a lot of variety this year," he said. "I have come to the exhibition not because my paintings are here. I am here because I can see the works of so many artists under one roof." According to him, the Art Mela also gives him an opportunity to interact with the art lovers of the city, an opportunity to know what they are thinking.
Going by the jump in the number of visitors as the day lengthened and the empty squares on the walls, the weekend is slated to be a busy one for the gallery. So if you are visiting over the weekend, do hurry.
Art Mela is open till November 27, Sunday, 11am- 8pm, at CIMA Gallery (43, Ashutosh Chowdhury Avenue, Sunny Towers, 2nd Floor, Kolkata - 700019)