She has been a regular at Art Mela, CIMA Gallery's annual lifestyle exhibition, for years. From saris to scarves, bags to bedcovers, she has picked up many Art in Life gems over the years. This year was no different. Actress Swastika Mukherjee dropped in at the exhibition, with daughter Anwesha in tow, and the duo picked up a few of their 2022 favourites.
"I have been coming to Art in Life forever and it is a treat as always. It is like a one-stop Pujo shopping destination where you can get traditional saris and designer dresses, and even accessorise them with various kinds of bags and jewellery at one go. Of course you can add a Puja vibe to your home as well with artefacts, dhurries and more," said Swastika.
Sari and a shirt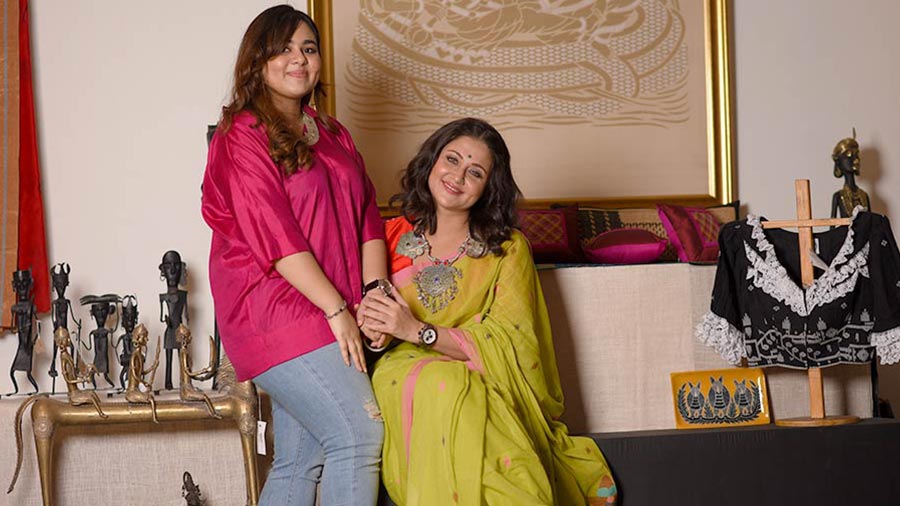 The first thing that Swastika picked was this bright green-and-pink taant sari from West Bengal. "I love the colour combination and it is so soft and light that it is a sari lover's dream," said Swastika, who paired it up with a gorgeous silver neckpiece from Rajasthan to pose for the My Kolkata camera.
She was joined by daughter Anwesha, who posed in her first pick — a deep pink silk shirt from designer brand Hanshu, who is showcasing some of her collections at Art in Life. "The shape is so flattering! And I love the little stitched motif on the back," said Anwesha, who chose a stone neckpiece from Rajasthan to accessorise it.
A pop pot for tea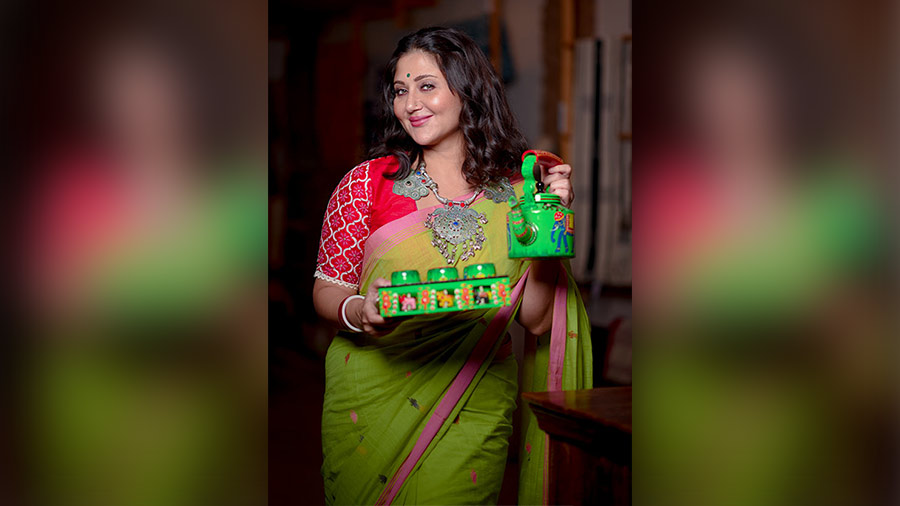 Swastika's second pick was this hand-painted steel tea set from Rajasthan. "This is a conversation starter and it will be pretty cool to serve guests tea in it. But you can even use it as a decorative piece. The pop green colour is bound to catch people's eyes and brighten up any living space," said Swastika.
Practical pur(po)ses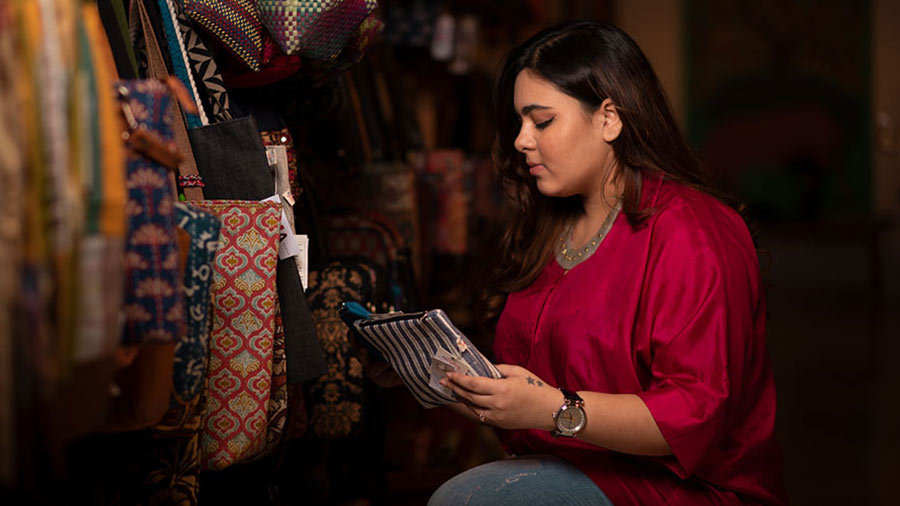 Anwesha's second pick was a set of pouch purses that she is looking to take with her when she goes abroad to study this month. "These are great to keep things like make-up and accessories and stationery, the things that tend to get lost," said Anwesha.
Kantha comfort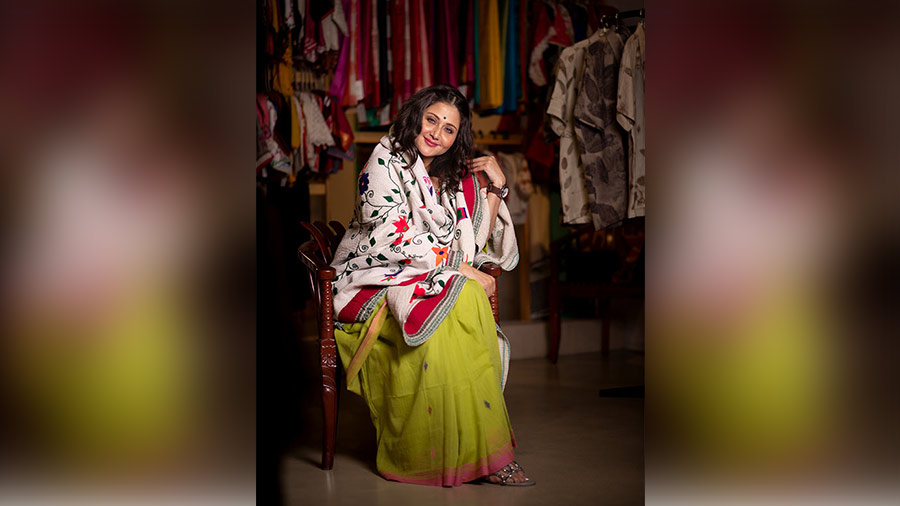 Swastika's third pick was this kantha-stitched quilt made by street survivors who are part of the Katna Kantha project from Murshidabad. "This is such a traditional-looking piece. I have some more at home and I just love them," said Swastika. A very Islamic style of stitching, these kantha pieces don't have figures, only floral and geometric patterns.
Quilts are cool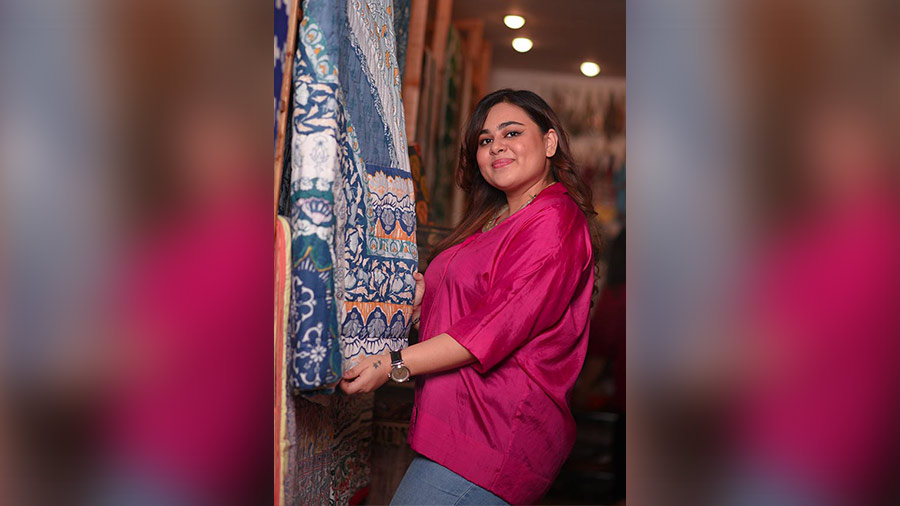 "This is exactly what I was looking for," exclaimed Anwesha, coming across the quilts from Rajasthan. "Where I am going, there will be a nip even in autumn and this is perfect for that weather. It is also like carrying a little bit of India with me," said Anwesha, who picked this white, blue and orange one.
Enchanting Ikkats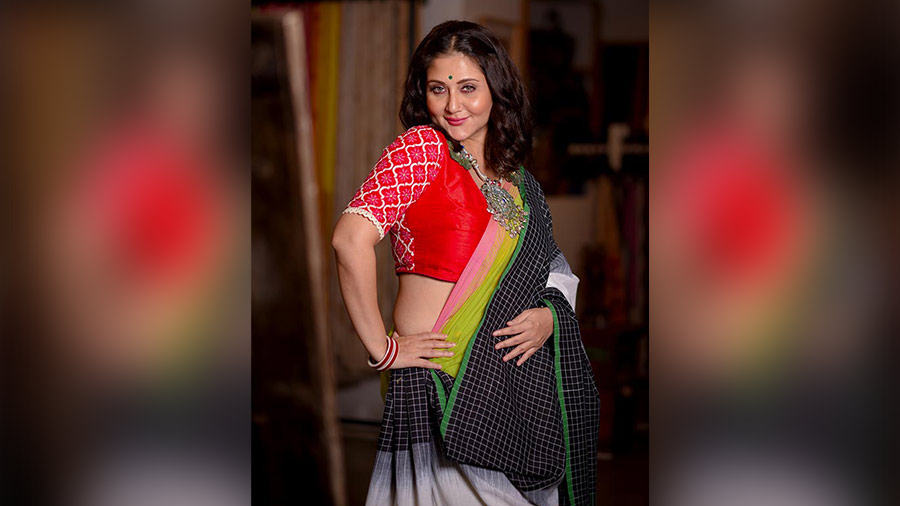 Swastika's final pick was this smart white, black and green Ikkat from Andhra Pradesh. "How can I not choose a sari? And I have a weakness for white, but what really caught my eye is the smart checked border and pallu," said Swastika.
Art in life is on till October 1 at CIMA Gallery, 11am to 8pm every day (including Sundays)