Want to buy an original artwork but don't know where to start? Want a Paresh Maity or a Jogen Chowdhury for your collection but are afraid to ask for the price? Good news is that CIMA Art Mela is back and has artworks from over 65 artists across the country, both senior and young, for you to choose from.
How it began
India's largest affordable art fair, organised annually by CIMA at its gallery on the last weekend of November, is a calendar event for art lovers in Kolkata. The salon-style exhibition, where you can walk in, browse, buy art and take it home, has been so successful that it has expanded to Delhi and Mumbai as well.   
Art Mela started in 2008 in an effort to make art accessible to art lovers in terms of cost without compromising quality and creating a new art collectorship in India. "The problem in India was that art was entering the living rooms of the wealthy and the rich boardrooms but an average lover of art was being deprived of it because the prices were escalating," said Rakhi Sarkar, director, CIMA. 
After a discussion with senior artists in Kolkata and across the country and inspired by the mela concept introduced by Rabindranath Tagore, CIMA organised the first Art Mela with artworks given by a handful of senior and young artists to be sold at a considered rate, much lower than the market price.
"This offered a tremendous opportunity for young collectors to come and buy art," said Sarkar.
The response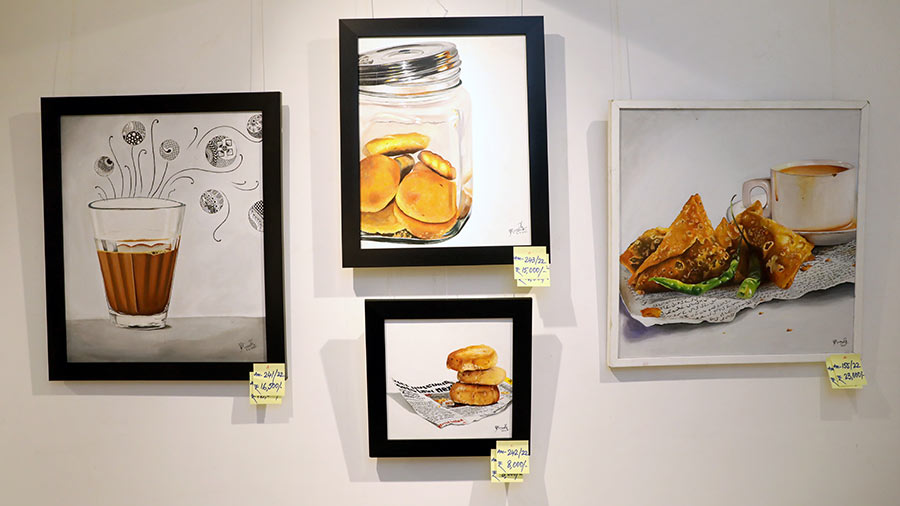 Some of the artworks on offer
The first Art Mela was a tremendous success with people lining up at the gates of CIMA Gallery as early as 5am. There were retired people who dipped into their pension to buy a Ganesh Pyne. There were people from the outskirts of Kolkata who made a day trip to buy art. There were young professionals who were buying art for the first time. 
"It made us commit to make the Art Mela an annual affair and to expand its scope to include artists across India," said Sarkar.
CIMA took the Art Mela to Delhi and Mumbai as well and it took the art cognoscenti by storm. The artworks, today, are also available online at the CIMA website for all those outside the city as well.  
The audience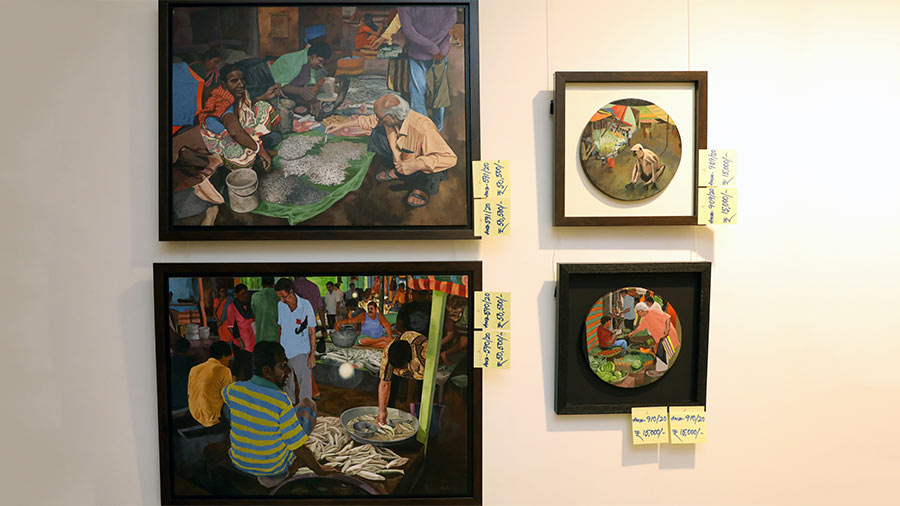 Prices range from Rs 5,000 to Rs 1.5 lakh
Art Mela is a treasure trove for seasoned collectors as well as first-time art buyers with prices starting from as low as Rs 5,000 and not exceeding Rs 1.5 lakh. Art Mela provides a platform where one can get a Paresh Maiti, a Lalu Prasad Shaw, a Jogen Chowdhury or a Ramananda Bandyopadhyay off one wall and artworks by young artists off the next. 
From oils to watercolours, graphics to sculptures, Art Mela offers a variety of mediums to choose from, either to start a collection or add to an existing one. 
"When you are buying art for the first time and you don't know too much about the artworld you can be a little reticent. What Art Mela does is give them confidence by screening the artists on display, whether one is buying an artwork for Rs 5,000 or for Rs 1 lakh," said Sarkar about why Art Mela is perfect for a first-time art buyer. 
Most of the artworks are also fun and playful so for first timers they are not something very impervious or difficult to comprehend and therefore intimidating.
Art Mela also gives buyers the opportunity to acquire experimental and unusual works by known artists. So, one can pick up a sketch by a well-known sculptor or a pen-and-ink from a known watercolourist. "Art Mela provides senior artists the opportunity to experiment with media and style. Ganesh Pyne used to paint shoras (terracotta plates) for the Art Mela, which was not something he usually did," said Sarkar. 
The Art Mela USP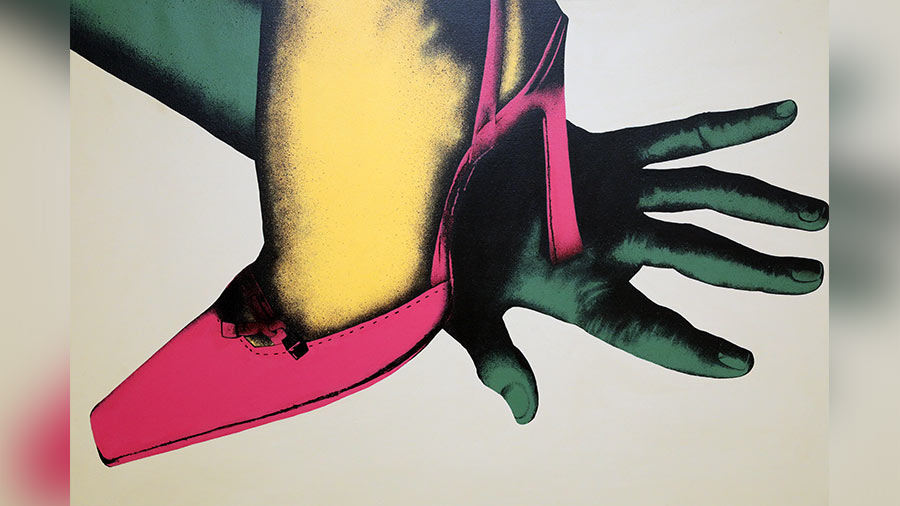 Art Mela this year promises more variety in terms of styles, mediums and prices with artworks from not just the regular Art Mela artists, but also CIMA Award winners and finalists from across India
When one is buying artworks from Art Mela they can be sure about the authenticity and the quality, even if it is not from well-known artists, because all the artists on display have been rigorously screened. 
"We try to be as transparent and objective as we can. The prices are all stipulated so there is no underselling or overselling. This way artists know what their artworks are going at and people who are buying feel reassured because the prices are all declared," added Sarkar.
The collection
Art Mela this year promises more variety in terms of styles, mediums and prices with artworks from not just the regular Art Mela artists, both senior and young, but also CIMA Award winners and finalists from across India. 
Artists who have given artworks to Art Mela this year include Jogen Chowdhury, Ramananda Bandyopadhyay, Lalu Prasad Shaw, Sanat Kar, Madhvi Parekh, Paresh Maity, Samir Aich, Subrata Gangopadhyay, Bimal Kundu, Jayasri Burman, Rm. Palaniappan, Ashoke Mullick, Atin Basak, Shyamal Roy, Sunirmal Maiti, Satyajit Roy, Shakila, Chandrima Roy, Dolanchanpa Ganguly, Sandip Roy, Partha Dasgupta, Gourishankar Soni, Baiju Parthan, Sonal Varshneya, Asim Pal, Sougata Das, Partha Pratim Deb, Partha Dutta, Dipankar Chowdhury, Swarna Chitrakar, Anwar Chitrakar, Chandan Panda, Shrevasi Chatterjee, Ramendranath Kastha, Swapnesh Vaigankar, Sankar Das, Rajashree Nayak, Sukanta Adhikari, Sadikul Islam, Amit Saha, Prashant Patil, Jagieet Kumar Rai, Manish Moitra, Sanjay Kashinath Sable, Santanu Roy, Suman Kabiraj, Mainaz Bano, Yashpal Singh and Vogesh P Naik.
Save the date
Art Mela 2022 will be held from November 25-27, 11am to 8pm, at CIMA Gallery (43, Ashutosh Chowdhury Avenue, Sunny Towers, 2nd Floor, Kolkata - 700019)