Kolkatans have been flocking to the 45th edition of the International Kolkata Book Fair, on till March 13, to scour through its 600+ book stalls and more.
While bibliophiles are overjoyed to welcome the largest non-trade fair back to the city, there is much that lies beyond the book stalls. My Kolkata takes a look at the book fair beyond its printed tomes.
Foodies' paradise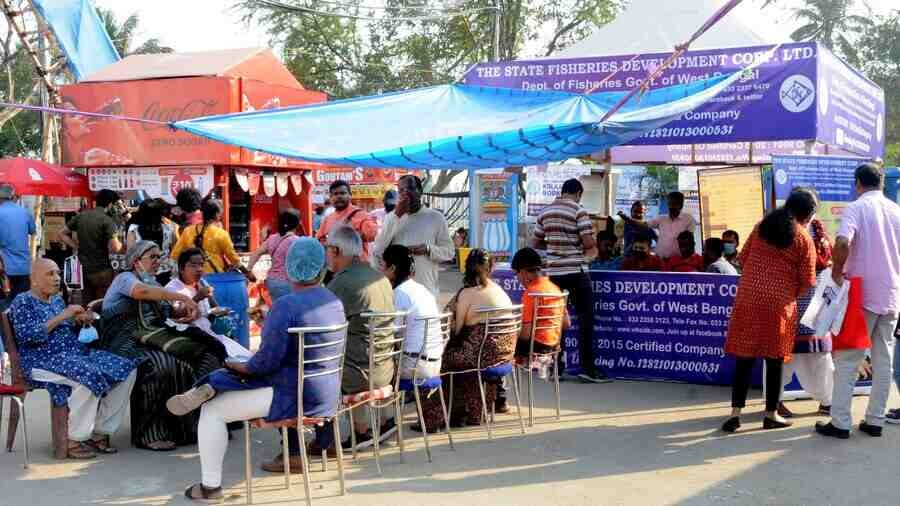 The food stalls located along the periphery of the fairgrounds often take centre stage for visitors
Ashim Paul
No Bengali gathering is complete without food, and the Boi Mela is no different. The Kolkata Book Fair is not just a haven for bibliophiles, but for foodies as well. Located along the periphery of the grounds to avoid littering, there is always a queue to contend with.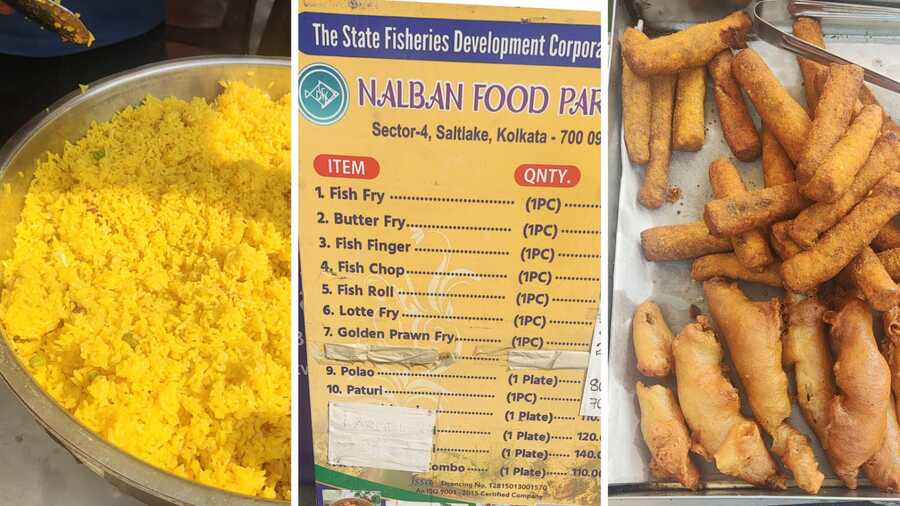 One of the stops for some Bengali fare is the BenFish stall, which has a menu that includes 'basanti pulao' and fish butter fry
Shayeree Ghosh
If you are craving some quintessential Bengali grub, check out the local stalls. Make a stop at BenFish for some delectable fish fry, basanti pulao, even paturi, at affordable prices. 
There are options for desserts as well, from ice creams and beverages to cakes and pastries. Hop into Kolkata classic Mio Amore for sweet treats or the crowd-favourite Chicken Internet. And don't forget to get the 'Our Lady Amore' crown, a fashion accessory and appropriate title, all in one!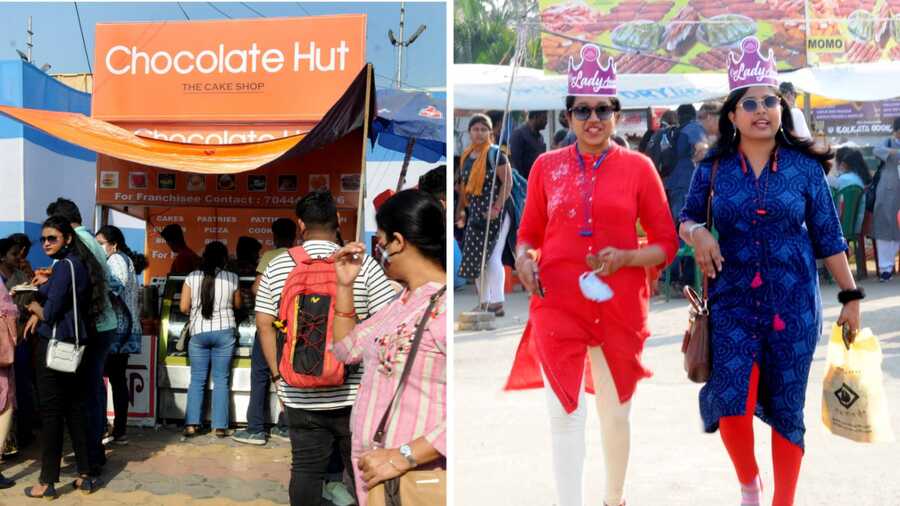 Along with savouries and snacks, there are various options for desserts as well. The Mio Amore outlet has fun takeaways like the 'Our Lady Amore' paper crown
Ashim Paul
Another quintessential Bangali item to look out for is paan. Whether meetha, or just with some Chamanbahar, or the old-timers' classic sada, there's a customised paan for every palate after you've eaten your way through the fair. 
There's also an array of stalls selling dry fruits and exotic nuts to stock up your snack drawer. You will also find papad, chips and a range of other fried nibbles.
Shoppers' delights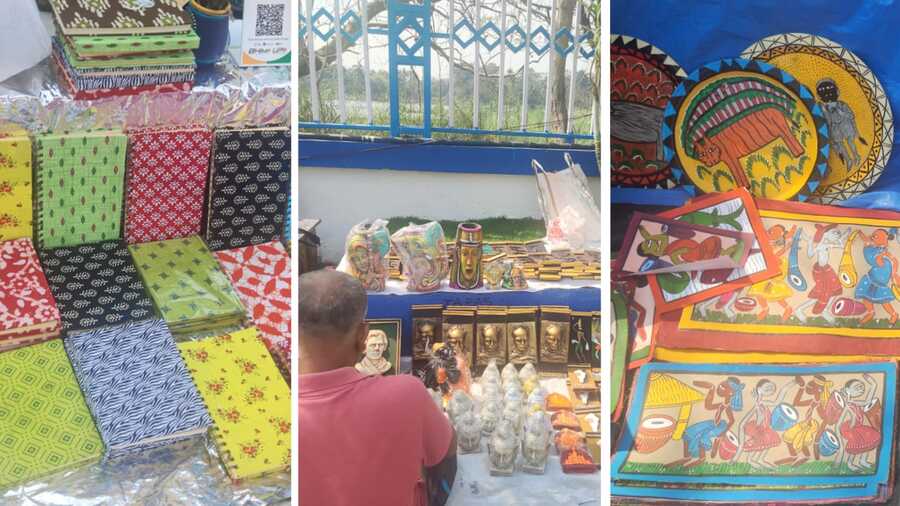 From artistic knick-knacks like fabric-wrapped journals to traditional handicrafts like 'patachitra', there's a souvenir for every kind of shopper
Shayeree Ghosh
A little pocket-friendly shopping never harmed anybody. From junk jewellery to earthen ports and brass collectibles, there are numerous stalls on the fairground selling locally made knick-knacks and traditional handicrafts such as patachitra. Paintings by local artists also find a place among these stalls. 
"The book fair has really accommodated us and allowed us to show our craft to people," said Manjari Barman, who sells diaries with handmade-fabric covers and bags. "The crowd we get and the appreciation we get makes it worth setting up a stall in this heat," she added.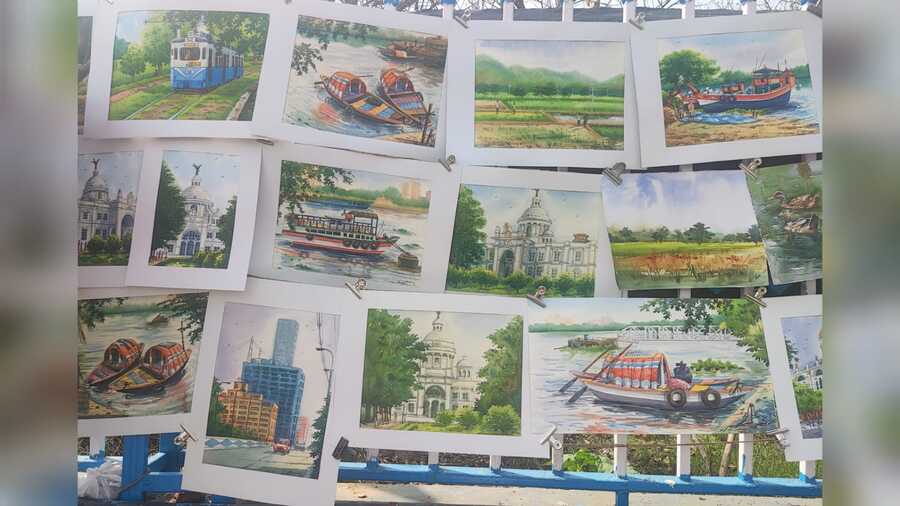 Paintings and other artworks by local artists, including these watercolour cityscapes, also find a place among the many stalls
Shayeree Ghosh
"The pandemic has left so many of us without jobs and artists have suffered like anybody else. This is a huge opportunity for us to showcase our talent, highlight the art and craft of Bengal and earn some money," said local artist Dilip Roy.
Setting the stage
The Publishers and Booksellers Guild has built an open stage, Mukta Mancha, dedicated to the late Soumitra Chatterjee. The stage sees various cultural activities throughout the day — from music performances to book signings and launches. Take some time, maybe with a snack in hand, to sit back and enjoy the event of the day at Mukta Mancha. (It might even lead to some celebrity sightings!)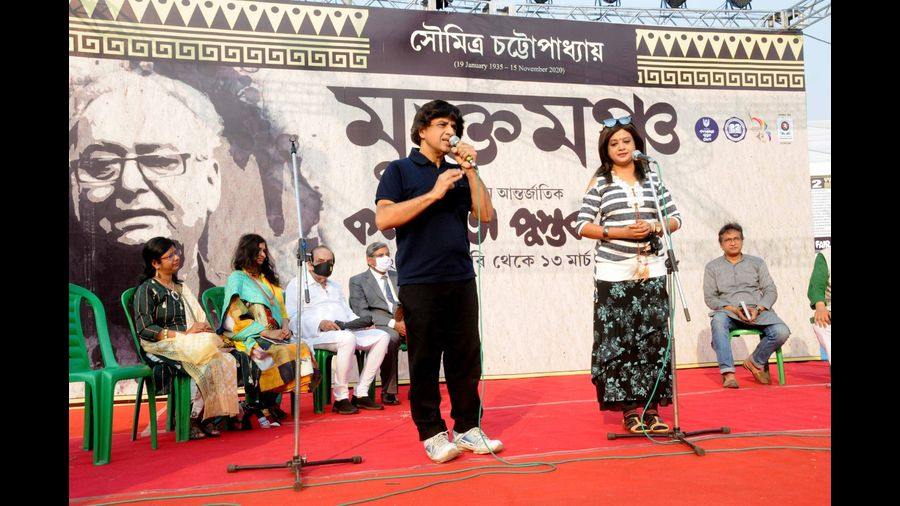 Pandit Mallar Ghosh and his wife at Mukta Mancha
Ashim Paul