Suman Ghosh loves to read. This is hardly a revelation for anyone who has seen his films, replete with literary references, or gone through his academic writings on development economics. But simply knowing that Ghosh is a bibliophile does not do justice to understanding his passion for books. For that, you need to see him up close, surfing through literature.
In the true spirit of an old-school reader who grew up without Kindle and Instagram, Ghosh goes through every book that piques his interest with studied patience, immersing himself in the pages with such dedication that he becomes oblivious to the presence of the surging crowd around him.
"Reading is like mathar malish, it massages the creative juices," says Ghosh, as he accompanies My Kolkata to the ongoing International Kolkata Book Fair, effortlessly executing his role as our literary guide and leaving us with an eclectic reading list alongside ample food for thought.
Baggage constraints and spotting his own book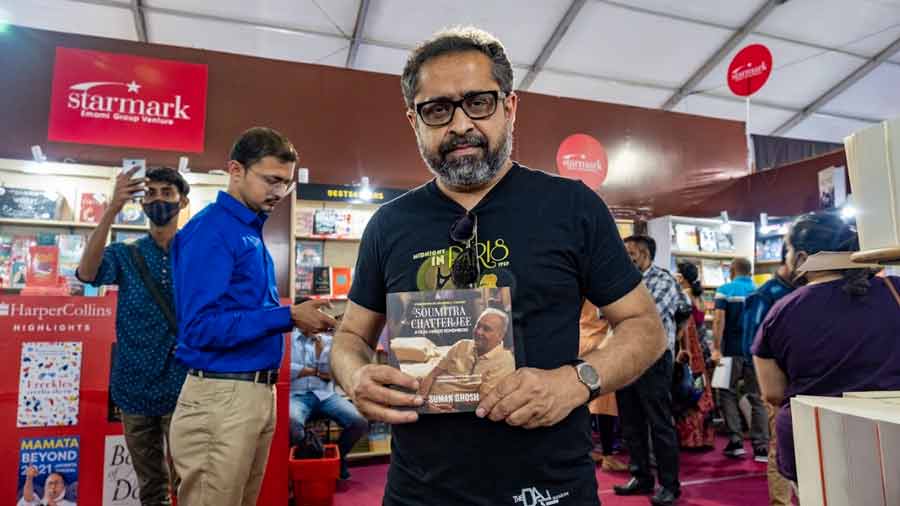 Suman Ghosh with his book on Soumitra Chatterjee at the Starmark stall
Ritagnik Bhattacharya
"I remember coming to the Book Fair as a kid with a budget constraint. Even though I'd get mesmerised in the midst of great books, I'd return home with only four or five, although not without some fish fry from Benfish," recalls Ghosh, who has a baggage constraint this time. "I can only take so many books with me back to America," says the professor of economics at Florida Atlantic University.
Our first stop with Ghosh at the Book Fair, hosted once again at Salt Lake's Central Park, is the Starmark stall in Hall 2. Far wider than it looks from the outside, this is the place where Ghosh spots his own book, Soumitra Chatterjee: A Filmmaker Remembers for the first time. "Soumitra kaku was a father figure to me. The book is my attempt to portray the actor and the man I had the pleasure and privilege of knowing from close quarters," explains Ghosh. After signing his copy of the book, Ghosh kick-starts his literary expedition for the day. Among the first authors he encounters is Mahasweta Devi, whose oeuvre is laid out before him to take stock and leaf through.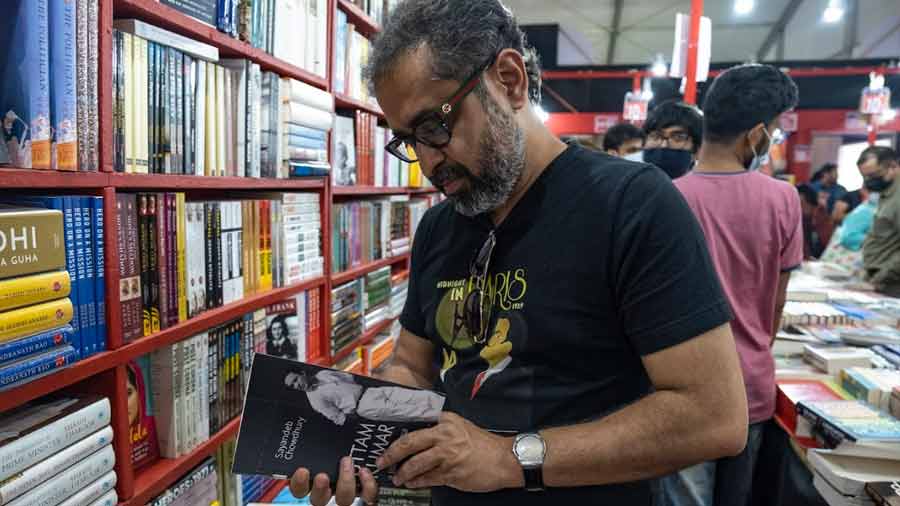 Ghosh carefully reads the introduction to Sayandeb Chowdhury's book on Uttam Kumar
Ritagnik Bhattacharya
"I'm glad that I was exposed to the best of Bengali literature during my formative years. Many of these Bengali novelists are world-class, on a par with the greatest from anywhere else in the world. I've been an ardent admirer of Sunil Gangopadhyay and Shirshendu Mukhopadhyay, not to mention the legendary trio of Bibhutibhushan, Tarashankar and Manik Bandopadhyay," says Ghosh.
'Friend Of My Youth'… 'In An Ideal World'… 'Notes on Grief'
As a child, Ghosh read his fair share of Tintin and Asterix, The Hardy Boys and Nancy Drew, before adolescence brought with it the "guilty literature" of Sidney Sheldon and Robin Cook. It was, however, at Presidency University "that my tastes became more well-defined". Amitav Ghosh's The Shadow Lines had a deep impact during his college days at Presidency, as did the works of Amit Chaudhuri.
Little wonder then that Ghosh scans a number of Chaudhuri's books at Starmark. After picking up Friend Of My Youth, he spots An Ideal World by Kunal Basu, someone "I'd love to get to know better". Ghosh adds it to his shopping cart and heads over to the international authors' section. Rachel Cusk and Elif Shafak are able to occupy Ghosh's attention for a few minutes, but it is Chimamanda Ngozi Adichie's Notes on Grief that ends up as his next purchase.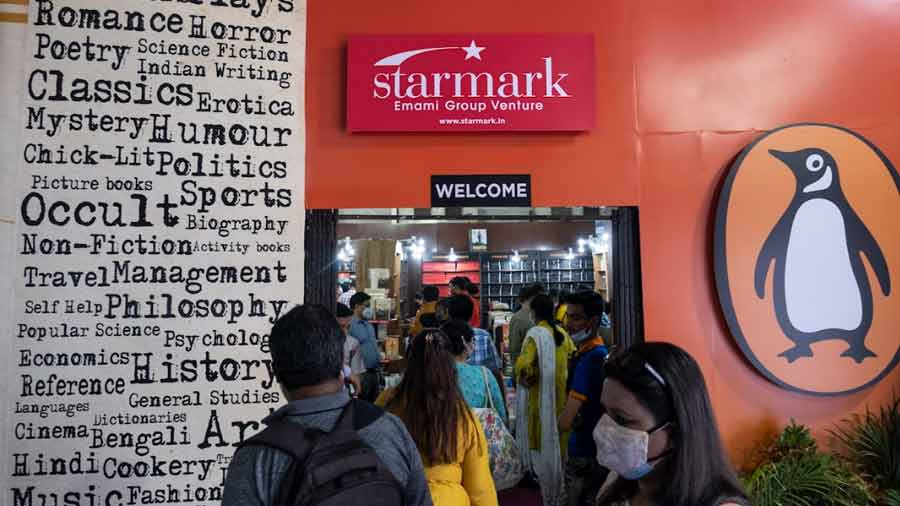 Book lovers stream into the Starmark stall
Ritagnik Bhattacharya
"Outstanding" is Ghosh's opinion of Adichie, with similar superlatives reserved for Perumal Murugan and R.K. Narayan. "Waiting for the Mahatma by R.K. Narayan is a fantastic book. I had once received an offer to make a television series on it," remarks Ghosh. 
'Siddhartha' is one of those texts that changed my outlook on life
Why didn't he take up the offer? Before the question can be put to him, Ghosh is seen standing transfixed with a book that seems to evoke a sense of awe in him. The book is Herman Hesse's Siddhartha. After coming out of Starmark, Ghosh elaborates: "Siddhartha is one of those texts that changed my outlook on life. When I saw this wonderfully bound edition, I thought of getting it for a friend. On second thoughts, I might just keep this for myself!"
The second port of call at the Book Fair is the stall put up by Oxford Bookstore, where Ghosh's book on Soumitra Chatterjee is placed close to Amartya Sen's Home in the World: A Memoir. A beaming smile spreads across Ghosh's face as he holds up both books and talks about how his "academic grandfather (Sen) and Soumitra kaku are among the most remarkable people I've ever known. Two stalwarts with undying curiosity, true Renaissance men, perhaps the last of their kind."
From Oxford, Ghosh bags The Mahatma, The Monarch and the Fakir, which documents the details behind the assassination of the Father of the Nation. He also collects Jorge Luis Borges's The Aleph – Borges's Fictions had been a "seminal influence" on Ghosh – besides taking home Farid Zakaria's Ten Lessons for the Post-Pandemic World. "Zakaria's geopolitical understanding is unparalleled; I'd love to know his comments on the pandemic and its ramifications on geopolitics," says Ghosh.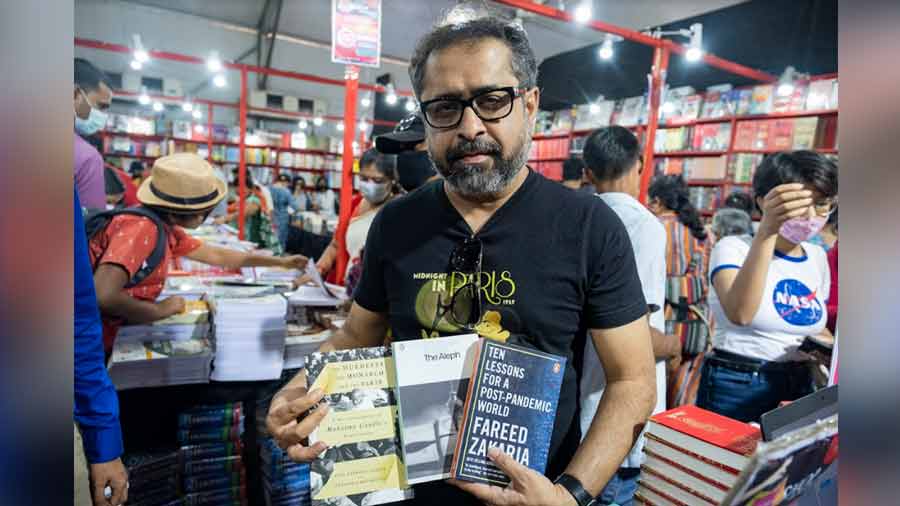 Ghosh poses with the three titles he bought from the Oxford Bookstore stall
Ritagnik Bhattacharya
Rajan… Duflo and Banerjee… Krugman… Shiller
On the economic aspect of geopolitics and current affairs, Ghosh is effusive in his praise for Raghuram Rajan and his books. "He's extremely solid in his analysis and quite lucid, too. He has this gift of being able to explain complicated things in simple ways without being reductionist." Besides Rajan, Ghosh regularly reads the works of Esther Duflo and Abhijit Banerjee, Paul Krugman and Robert Shiller when it comes to popular economics and finance.
Back to Oxford now, where Ghosh spends some time parsing through the works of Pankaj Mishra, which is also when his eyes land on Blink and Talking to Strangers by Malcolm Gladwell. His expression undergoes a subtle change. "Skeptical about self-help books?" we ask, to which Ghosh nods in polite agreement.
Two books, though, continue to elude Ghosh – Lady Doctors: The Untold Stories of India's First Women in Medicine by Kavitha Rao and Price of the Modi Years by Aakar Patel. 
Obama, Nooyi and European fiction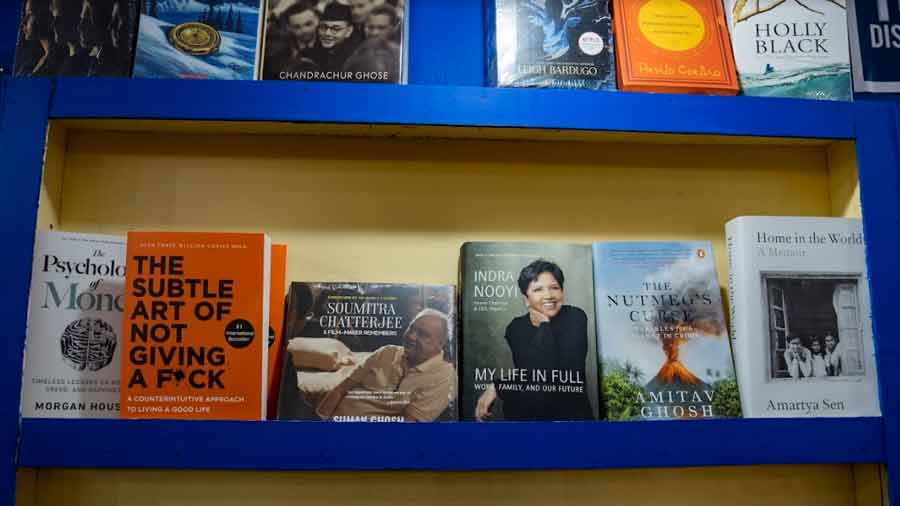 Ghosh's book placed right next to Indra Nooyi's autobiography at the Children Book Centre stall
Ritagnik Bhattacharya
Next up is the Children Book Centre stall where Ghosh spots two of the most compelling biographies in recent years, My Life in Full by Indra Nooyi and Barack Obama's A Promised Land. "I had the pleasure of interacting with Nooyi during an event where both of us had been invited to speak. She's a testament to the virtues of resilience and self-growth…. I really enjoyed reading Obama's book last year. The fact that he manages to stay so grounded in everything he does makes his book all the more impressive," observes Ghosh. Before exiting the stall, Ghosh mentions Jay Shetty's Think Like A Monk, "a book that has done exceedingly well in America".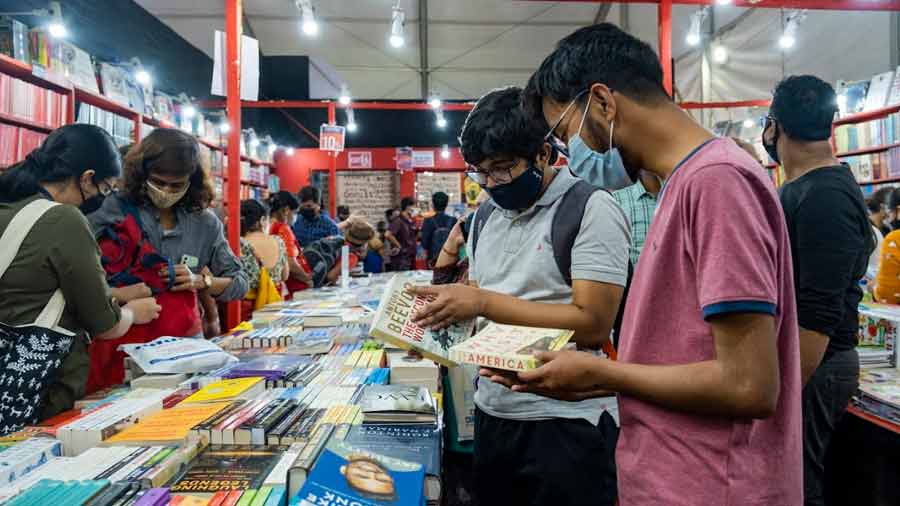 College students go through the best of the non-fiction collection
Ritagnik Bhattacharya
The transit time between stalls provides further insights into Ghosh's reading range. "I enjoy reading European fiction, as it gives me the chance to live so many lives vicariously," he says, citing the likes of Franz Kafka, Albert Camus and Fyodor Dostoevsky as his favourite writers to read in translation. "I'm also making forays into Norwegian fiction," adds Ghosh.
At the Chuckervetty Chatterjee & Co stall, Ghosh returns to exploring his love for Bengali fiction. His quest for an English translation of Sunil Gangopadhyay's Purba-Paschim (for his wife to read) ends in vain, but he does manage to get his hands on an exquisitely designed Bengali original. Ghosh briefly speculates about buying the Bharat Ratna Samagra, before deciding against it and setting off for the final destination on our Book Fair tour.
In search of an authoritative biography on Bangabondhu
The magnificent architecture that houses the Bangladesh stall at this year's Book Fair is a fitting tribute to India's neigbours on completing five decades of Liberation. As the theme country for 2022, there is no shortage of books on Bangladesh inside the stall's winding premises, where the heat tends to greet visitors with an additional ferocity.
Ghosh has one clear aim on entering the Bangladesh stall. "I'm looking for an authoritative biography on Bangabondhu Sheikh Mujibur Rahman," he says. Over the next 10 minutes, he samples Bangalir Bangabondhu by Kamal Chowdhury, Bangabondhu Kosh by Muntassir Mamoon and Abdul Wahid Talukdar's Jatir Janak. None of these gets Ghosh's approval, mostly because of their clunky size (remember his baggage constraints?). Eventually, it is a slim volume called Vidyasagarer Dorshon Chinta by Sandip Pal that Ghosh chooses as his final purchase from the Book Fair: "This reminds me of the conversations I would have about Vidyasagar with Soumitra kaku," reflects Ghosh.
If you don't read, you stop visualising, which can be a big problem for a storyteller
On the ride back from the Book Fair, Ghosh goes deeper into his reading process: "Sometimes when I'm reading, ideas appear to me like chaotic veins of thought. But I try to create a method in the madness. As filmmakers and artists, reading is vital. It's all good watching the finest television series or films, but if you don't read, you stop visualising, which can be a big problem for a storyteller."
Which of his Book Fair buys does Ghosh intend to begin first?
"Initially, I was thinking of going with Borges's The Aleph, but I think it'll be Nehru: The Debates that Defined India (by Adeel Hussain and Tripurdaman Singh)," replies Ghosh, whose collection for the afternoon also involves The Monk as Man: The Unknown Life of Swami Vivekananda by Sankar and a volume on Bengali detective stories.
"I can get a bit greedy around books," chuckles Ghosh, implying that he may have exceeded his baggage constraints after all. After some more conversation in the car, ranging from American politics to European literature to the Russian invasion of Ukraine – "I need to read more about it… I was too absorbed in shooting my film" – our time with Ghosh is at an end.
Like the short stories of Rabindranath Tagore, the afternoon with Ghosh concludes with a lot still left to be said. The book lover and conversationalist in Ghosh senses that too. As he leaves to say goodbye, he assures us that "porer baar abaar hobe (we'll do it again next time)."