The 45th edition of the International Kolkata Book Fair, or Boi Mela, was inaugurated on February 28 and will be on until Sunday, March 13. The largest non-trade book fair in the world is back after a gap year — it was not held in 2021 due to the pandemic — and book lovers are excited to go back to experience this quintessential Kolkata event. This year's 13-day fair celebrates Bangladesh as its country of focus, coinciding with its 50th year of liberation.
If you have not visited yet, or are a first-timer looking forward to the experience this year, here are some useful tips and information to remember to get the most out of your visit.
Know your navigation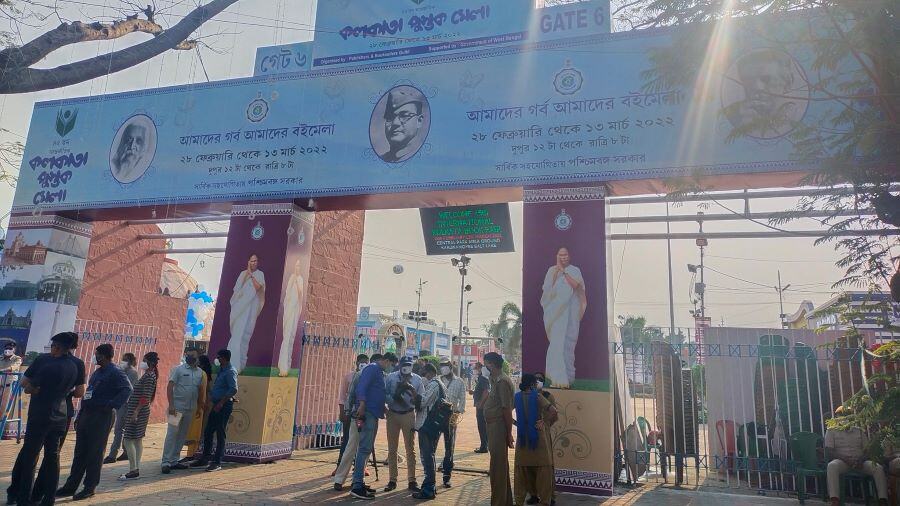 The venue is the Central Park mela ground at Salt Lake's Sector III in Karunamoyee and the fair is open from 12pm to 8pm
Facebook/Kolkata International Book Fair 2022
The fair is being held at the Central Park mela ground at Salt Lake's Sector III in Karunamoyee, from 12pm to 8pm. Shuttle bus services, operational especially in the evenings, have been made available from Karunamoyee Bus Stand for 11 different channels:
Channel 1 : Sealdah Station, Mandirtala, Rajabajar
Channel 2: Howrah Station
Channel 3: Thakurpukur, Tollygunge Metro
Channel 4: Jadavpur
Channel 5: Jadavpur
Channel 6: Parnasree, Shakuntala Park, Joka, Gariahat
Channel 7: Garia, Kamalgazi, Baruipur 
Channel 8: Barasat, Santragachi
Channel 9: Ultadanga
Channel 10: Dumdum Station, Barrackpore
Channel 11: Bali Halt
With the help of Bidhannagar Police, the auto fares have been fixed for the fair.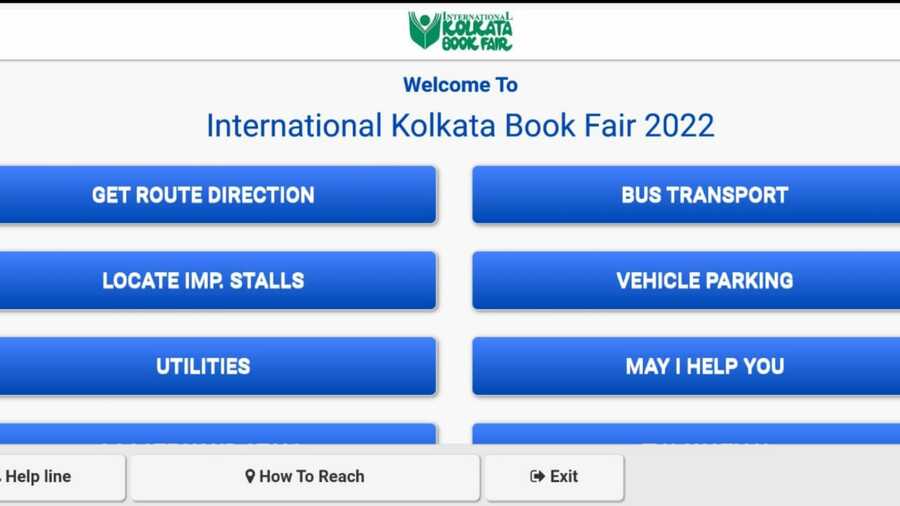 CESC has also come up with a handy app, available on Google Play Store for the book fair
To navigate the fairgrounds, the organisers have a map on the official festival website and have also partnered with Alliance Broadband for WiFi at the fair. The website also has real-time updates and schedules, helpline numbers, etc. Volunteers from the guild and police personnel are positioned everywhere to help. CESC has also come up with a handy app, available on Google Play Store, to navigate your way to and your way around the book fair. 
Remember that health is wealth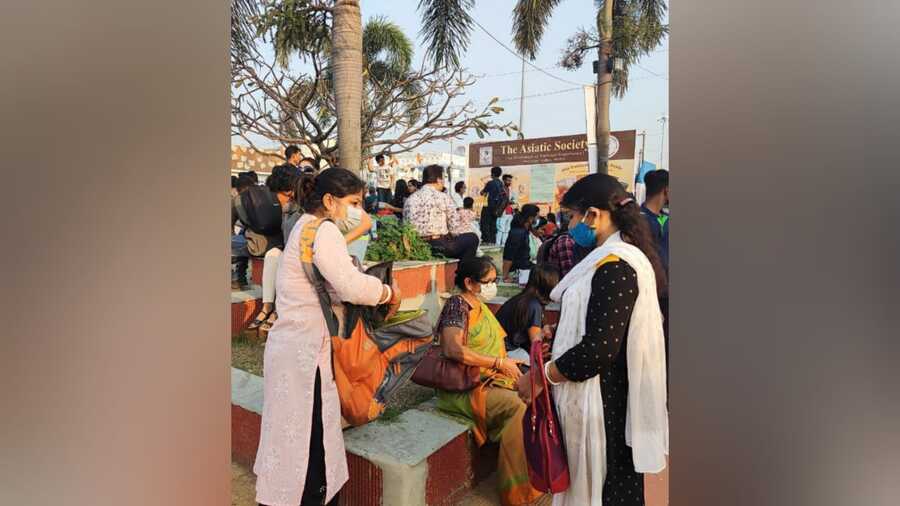 COVID 19 precautions and restrictions are in place at the fairground
Shayeree Ghosh
There are nine entry gates and ample open space at this year's fair keeping pandemic restrictions in mind. Masks are mandatory for entry so make sure you are covered up. The fair attracts large crowds, so take ample precautions and follow safety guidelines as detailed on the Kolkata Book Fair website. 
Every stall is equipped with sanitisers and there are sanitiser dispensers around the grounds. A medical and health check-up booth, supported by Peerless Hospital, equipped with a first-aid kit and a doctor is in place. In case of an emergency, there are ambulances for transfers to the nearest hospital.
Lace up (and hydrate) for a long walk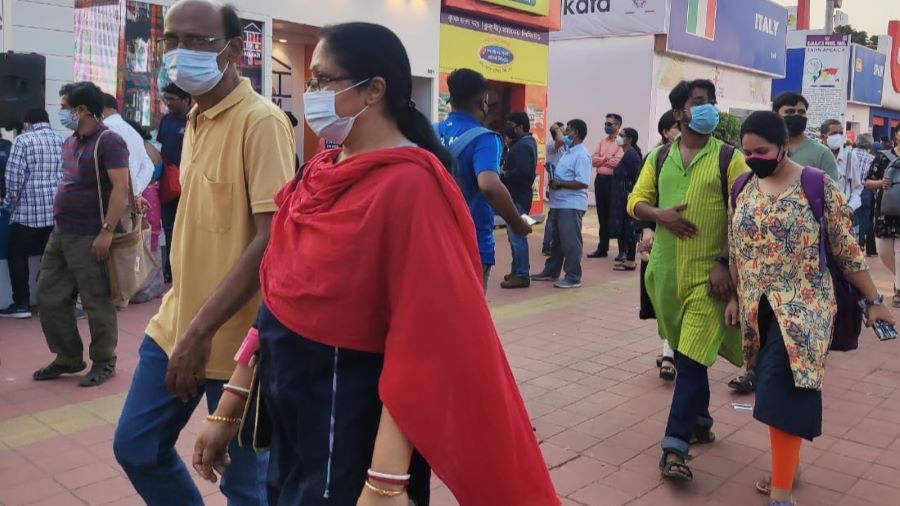 Navigating the book fair requires comfortable footwear to be able to explore on foot
Shayeree Ghosh
There are nine gates, 600 stalls and 200 Little Magazines, and the best mode of transport to cover it all is… you guessed it: your feet! So, slip on comfortable footwear that will help you make your way through the stalls and all the pavilions, so you don't miss out on your favourites. If you need a breather, grab a snack or a drink and take a load off at the open pavilions before you finish your day's scouring. In fact, take a bring and sing some tunes at the karaoke booth.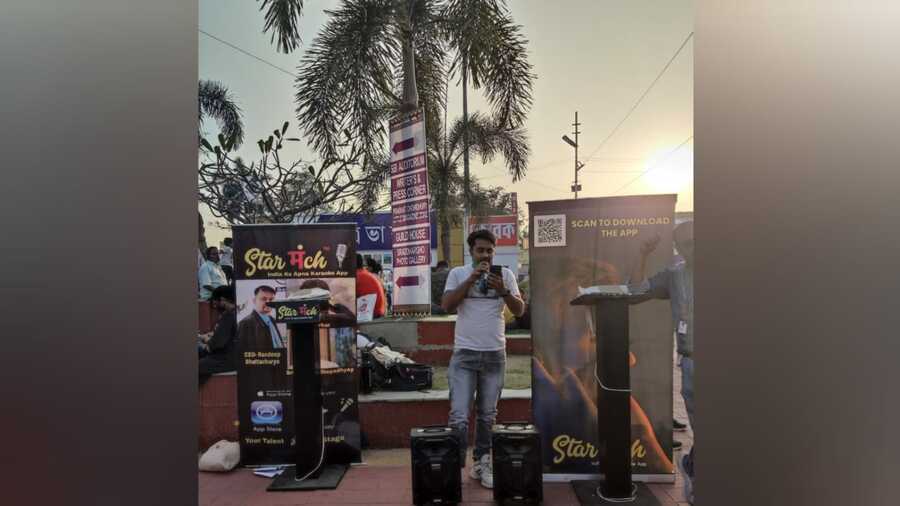 The open pavilions have space to rest and there's a karaoke booth as well
Shayeree Ghosh
The book fair is usually held in the winter, so this time around the weather may not be as forgiving for visitors so don't forget to hydrate. We recommend being mindful of the environment and carrying your own water bottles, but you can also buy bottled water from the beverage stalls or get water packets behind the Guild office, free of cost. (Yes, there are men's and women's toilets at the grounds.)
Indulge your inner bibliophile with pride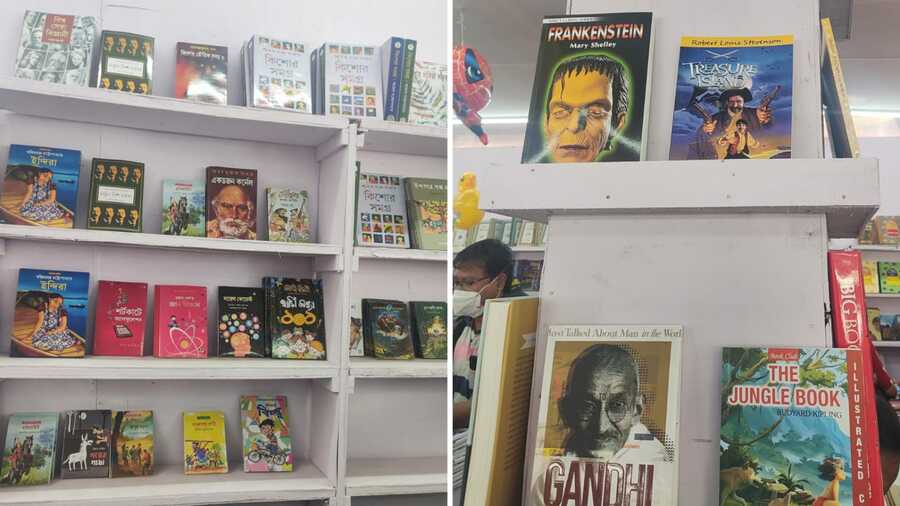 From sci-fi and manga to classics and self-help — every genre of literature from around the world finds a place at the 'boi mela'
Shayeree Ghosh
You are among fellow bibliophiles at the book fair, so don't hold back on indulging your love of books. The collections are vast, ranging from sci-fi, manga and thrillers to non-fiction, classics, self-help and more.There are two auditoriums — named after Netaji Subhash Chandra Bose (Hall 1) and Sri Aurobindo Ghosh (Hall 2) — with primarily English language publications. At the International complex, you will find stalls from various different countries including the USA, Italy, Japan, Mexico, France and Iran, which has joined the mix for the first time.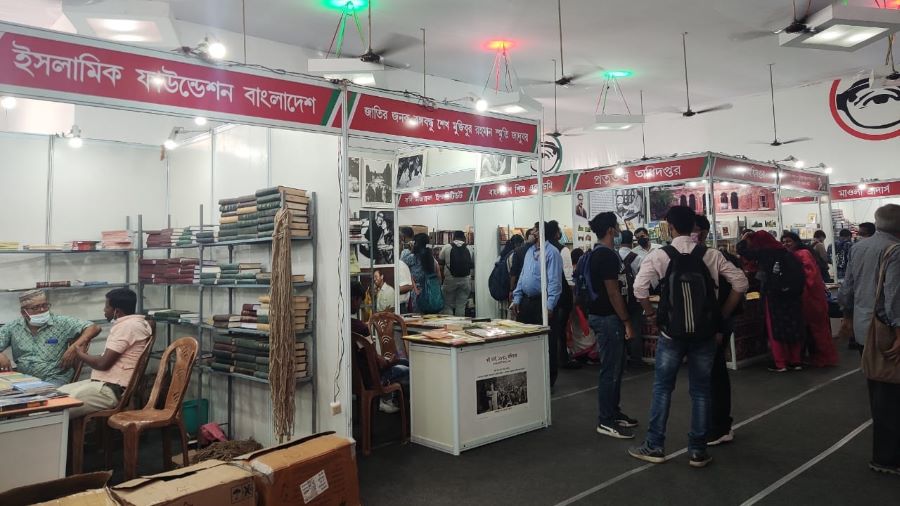 With 50 publishers, there is a wide range of books showcasing the literature from this year's country of focus — Bangladesh
Ashim Paul
This year's country of focus is neighbouring Bangladesh. Make sure to drop in at the pavilion housing the works from the country. With 50 publishers, there is a wide range of books that include ones commemorating Sheikh Mujibur Rahman, the birth of Bangladesh, the Bangladesh Liberation War, along with translations of popular books and more. Remember to look out for popular Bangladeshi authors such as Humayun Ahmed, Humayun Azad and Munir Chowdhury.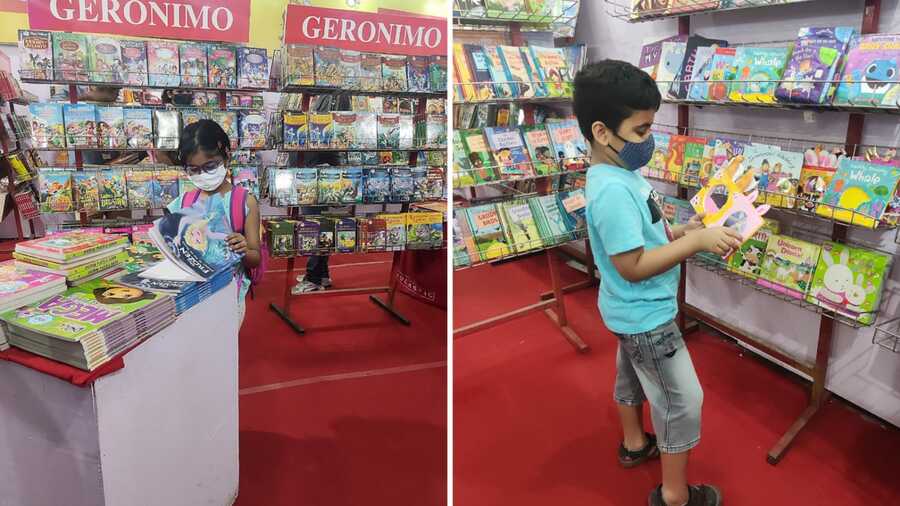 The children's literature section is always a popular part of the book fair
Shayeree Ghosh
One of the biggest attractions at the book fair are children's books, and this year is no exception. From popular cartoons and international kids' literature to the classic works of Narayan Debnath, there's much to explore at the Children's Pavilion. This year, the pavilion has been dedicated to the late Bengali cartoonists, with his illustrations decorating the walls.
Go beyond the books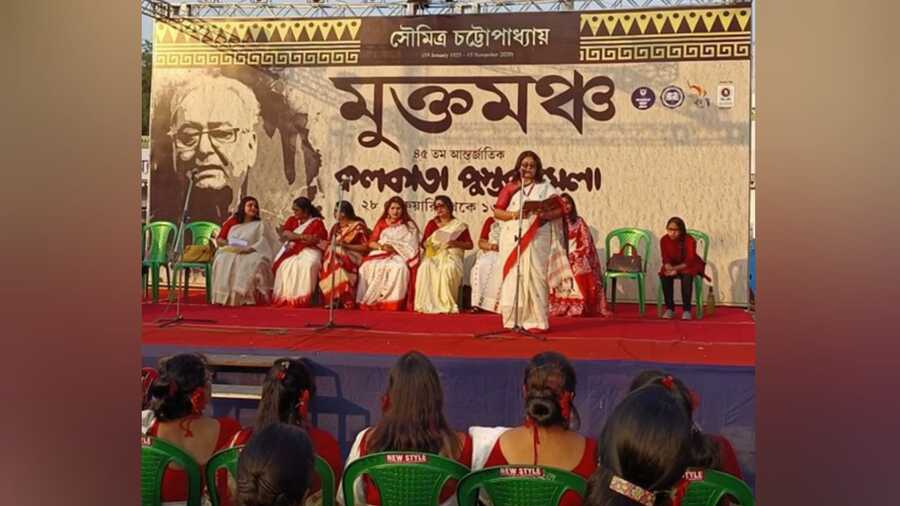 The Mukta Mancha is dedicated to actor Soumitra Chatterjee
Ritagnik Bhattacharya
The book fair does not just house books, but also over 200 little magazines. There are also various events being held at the auditorium including book launches, and the open stage Mukta Mancha is the venue for many cultural activities that are on throughout the day. This year, the stage has been dedicated to Soumitra Chatterjee.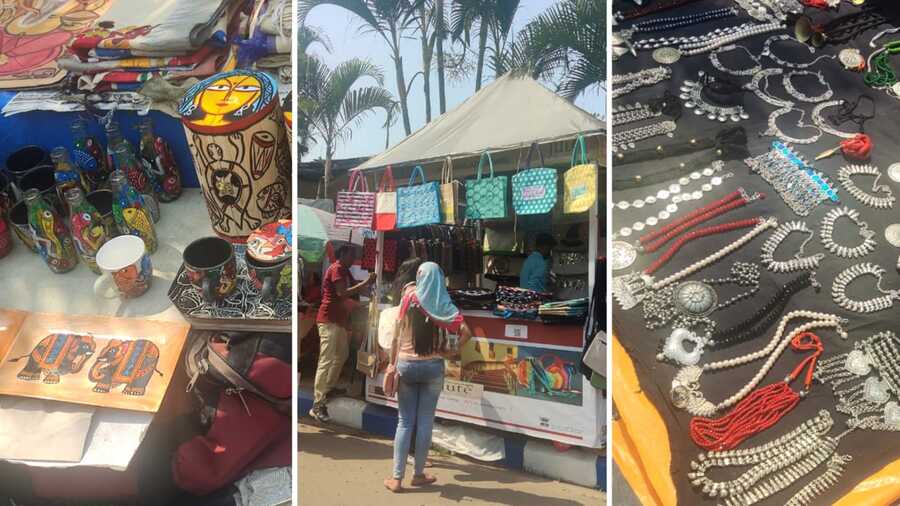 There are many stalls selling everything from jewellery to handicrafts and curios at the book fair
Shayeree Ghosh
The International Kolkata Book Fair might be a book-lover's paradise, but when you're not finding a beloved tome, there's a lot more to explore. Head over to the stalls selling jewellery, handicrafts and curios for a spot of shopping or gorge on some delicious fare at the food stalls.
If you find yourself short of cash after splurging on the books, there is a mobile SBI ATM outside Hall 1 near entry gate four.
Savour the experience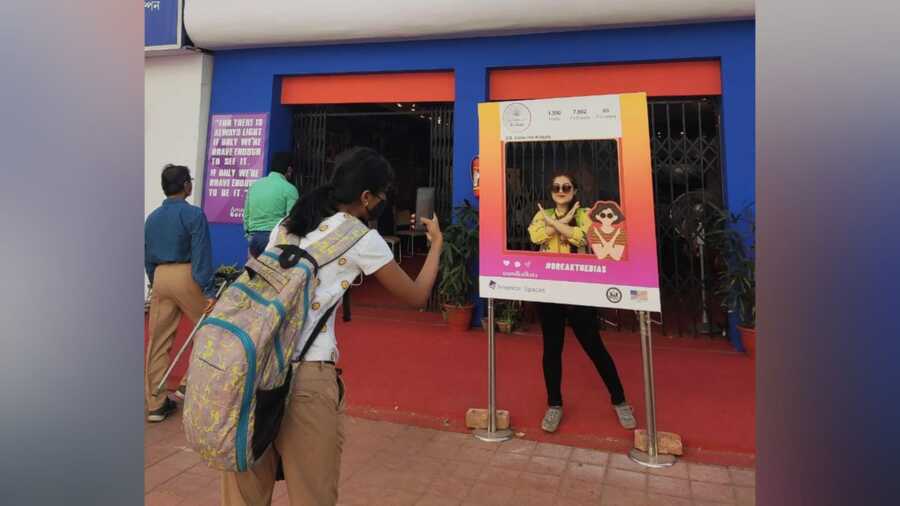 There are various selfie points across the fairgrounds, so indulge in a photo op
Shayeree Ghosh
The most important thing to remember is: enjoy yourself. Fill your bag with an assortment of published works, meet fellow book lovers, snack on some treats, and maybe even take a selfie or two. Don't forget to have fun on your maiden (or repeat) visit to this Kolkata favourite event.
Happy reading!