After the longest wait between two FIFA World Cups since 1950, never-ending complaints (mostly for the right reasons) about the tournament being awarded to Qatar and a laundry list of injured players and absentees, the ball will finally start rolling at the world's grandest sporting stage this Sunday. The first winter World Cup in history as well as the inaugural edition of the tournament in the Middle East gets underway with the hosts taking on Ecuador on November 20, in the first of 64 matches to be played over 29 exhilarating days.
No matter how much you love the beautiful game, you are unlikely (and ill-advised) to watch every single minute of football at the World Cup. After all, life will not be pausing for "the greatest show on Earth". So, which are the matches that your calendar must accommodate from the group stages? And which are the possible knockout ties to whet your footballing appetite? My Kolkata gives you the lowdown.
Group A: Senegal vs Netherlands
When: November 21, 9.30pm (all timings in IST)
Where: Al Thumama Stadium, Doha
No African team has ever made it to the last four at a World Cup. Senegal, best placed to change that in 2022, even without their injured talisman Sadio Mane, have to land pole position in their group to stand a decent shot at going deep in Qatar. Their primary obstacle in doing so will be their first opponents, a revitalised Netherlands unit under Louis van Gaal, looking to repeat their excellent progress from 2010 and 2014. Keep an eye out for two of the world's top defensive talents in this encounter, Senegal captain Kalidou Koulibaly and his Dutch counterpart Virgil van Dijk. 
Group D: France vs Denmark
When: November 26, 9.30pm
Where: Stadium 974, Doha
With a pair of victories over France in the Nations League in June and September, the Danes will be quietly confident of getting at least a point from this game, which could effectively decide who faces Argentina in the round of 16. Without Paul Pogba and N'Golo Kante, France are a diminished force, but their bigger worry might be the fitness of Karim Benzema up front. Denmark, still hailed for their semi-final run at the Euros last year, are many people's dark horses and have the requisite composure and class to ruffle Les Blues in the second set of group games.
Group E: Spain vs Germany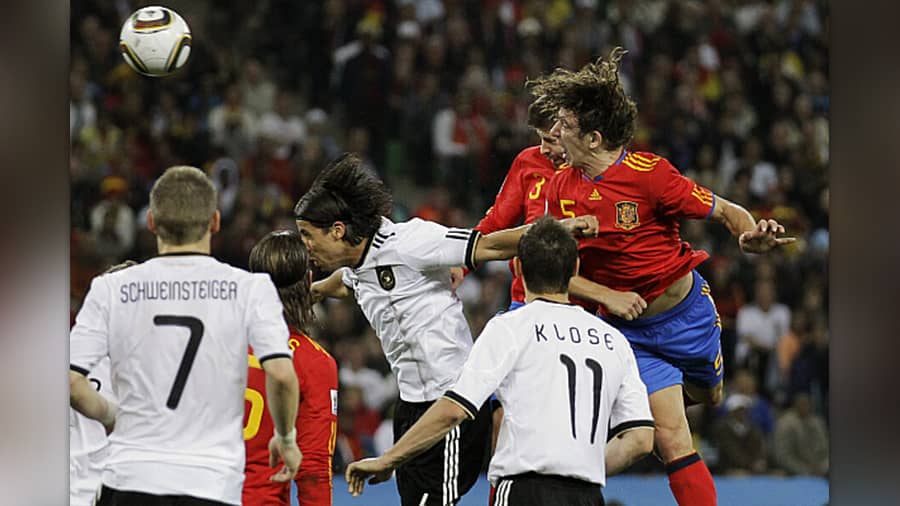 Spain edged past Germany thanks to a Carles Puyol header in the World Cup semi-final in 2010
FIFA
When: November 28, 12.30am
Where: Al Bayt Stadium, Al Kohr
The standout contest from the group stages, at least on reputation, pits the 2010 winners against the 2014 holders, even though both nations are not at the level that made them world champions in South Africa and Brazil, respectively. As usual, expect Luis Enrique's young Spain side to dominate the ball, with Germany's pacy wingers, Serge Gnabry and Leroy Sane, targeting the space left by the Spanish full-backs. While heavyweight clashes in the group phase tend to underwhelm, there is no way any football fan worth their salt is missing this one.
Group B: Wales vs England
When: November 30, 12.30am
Where: Ahmad bin Ali Stadium, Al Rayyan
When these two teams last met at a major tournament, it was a stoppage time winner from Daniel Sturridge that settled scores in England's favour. Gareth Bale, who had also registered on the scoresheet on that occasion (back at Euro 2016), will be primed for redemption, even if his Welsh team is decidedly inferior to the one that impressed one and all in France six years ago. For England, a defeat to Wales could trigger a national crisis, meaning Gareth Southgate's troops might just be more cautious here than in other games.
Group F: Croatia vs Belgium
When: December 1, 8.30pm
Where: Ahmad bin Ali Stadium, Al Rayyan 
The runners-up from 2018 and most people's third-favourite team, Croatia, have been handed a tricky group, with Belgium, Canada and Morocco. The final group game with Belgium should determine if Croatia top their pool or not, making it a must-turn-up match for midfield string-puller Luka Modric. Belgium's own mastermind in the middle, Kevin De Bruyne, will have other plans, with the Manchester City playmaker expected to carry most of the attacking burden given the misfiring fortunes of Eden Hazard and Romelu Lukaku.
Group H: Ghana vs Uruguay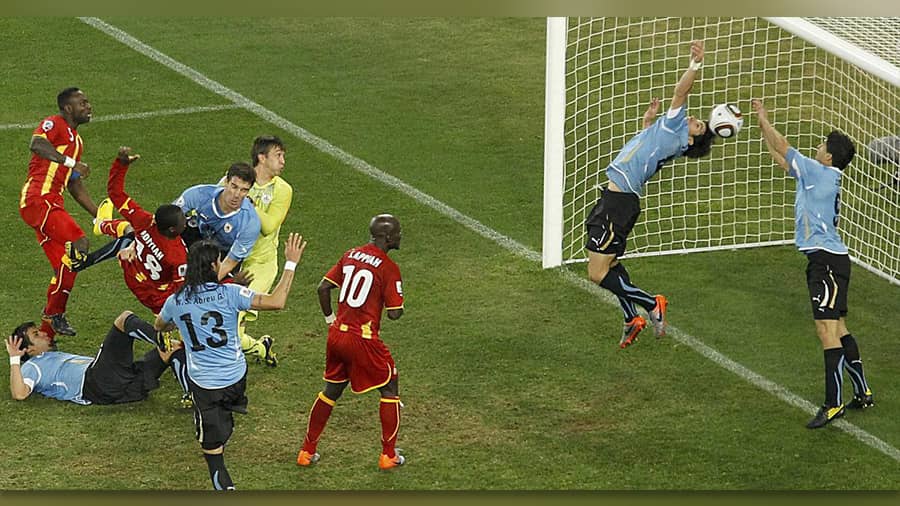 Luis Suarez's infamous handball doomed Ghana to a quarter-final exit in South Africa
When: December 2, 8.30pm
Where: Al Janoub Stadium, Al Wakrah 
If there is a quintessential grudge match taking place in Qatar this year, it is this one. Twelve years after Luis Suarez's villainous handball on the goal-line (followed by a woodwork-kissing penalty from Asamoah Gyan) proved to be the difference between elimination and a place in the semis for the Africans, the Black Stars have their chance at revenge. Uruguay, for their part, will hope to wrap up qualification before Suarez finds a way to extend his streak of negative World Cup headlines against Ghana.
Please note that the participants of the subsequent matches are based on tentative predictions as well as the flow of the knockout draw for the tournament. Depending on actual results, the fixtures could have different competitors
Round of 16: Belgium vs Germany
When: December 6, 8.30pm
Where: Education City Stadium, Al Rayyan
Should Belgium top Group F and Germany finish second to Spain in Group E, the two European neighbours will be locked in a mouthwatering match-up in the first knockout round. While pedigree dictates a comfortable win for the four-time champions in Germany, form and squad depth may prefer Belgium. Having already upstaged Brazil in Russia four years ago, Belgium are no longer chokers on the big stage, and Germany, especially in defence and midfield, will have to be at their best to hold off the final surge from the Red Devils' golden generation.
Quarter-final: Spain vs Brazil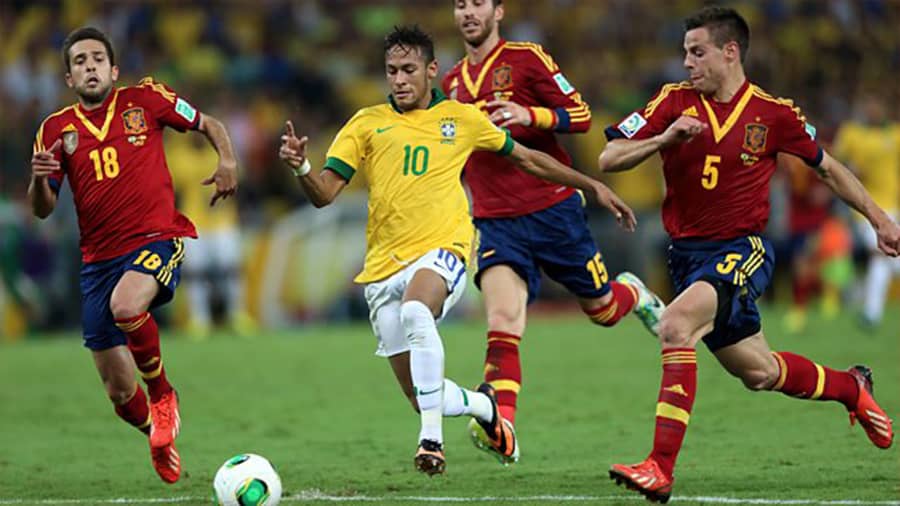 Neymar was in scintillating form when Brazil won the final of the 2013 Confederations Cup against Spain
FIFA
When: December 9, 8.30pm
Where: Education City Stadium, Al Rayyan
Assuming they play anywhere near their full potential, Spain and Brazil will run into each other in the last eight, in what will be a clash between La Roja's possession with purpose and the Samba Boys' all-out flair. Their last competitive meeting dates back to the 2013 Confederations Cup, when a prodigious Neymar ran the Spanish defence ragged, helping Brazil to a 3-0 win. While a similarly one-sided result is unlikely, most experts agree that Spain would have run their race in Qatar if and when the Brazilian juggernaut comes in their way.
Quarter-final: England vs France
When: December 11, 12.30am 
Where: Al Bayt Stadium, Al Kohr
The bonhomie between Rishi Sunak and Emmanuel Macron may be temporarily on the line as the country searching for its first World Cup since 1966 meets the defending champions. On paper, France should sail through, more so if a certain Kylian Mbappe is offered space to stretch his legs. But in the environment of knockout games — more battle of attrition than breakneck warfare — it is generally the more compact group that prevails, which is what England will look to be, chiefly in midfield, where they have the resources to outnumber and outgun France's lightweight youngsters.
Semi-final: Argentina vs Brazil
When: December 14, 12.30am
Where: Lusail Iconic Stadium, Lusail
A final before the final pitting Lionel Messi and Neymar will bring the sporting universe to a standstill. Argentina, favourites to beat Denmark and the Netherlands (in all probability) in the first two knockout rounds, will enter this one recounting their 1-0 triumph over their arch nemesis in Rio in July 2021, the Copa America finale that gave Messi and Co. their first major international trophy. While payback will be in the air for Brazil, the titanic showdown might just come down to which team's attackers turn on the style on one of the biggest nights of their lives.
Final: Brazil vs France
When: December 18, 8.30pm
Where: Lusail Iconic Stadium, Lusail
In 1998, France dispatched a complacent Brazil to win the World Cup on home soil in Paris. Should the most successful World Cup nation of all time go head-to-head with the reigning winners in Qatar 24 years later, fireworks will explode. Far more than the Neymar-Mbappe derby, this potential final could witness two sides that are spitting images of each other, in terms of being heavily reliant on quick transitions, deploying attackers between the lines and championing fast, furious football. A likely goal-fest and plenty of drama await.
Final: Argentina vs. Portugal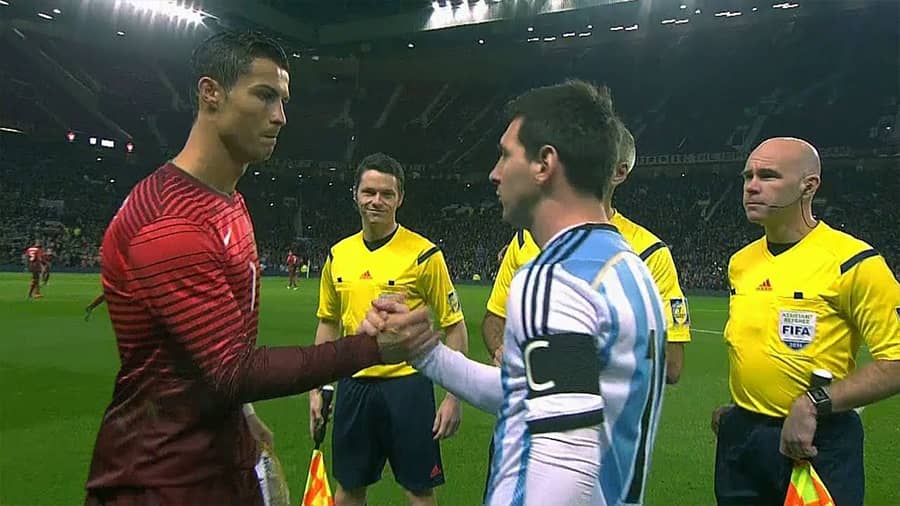 Ronaldo and Messi have never met in a competitive international match; if they do so in Qatar, it is most likely to be in the final
FIFA
When: December 18, 8.30pm
Where: Lusail Iconic Stadium, Lusail
Were Argentina and Portugal to win all their World Cup matches before the final, they are destined to go toe-to-toe for the most coveted title in the sport. In other words, a Messi-Ronaldo final is written in the stars. Notwithstanding the unprecedented hype that such a match will receive in the footballing ecosystem, on the pitch, this could make for a sluggish final, since both sides are essentially reactive in nature. Then again, would you really complain if at the end of a scoreless 120 minutes, you get a chance to see either Messi or Ronaldo secure GOAT status once and for all at the other's expense? On penalties?!