Women not safe in Jharkhand, says Babulal Marandi
'Hemant govt is a failure as development projects have not taken off in the name of the pandemic'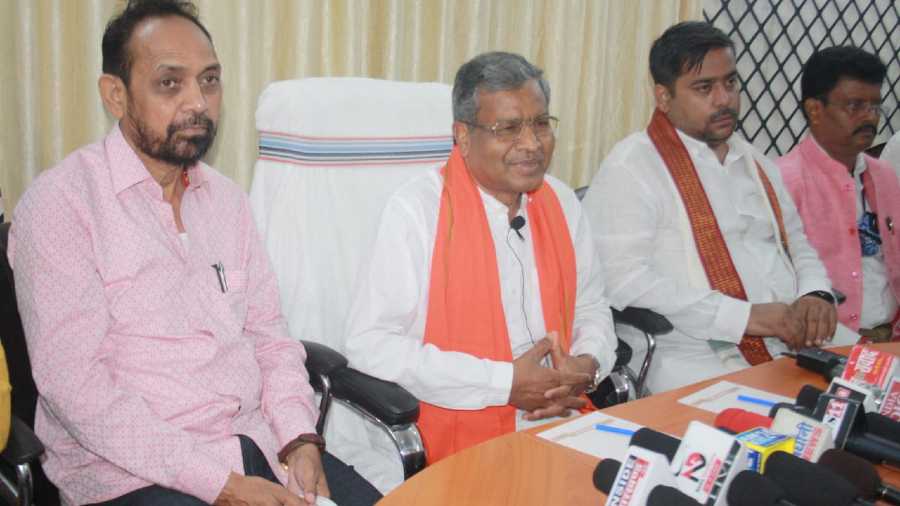 Babulal Marandi (second from left) at the media meet in Jamshedpur on Tuesday.
Bhola Prasad
---
Jamshedpur
|
Published 14.09.21, 06:05 PM
|
---
Senior BJP leader Babulal Marandi on Tuesday said the law and order situation in Jharkhand had collapsed and that the Hemant Soren government was a total failure.
Addressing the media at Circuit House, Marandi said women, particularly adivasis and dalits, were frightened since they were falling victim to crime almost every day.
"Women are frightened and are becoming victims of rape and murder almost every day. The state government has failed to control the rising crime graph in Jharkhand. It's a total failure on part of the government," the leader of the Opposition in the state Assembly stated.
Marandi, who was in the steel city to attend a scheduled caste and scheduled tribe conference, alleged the development projects have not taken off in the state in the name of Covid-19."Moreover, the government has also failed to give shape to development projects of the Centre," he added.
Criticising the state government, Marandi termed the allotment of a room for namaz in the legislative Assembly unconstitutional. "We will continue to protest against this issue in a constitutional manner," he said and called upon party workers to work together and get ready for the next assembly polls.
On the issue of the leader of Opposition not being recognised by the Speaker, he alleged the  chief minister and his father (Shibu Soren) do not want any adivasi leader to make progress. "This is the reason why they are stopping me. If they (Hemant and Shibu) will, they can make Basant Soren and Sita Soren ministers and no one else," Marandi said.
Jamshedpur MP Bidyut Baran Mahto, state party spokesperson Kunal Sarangi, senior leader Abhay Singh, district president Gunjan Yadav, general secretary Anil Modi and city spokesperson Prem Jha were among those present on the occasion.
Marandi on Monday attended a conference of scheduled caste and tribe.in the steel city.