With 21 wet days, May was the coolest for Jharkhand in years
Jamshedpur, Bokaro received 300m rain, while capital Ranchi got 230mm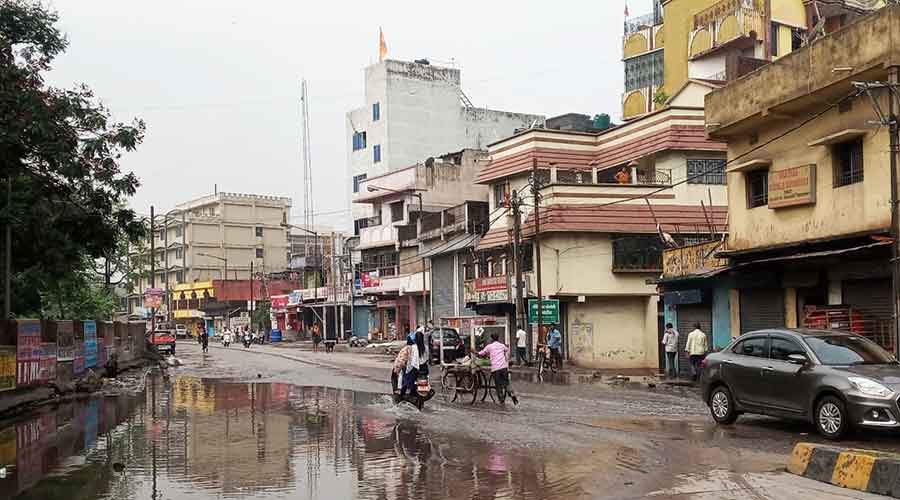 Vehicles pass through a rain-soaked road at Sakchi in Jamshedpur on Monday morning.
Picture by Bhola Prasad
---
Jamshedpur
|
Published 31.05.21, 05:27 PM
|
---
With 21 wet days and the maximum temperature remaining below normal on most days the peak summer month of May has been the coolest in recent years.
Statistics revealed that apart from the three districts of Kolhan (East Singhbhum, West Singhbhum and Seraikela-Kharsawan) several other districts in central, north-eastern and north-western parts of the state _ like Ranchi, Ramgarh, Pakur, Sahibganj, Dumka, Deoghar, Jamtara, Godda, Daltonganj and Garhwa -- recorded 21 wet days in May 2021. Frequent Nor'westers, coupled with last week's cyclone Yaas, resulted in an impressive rain in Jharkhand throughout in the month.
Jamshedpur topped the rainfall chart. Statistics revealed that steel city recorded over 300mm rain alone in the month of May while the  total cumulative rainfall in three pre-monsoon months (March to May) was 601mm, which is a record in itself. Notably, past-midnight till the small hours of Monday, Jamshedpur experienced very heavy rainfall, accompanied by thunder and heavy lightning, with the local IMD observatory recording 170.2 mm. Weathermen said the heavy rain and thunder was due to the impact of a cyclonic circulation prevailing over eastern Uttar Pradesh, Chhattisgarh and neighbouring Bihar. Last year, Jamshedpur had recorded 135mm rain in May while the cumulative rain of March to May was 349mm.
Data revealed that Ranchi's rain count in the month of May was 230mm out of its cumulative total of 365.2 mm.
May's rainfall in Bokaro was also very impressive. Data revealed that like Jamshedpur, Bokaro too recorded over 300 mm of rain in May. Bokaro's cumulative rain in the pre-monsoon months (March to May) as per IMD records stood at 451.4 mm.
Daltonganj, the Palamau headquarters located in north-western part of the state, also witnessed a good shower show in May.Known as the heat-chamber of Jharkhand, Daltonganj recorded 155mm rain in May this year. The cumulative rainfall between March and May stood at an impressive 187.6mm
Last year, May had as many as 19 wet days in Jharkhand. The state witnessed widespread rain after May 20 due to the impact of cyclone Amphan which left behind a trail of destruction in neighbouring Bengal. The number of Nor'westers, which is an April-May phenomenon that results in widespread rain and thunderstorm, was also a contributing factor. This year, May saw eight such low and high-intensity storms.
IMD's Ranchi Met Centre has predicted more showers in the next four days till June 4 due to the impact of the eastern Uttar Pradesh cyclonic circulation coupled with a low-pressure trough. "Frequent Nor'wester activity and Cyclone Yaas also played a role in taming the cruel May sun this year. The day's readinging throughout May was below the oppressive 40 degree Celsius. May hasn't been so cool in the recent few years," said Abhishek Anand, the head of Ranchi Meteorological Center.
Anand said the maximum reading in Ranchi, Daltonganj and a few other places in north-western Jharkhand was on the higher side in the fourth week of May last year when some places witnessed heatwave conditions. "But this year May failed to see heatwave conditions," he added.
Weathermen at Regional Meteorological Centre in Alipore, Calcutta said the cyclonic circulation over Jharkhand will result in rainfall in the next few days. "The prevailing wind pattern is resulting in moisture incursion into the atmosphere which is a good sign for rainfall activity," said a duty officer at the Calcutta Met centre.