Vendors keep coming back
The result is that over 200 people are back to selling their stuff on roads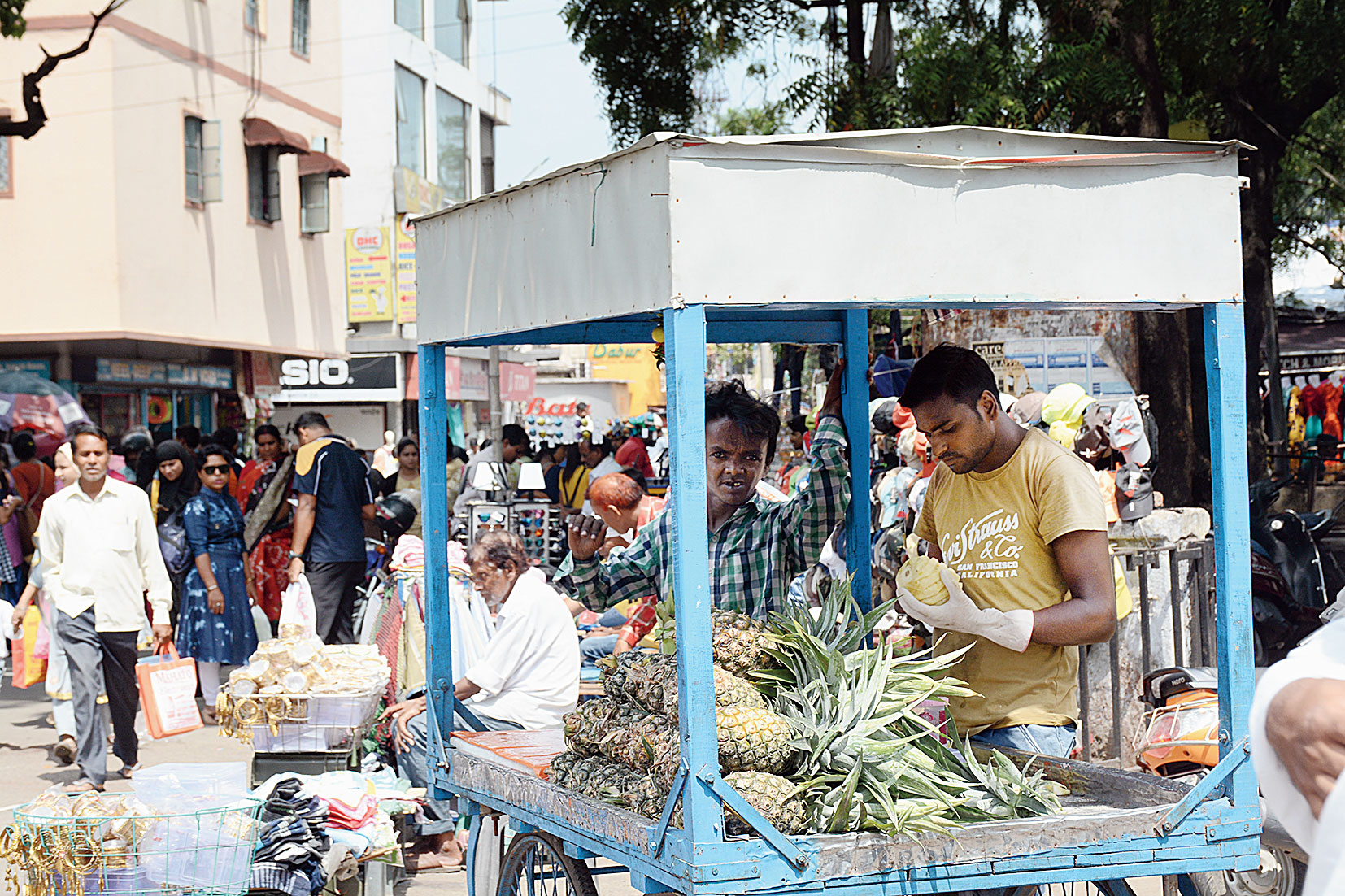 Vendors back in action near Dalda Line at Sakchi market in Jamshedpur on Saturday.
Picture by Bhola Prasad
---
Jamshedpur
|
Published 20.07.19, 08:34 PM
|
---
Vendors and squatters have returned to the lanes and by-lanes of Sakchi, barely a week after around 80 of them were evicted from one of the busiest commercial hubs of the steel city.
"It is a persistent problem not only for commuters but also visitors to our shops as the vendors put up kiosks, pushcarts and even sell their ware on roads. We have been informing the district administration and Jamshedpur Notified Area Committee (JNAC) regularly. But soon after an eviction drive, the vendors return to the same spot," said Singhbhum Chamber of Commerce and Industry (SCCI) general secretary Vijay Anand Moonka.
The result is that over 200 people are back to selling their stuff on roads. The traffic is chaotic and pedestrians are finding it difficult to negotiate the area. "It seems the vendors enjoy the patronage of local police personnel," Moonka added.
A JNC team, led by special officer Krishna Kumar, along with a posse of home guards, had evicted over 80 vendors from various lanes of the Sakchi market area in an operation that lasted over two hours on July 13.
In fact, a majority of those evicted returned the same evening.
On Saturday, vendors were seen doing business along the Straight Mile Road stretch between Ramleela Maidan and Sakchi roundabout, near Jhanda Chowk, Dalda Line, Basant Talkies, The Bengal Club, Tin Shed market and Aambagan ground.
"It is very difficult to drive or walk in the Sakchi market area without colliding against pushcarts. Vendors put up their stalls right in the middle of the road or near turning points. We have no option but to walk for miles to reach our favourite shops," said Suman Kashyap (65), a retired government official currently staying in Baradwari and a frequent visitor to the Sakchi vegetable market.
JNAC special officer Krishna Kumar admitted it was a perennial problem.
"Even my predecessor carried out such eviction drives but with little success as these vendors put up stalls again at the same spot. There is no denying the fact that this cannot happen without police support. I will be writing to the East Singhbhum deputy commissioner (Ravi Shanker Shukla)," he said.
Kumar noted with anger that every time JNAC completed an eviction drive against encroachers, vendors and squatters returned after a few days. "It seems they have the tacit support of police. The police should be more vigilant to prevent the return of squatters in commercial hubs," he said.
Jamshedpur city SP Subhash Chandra Jat denied the accusation that the police were aiding the return of vendors. But he said he would ask the OC of the local police station to look into the issue.
" I will have the situation examined by the OC of the local thana and issue necessary directives so that squatters and vendors do not return to the market area after an eviction drive is initiated by the civic body," said Jat.