TSAF feels 'absence' of Bachendri Pal
The cost for the expedition, around 30 lakh, deterring Tata Steel Adventure Foundation from sending climbers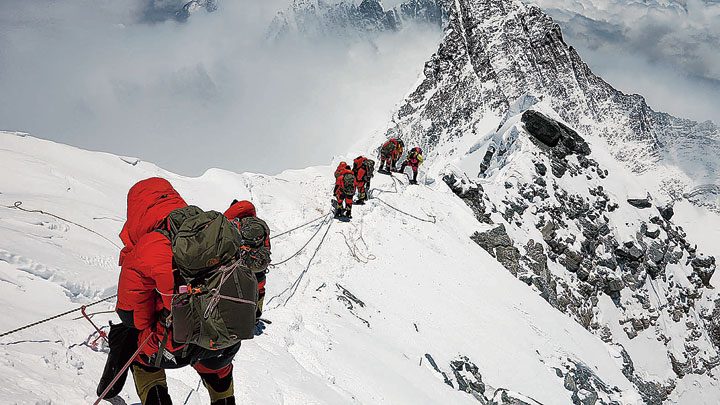 File picture of climbers negotiating a stretch en route to the peak of Mt Everest
Telegraph file picture
---
Jamshdepur
|
Published 13.12.19, 07:43 PM
|
---
Climbers looking to conquer the world's tallest peak under the banner of the steel city's premier adventure outfit may be in for a disappointment as it has not sent any climber to Mt Everest this year. The situation may not change next year either.
The cost, which includes equipment, payment to agencies arranging the expedition and other expenses related to it are the reasons deterring the Tata Steel Adventure Foundation (TSAF). Around Rs 30 lakh is needed per climber for Everest.
Ten climbers — Premlata Agarwal (2011), Rajender Singh Pal (2012), Vinita Soren (2012), Meghlal Mahto (2012), Susen Mahto (2013), Arunima Sinha (2013), Hemant Gupta (2017), Sandeep Tolia (2018), Swarnala Dalai (2018) and Poonam Rana (2018) — have scaled Everest under the outfit's banner. Bachendri Pal, a Tata Steel employee, was the first Indian woman to scale Everest in 1984.
There was a gap between 2014 and 2016 in sending climbers to Everest because the TSAF did not find any suitable candidates. Same was the case this year too, plus the expenses. "So far, there are no plans for next year's Everest expedition," a senior TSAF functionary said. "Several factors are taken in account before coming to a conclusion related to Everest expedition. We may not plan any expeditions to Everest in future."
The absence of Bachendri Pal, who is on a three-year extention, was another factor. "It was only because of Madam (Pal) that Everest expeditions had started. She is the one who selects candidates and trains them. But the scene is not the same now."
The legendary climber retired in 2014. This year, Tata Steel gave her second extension and freedom to operate from her home town Dehradun. She spends most of her time there.