Telco school turns garbage dump
No dedicated fund for waste management in panchayats located near urban areas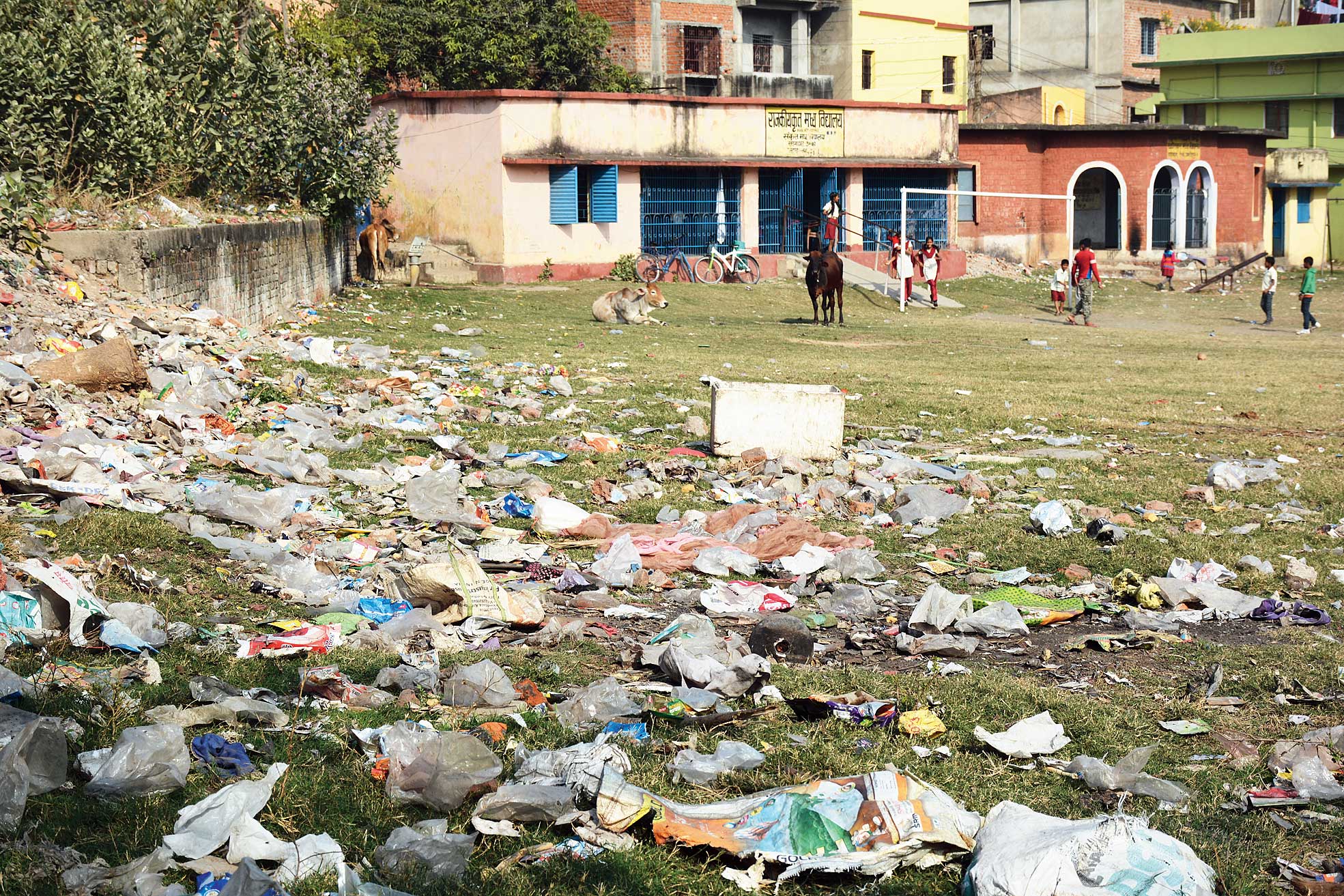 ---
---
Children of a state-run middle school in the Tata Motors township of Telco find it difficult to spend time there as the campus has turned into a garbage dump with the breeze often blowing in pieces of filth and a steady stream of foul smell into their classroom.
"Bagal ka naali kachda se jam ho gaya hai. Bahut ganda mahak aata hain. (The drain is clogged with garbage and there is an unbearable stench)," said Namira Ghazal (15), a Class VII student, adding that often waste gets blown inside the classroom in the wind.
"Aksar classroom ke bahar sharab ke bottle padi rahti, kachhda hawa main ud kar class ke andar aa jata hain (Often outside our classroom, there are used liquor bottles. Also, the wind brings with it pieces of dry waste)," explained the daughter of Zafar Alam, a Telco employee and resident of Barinagar.
Namira is one of 18 girls of the Rajkiyakrit Madhya Vidyalaya that has 34 students studying in classes 1 to 7. The school, established in 1959 with three classrooms and a verandah, is hemmed in by residential localities of Kharangajhar in the east, Radhikanagar in the west, Jyotinagar in the north and Barinagar-Shivnagar in south.
Since there aren't enough classrooms, the school operates in two shifts.
Headmaster in-charge Shyam Charan Hembrom admitted it was extremely difficult to teach young children under such circumstances.
"The situation is worse during rains when water from the nearby clogged drain comes into the verandah of our school. On several occasions teachers along with students have had to clean up the mess. We don't know why local residents dump their household waste in our playground," he said.
The children are upset too.
"Hum log thik se khel nahi pate. Pura maidan main kachda gira rahta hain. Ganda mehak aata hain. Toilet jaane ke rashte main bhi kachhda gira rahta hain (We cannot even play as garbage is littered all over the ground. The stench is overwhelming. There is waste on the way to our school toilet)," rued Madhu Dutta (13) of Class V, the son of a vegetable vendor.
Mukhiya Vijay Hansdah of West Ghorabandha panchayat, under whose jurisdiction the school falls, expressed helplessness as the panchayat did not have dedicated funds for regular cleaning.
"The people lack civic sense. They think nothing of throwing waste inside the school grounds. A few months back we had pooled in resources and collected the waste. But within months we are back to the same situation. We have informed the district administration on several occasions," he said.
East Singhbhum deputy development commissioner Biswanath Maheshwari admitted the problem was serious since there was no dedicated fund for waste management in panchayats located near urban areas.
"However, since students are suffering, we will request Tata Motors to take up daily cleanliness of the area near the school using its corporate social responsibility funds," said Maheshwari.