Sweet shops fined in Dhanbad
STATE DIGEST: The outlets were selling substandard products; protest against police high-handedness; six arrested over murder; security beefed up in Garhwa; and violence in Domchach village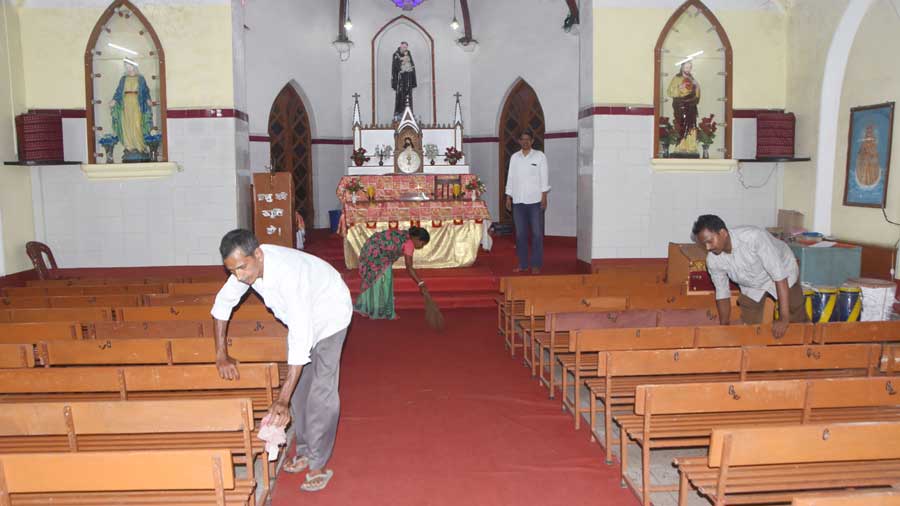 ---
Published 08.10.20, 12:54 AM
|
---
Dhanbad deputy commissioner Uma Shankar Singh on Wednesday imposed fines on three sweet shops in Dhanbad for selling substandard products. 
The samples of condensed milk taken from Govinda Sweets and Shyam Sweets did not meet standards while a sweet prepared by Radhika Sweets was found to have a higher fat content than allowed. 
Govinda Sweets in Jharia was fined Rs 15,000 whereas Shyam Sweets and Radhika Sweets in Sushnilewa were fined Rs 10,000 each. 
Food safety officer Aditi Singh also visited the Baramuri area and took milk samples from various cowsheds. She said there had been complaints of water being mixed with the milk. The samples would be sent to Ranchi and action taken if the milk was found to be adulterated.
Protest against police high-handedness
The residents of Lodna in Dhanbad on Wednesday participated in a dharna and demonstrated near Raksh Kali temple to protest alleged police high-handedness while checking vehicles. The protest began in the morning when Sachin Kumar, a resident of the Bachchu Dhaura locality in the Lodna police outpost area, who works in a private firm in Dhanbad, was beaten up allegedly by a police team during the checking of vehicles near Raksha Kali Dham, about 2km from his home, leading to head injury.
The incident took place while Kumar was on his way to his office in Dhanbad on his motorcycle.
Local residents and family members first admitted him to a local hospital. He was later referred to another private hospital in Jharia for better care.
Enraged over the incident, the local residents of Lodna, including the family members of the victim, staged a dharna and demonstration for more than two hours near Raksha Kali temple and also blocked a road.
Six arrested over murder
Dhanbad police on Wednesday arrested six persons in connection with the murder of a resident of Upper Kulhi in Jharia in late September.
Naim Ansari, 33, Nand Kishore Yadav, 19, Vishal Kumar Singh, 22, Arun Kumar Yadav, 22, Roshan Kumar Sao, 19, and Rukhsana Khatoon, 20, were arrested over the muder of Parwej Ali on the basis of a complaint by his widow, Samida Khatoon.
Dhanbad SSP Aseem Vikrant Minz said some of the arrested persons are relatives of the dead. The motive for the murder was personal animosity, he said.
Ali's body had been found lying in a bushy area of Kenduadih on September 30.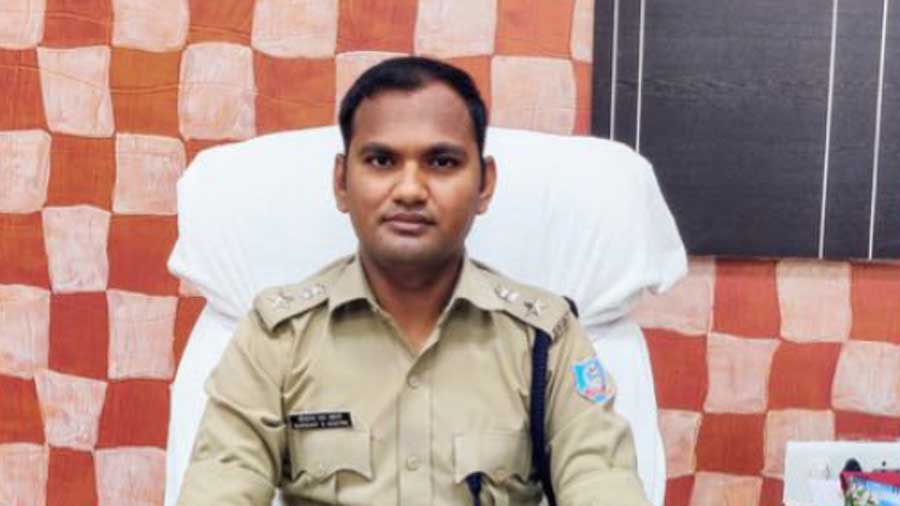 Security beefed up
Security has been beefed up in Garhwa following a shootout in the town on October 1.
Vijay Soni, who was injured in the incident, is being treated at Rajendra Institute of Medical Sciences, Ranchi.
After security was tightened, no criminal incidents have occurred in Garhwa. Following the instructions of superintendent of police Srikant Suresh Rao Khotre, patrolling is being conducted at several places in the town. Seven Tiger Mobile Patrols, four PCR vans and two police patrol jeeps are keeping a lookout for criminal activities. Preparations to deploy plain-clothed policemen are also on.
Surveillance cameras will also be installed at various locations. Police teams have begun patrolling areas on foot. Checks are being carried out at the five entry points of the town.
Violence in Domchach village
A few motorcycles and shops were damaged at Janpur village in the Domchach police station area after rumours of cow slaughter by members of a particular community.
Police personnel have been deployed in the village to prevent further flare-ups. Superintendent of police Ehtesham Waquarib said the situation was under control. He appealed to people to not give heed to rumours.