Steel city plans to step up Covid testing to 10,000 a day
With eye on Chhath returnees, East Singhbhum to launch drive from next week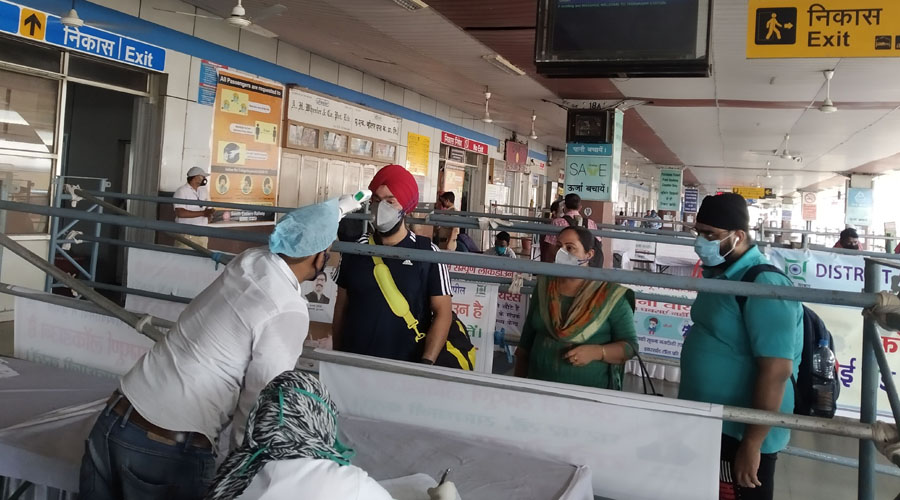 ---
---
Though the Coronavirus positive cases are well under control in the East Singhbhum district now, the district health facilities are preparing to launch a massive drive of sample test for the killer virus from next week onwards.
The district health department is gearing up to conduct as many as 10,000 tests per day from next week which is an increase from the current test rate of 2,000 per day. The drive will start from next week as it is apprehended that majority of those who had been to their native places in Bihar, Odisha and Bengal have returned to the steel city after the festival season by then.
Revealing about the step, district civil surgeon RN Jha said that the regular test of samples had dropped considerably during the festivity season starting from Durga puja till Chhath.
"From Monday, we have started carrying out about 2,000 sample tests across the nine blocks in the East Singhbhum and also in Jamshedpur. But as people are still returning home in the steel city and in other places of the district after festival celebrations, we apprehend a rise of the Covid-19 positive cases with the influx of the people. We have, therefore, decided to increase the number of tests from 2,000 to 10,000 from the next week. We are mobilising the resources accordingly," said Jha while talking to The Telegraph Online.
During the last 24 hours, 27 Coronavirus positive cases were detected, thus making the total number of Covid-19 cases in the East Singhbhum district to 16,591 so far.
Meanwhile, the district administration has also increased the mask-checking drive in the city along with the helmet checking. On Monday, the 39 persons were caught without masks during checking at Bistupur, Sakchi, Golmuri, Jugsalai and Mango. The traffic wing of the district police has penalised all those found without masks and earned revenue amounting to Rs 19,500 from the violators of the Covid-19 norms.
"We have intensified the mask-checking drive along the helmet checking from Monday. We are charging a penalty of Rs 500 from each of the violators. This is all being done as majority of the commuters have stopped wearing a mask, thinking that the Coronavirus is almost gone from the steel city," said deputy superintendent of police (Traffic) Babban Singh while talking to The Telegraph Online.
Singh revealed that they have carried out the drive at the points which are known as checking point, but shortly such drive will also be conducted at the roads and places unfamiliar for helmet or masking checking drive.
Significantly, anticipating a second wave in the winter, a section of Congress activists and social activists in cooperation with the civic body, Jamshedpur Notified Area Committee (JNAC) officials on Tuesday carried out an intensive drive to make those without masks to wear them at Sakchi market and making people follow social distancing in public places.