Steel city doctors protest Centre's Ayurveda order
Local chapter of Indian Medical Association to join nationwide strike on Friday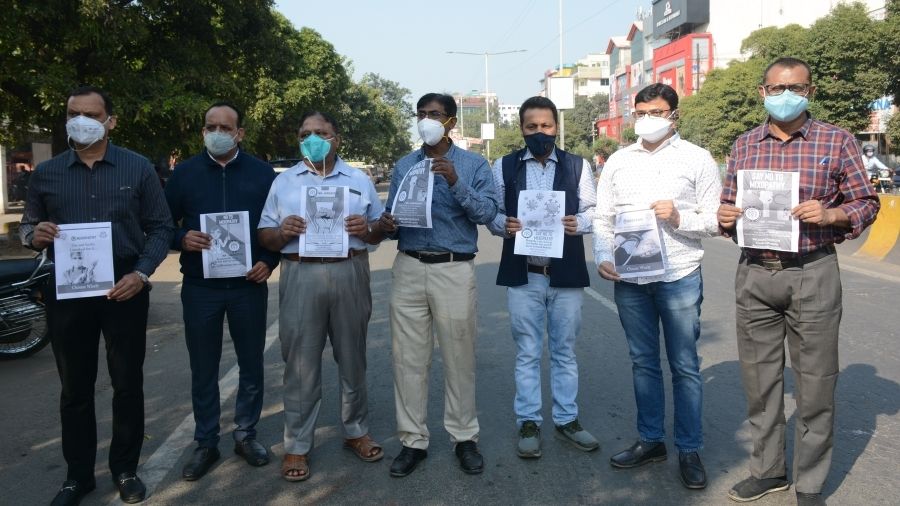 ---
---
A section of Jamshedpur doctors under the banner of the Indian Medical Association staged a demonstration near the Sakchi roundabout on Tuesday noon, against a recent Central Council of Indian Medicine (IICM) notification allowing Ayurveda surgeries.
The protest was carried out by the doctors to create awareness about the nationwide strike on December 11 against the same issue.
Adhering to Covid-19 protocols, the agitation was held in a small group of 20 participants for two hours between 12 noon and 2 pm, when doctors carried posters with slogans against the notification.
Over 5,000 doctors of Kolhan from three districts, East Singhbhum, West Singhbhum and Seraikela-Kharsawan, will join the nationwide strike called by the IMA on Friday against the IICM notification, which authorises post-graduate practitioners in specified streams of Ayurveda to be trained to perform general surgical procedures.
The Jamshedpur wing of the IMA had earlier announced that they will join the strike and demanded withdrawal of the decision.
"The notification by the Central Council of Indian Medicine to allow the legal practice of surgeries by Ayurveda practitioners and the formation of four committees by NITI Aayog for the integration of all systems of medicine will only lead to 'mixopathy'. We demand immediate withdrawal of both," said Dr Mritunjay Singh, secretary of IMA 's Jamshedpur chapter.
He informed that doctors will stay away from OPD services during Friday's strike.
"All clinics, pathology laboratories, X-ray / ultrasound units, MRI and CT Scan centres will shut down for 12 hours, from 6 am to 6 pm. However, emergency services including ICUs, CCUs and Covid care centres will continue to function as usual as they have been kept outside the purview of strike," the senior IMA functionary said.
Doctors, who are members of the body, had assembled at the IMA building in Sakchi on Sunday to express their grievances over the order.
"Doctors of all private and government hospitals will join the strike on Friday. Though the Ayush ministry has issued a clarification claiming the technical terms and the modern developments are a common heritage of mankind but IMA rejects the clarification," another senior member of the association said.