Steel city boy's ode to hometown in his first novel
Ajitabha Bose's It's My Love Story is a tale of bonding & career aspirations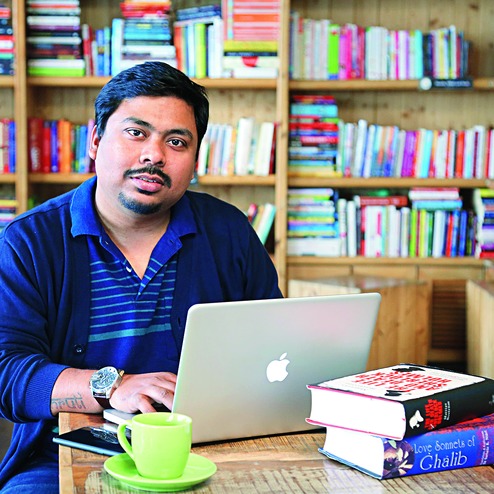 ---
Jamshedpur
|
Published 18.03.18, 12:00 AM
|
---
Jamshedpur: After writing three best-selling pocket books and winning hearts with his short stories, city boy Ajitabha Bose (26) has finally come up with a full-fledged novel, which features Jamshedpur extensively.
Published by Delhi-based Author's Ink Publications, Ajitabha's novel It's My Love Story, which released on March 6 in Delhi, is inspired by his own journey of leaving his hometown and moving to a metropolitan city in pursuit of a promising career.
The 165-page book, priced at Rs 180, narrates the story of Aditya and Janvi and their four college friends. His book is currently available at stores across the country and also on e-commerce sites like Amazon.
"The book is inspired from real-life incidents and narrates a heart-warming tale of love, friendship and dreams. The protagonist Aditya hails from Jamshedpur and moves to Delhi with a dream of becoming a film-maker while Janvi aspires to settle in Italy. It's all about how their life changes once they fall in love," said Ajitabha.
An alumnus of Gulmohur High School who did his mass communications course from Delhi, Ajitabha has entered the Limca Book of Records for writing the shortest love story in the country. His pocket books The Pocket Love Story, In Love with Shah Rukh Khan and The Bestseller have been loved by old and young.
The young writer, who hails from Ghorabandha near Telco, wants to popularise his hometown Jamshedpur through his books.
"I have spent 20 years of my life in Jamshedpur so the city is very close to my heart. If I can popularise my hometown through my books then why not. I started writing pocket books to promote the habit of reading among youths. This is my first complete novel and I am sure hope all youths who have moved to metropolitan cities from smaller towns will relate to the story," he said.
Ajitabha will also organise a special launch for his new book at Café Regal in Jamshedpur on March 31. He will hold sessions in city colleges to motivate youths to write and read.
The lad is also known for his big heart as he donates most of his earnings to charity especially for the welfare of cancer patients and education of underprivileged children.
Ajitabha had earlier penned a short story book named It's A Love Story (2013). He has also contributed to LOVE: A Sweet Poison and Zindagi: The Story Of Life. He also edited The Untold Love Stories, which was a compilation of the works of various authors.