State police release cyber security awareness handbook
A first of its kind, the guide comes in Hindi and English languages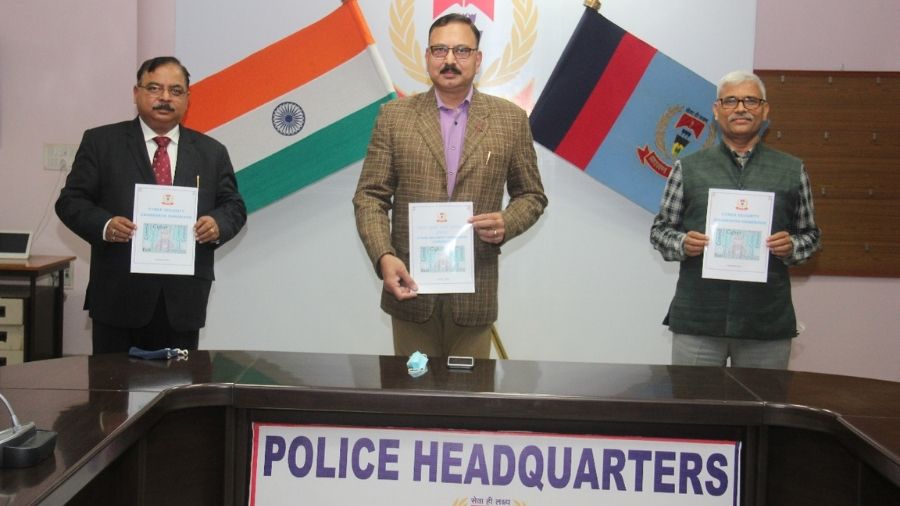 DG head quarters Ranchi Ajay kr Singh (in middle) releasing handbook on cyber security awareness on Friday in Ranchi.
Picture sourced by the correspondent
---
Daltonganj
|
Published 28.11.20, 04:52 PM
|
---
In a first of its kind, the Jharkhand Police have released a cybersecurity awareness handbook on Friday, sources have said.
It was released by the DG headquarters Ranchi Ajay Kr Singh in the state capital.
The Telegraph Online managed to access a copy of the 35-page handbook, written in two languages.
A senior police officer, who wished to remain anonymous, said it took a month to prepare the handbook.
According to sources, around 500 cases of cyber crime are registered annually in Jharkhand, an act that prompted DGP MV Rao to instruct the police to prepare the handbook.
The Telegraph Online spoke to a victim of cyber crime who lost a huge amount of money following a fraud call.  He said that such criminals speak a lot at one go and do not give the listeners a chance to even breathe, let alone analyse the situation.
While the handbook has illustrations to drive the point home, apart from separate notes for men, women and children, it does not have any story of the duped man and his trauma.
Likewise, it has no story of any person who has outwitted and defeated a cyber criminal's  game plan.
Sources said this juxtaposition of the two the victim and the one who took the cyber criminals for a ride in the police handbook would have made it far more worth reading. 
The handbook is available on the website of the Jharkhand Police, sources in the department said.
The police are also working on plans to carry out related programmes in boys and girls' schools, sources said.