RJD leader shot at in Chatra over land dispute
Indradev Yadav identifies shooters, police search on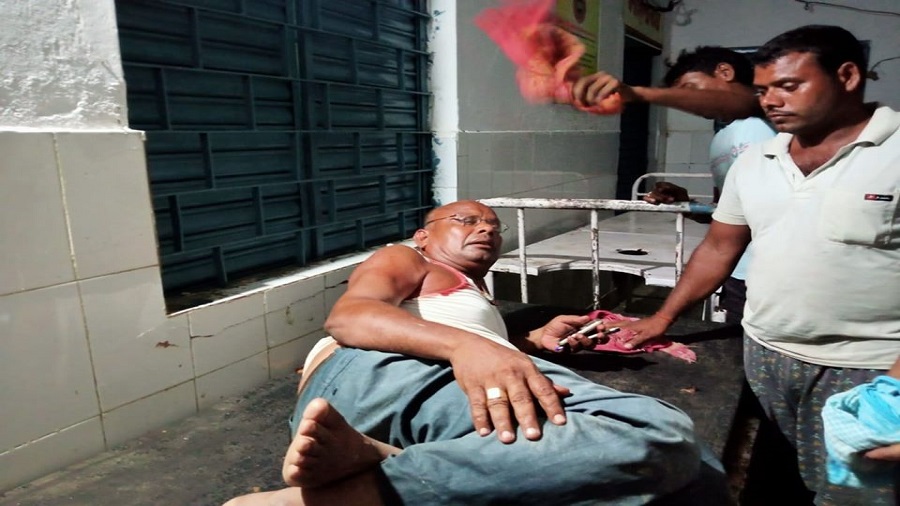 The injured RJD leader, Indradev Yadav, at Huntergunj health centre in Chatra, on Sunday
Vishvendu Jaipuriar
---
Hazaribagh
|
Published 17.08.20, 04:57 PM
|
---
A local RJD leader had a narrow escape when a group of men, whom he was later able to identify, fired on him in the market area of Chatra on Sunday night.
Indradev Yadav (50), who was injured in his right shoulder, is however, now out of danger. Police officials said Yadav was involved in a longstanding dispute with one Mithilesh Srivastava, who was among those present at Kalyanpur More on Uraili-Tilhet Road when he was shot at.
Police said Yadav had identified his attackers as Amit Yadav, Chotu and Mithilesh Srivastava.
Yadav said he and Amit Lal went to the local market at Kalyanpur More to buy medicines for his mother when he was attacked. "I was returning to my village of Tilhait when I was fired upon. I suffered injuries on my right shoulder. There is a longstanding dispute over a piece of land. I was being threatened by them regularly. Finally, they tried to kill me," Yadav said.
Yadav was first brought to Huntergunj health centre and provided with first aid after which he was referred to Magadh Medical College in
neighbouring Gaya district of Bihar.
But Yadav went to Chatra Sadar Hospital and later left for RIMs in Ranchi. Sources there claimed he was out of danger.
Extremists arrested
Three extremists belonging to Jharkhand Prastuti Company who were demanding a levy from an associate company of NTPC in Tandwa were arrested on Monday.
Police recovered a country made pistol, two live bullets and few SIM cards of various service providers from them, said SP Rishabh Jha.