RATU ROYALS WELCOME GODDESS
Read more below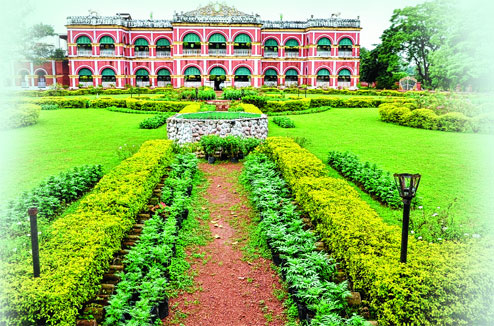 ---
Published 01.10.14, 12:00 AM
|
---
The grand palace at Ratu
Ratu's royal palace, 15km from Ranchi on Ranchi-Daltonganj Road, is again reverberating with drums, conch shells and sacred chants on Durga Puja. Though the throne is empty, the goddess is visiting royalty like every year
The southern gate of the palace that visitors and guests use
AND ERA ENDS...
Ratu's palace is without a king. Curtains have fallen on the 2,000-year-old Nagvanshi dynasty with the death of octogenarian Chintamani Sharan Nath Lal Shahdeo, the last Maharaja of Ratu. He must have died a broken-hearted man. His only son Gopal Sharan Nath Shah Deo, once the MLA of Hatia, predeceased him in 2010, without an heir.
It's Jharkhand's personal loss too. Though Indian royalty lost ruling rights shortly after Independence, people respected and loved the Shahdeos as the blue-blooded Nagvanshis didn't have an ounce of false pride
The way to Ma Chintamani Mandir in Ratu's royal palace
...BUT TRADITION LIVES ON
The palace has its share of well-maintained temples. But, as always, the traditional Durga Puja is a big draw. Now, the late Maharaja's four married daughters Madhuri Manjari, Kalpana Kumari, Gayatri and Tripti, and his only daughter-in-law Priyadarshini, are bravely carrying on the family's glorious legacy
TURNING PAGES OF THE PAST
Historian Sudha Sinha who has written books on the Nagvanshis says the dynasty began with the coronation of Phani Mukut Roy, an adopted son of Madra Munda, the tribal parha raja of Sutiambe, as its first king in 83AD.
Continuing for nearly 2,000 years, it is one of the long-lasting dynasties of the world. Somewhat like the Dulo clan of Bulgaria, the imperial house of Japan and Hong Bang dynasty of Korea.
Glimpses of blue-blooded taste in art and photographs
HOOD, HISS & BIRTH OF A CLAN
Legend has it that Phani Mukut was found as an abandoned newborn near a lake where a hooded cobra had protected him. That named the clan. The royal emblem still has a nag (cobra) insignia. The title Shah was conferred by Mughal emperor Jahangir to Durjan Sal, a Nagvanshi king, imprisoned at Gwalior fort. He was released as the Mughal emperor was impressed by his knowledge about diamonds.
Kalpana Kumari Devi displays their vintage gramophone set
MODERN TIMES
The dynasty's seat shifted to Ratu from Palkot as recently as 1870.
"Designed after Buckingham Palace of Westminster (London), the 103-room palace at Ratu also has manicured gardens conceptualised by Maharaja Uday Pratap during 1899-1901," said Kumar Aditendra Nath Shah Deo, college faculty member and cousin to the late Maharaja who is moreover writing his biography.
"Despite the tempestuous nature of history, including Mughal interventions, the Nagvanshis were not known for engaging themselves in wars. The dynasty never experienced any rebellion either," Aditendra said
RULERS WITH A HEART
What they had in abundance was generosity, Aditendra added. "They did not collect revenue from their predominantly tribal subjects, barring grain or animal offerings only during Durga Puja. That's why they were so popular with tribal chieftains," he said. "They maintained low profile and though the Maharajas donated huge chunks of land and cash for religious, social and educational use, you won't find a single plaque declaring those donations." Both Maharaja Chintamani and his son Gopal were elected MLAs. They hobnobbed with the likes of Indira Gandhi, Madhavrao Scindia and so on. Legendary music composer Sachin Dev Burman has visited the palace.