Capital shivers as mercury hits 10.5°C
Forecast ruled out the formation of cloud or any system over the Bay of Bengal for the next 2 days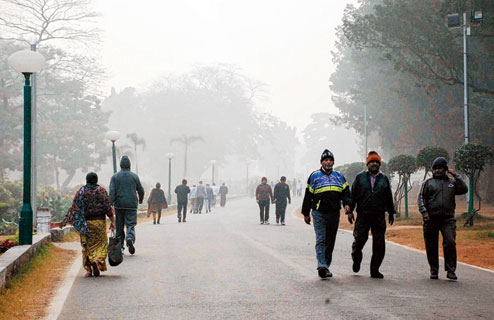 Night temperatures hovered between 11°C and 14°C in Dhanbad, Hazaribagh, Simdega, West Singhbhum and Seraikela-Kharsawan
Telegraph file picture
---
Jamshedpur
|
Published 04.12.19, 10:03 PM
|
---
Minimum readings in Jharkhand witnessed an abrupt fall on Wednesday, with the mercury plunging to around 10°C in several places, including Ranchi, Bokaro and Santhal Pargana.
Most parts of the state sported clear skies and recorded low humidity levels, both conducive to lower readings. The good news is that the weather will stay cool for at least the next 48 hours before the mercury begins an upward march with the return of easterly wind pattern.
Ranchi on Wednesday felt the shivers at 10.5°C, one notch below normal. On Tuesday, the capital had recorded a minimum of 13.4°C, three notches above normal. The night readings plunged to 10.7°C ( three notches below normal) in Bokaro against Tuesday's 14.1°C, two notches above normal.
The minimum readings plummeted to around 10°C in Dumka and its adjoining areas in Santhal Pargana region on Wednesday. On Tuesday, most places in Santhal Pargana had recorded over 12°C.
Daltonganj, the Palamau headquarters, witnessed a four-degree drop in temperature to 11.8°C, two notches below normal, compared with 14.1°C on Tuesday.
The mercury nosedived to 9.2°C in Kanke on the outskirts of Ranchi from Tuesday's 11.8°C while minimum readings in Ramgarh and Khunti hovered at 10.6°C.
Night temperatures hovered between 11°C and 14°C in Dhanbad, Hazaribagh, Simdega, West Singhbhum and Seraikela-Kharsawan.
Jamshedpur was a tad warmer at 15°C, three notches above normal, against 14.4°C on Tuesday.
"The Celsius is witnessing a sudden drop because of the free flow of northwesterly wind," S.D. Kotal, director of Ranchi Meteorological Centre, said.
He said the cooling effect would last for another 48 hours due to the dominating northwesterly winds. After 48-hours the wind pattern is expected to change to easterly, leading to moisture incursion in the atmosphere.
The forecast also ruled out the formation of cloud or any system over the Bay of Bengal for the next two days at least.
The regional Met centre in Alipore, Calcutta, said northwesterly winds were currently blowing over the state and they would continue to dominate for the next two days.
"Clear skies, characteristic of winter, and low humidity resulted in the Celsius plunge in Jharkhand," a duty officer at the Alipore Met centre said.