Helplines for home violence
The main issues were wives complaining that if they wanted their husbands to share housework, their husbands grew angry or violent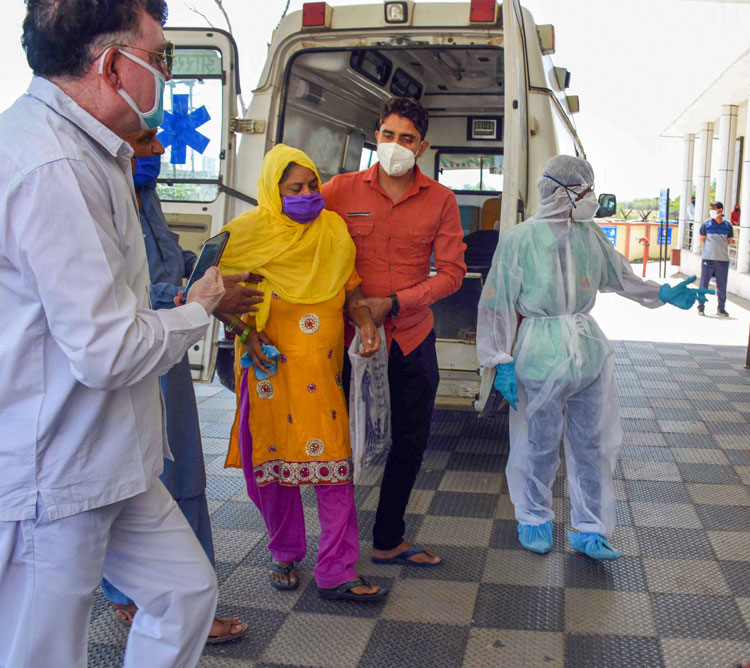 Medics shift a relative of a COVID-19 patient of Hindpirhi locality to the Integrated Corona Centre at RIMS in Ranchi on Monday
(PTI)
---
Ranchi
|
Published 08.04.20, 06:35 PM
|
---
Ranchi district administration on Tuesday night launched two helpline numbers to help couples sort out their differences, or give a complainant legal advice if needed, at a time marital disputes are on the rise in the capital with couples forced to stay home 24/7 during the lockdown.
Ranchi deputy commissioner Rai Mahimapat Ray said they had hired three law graduates who would be available from 10am to 7pm every day.
The two numbers are 995507955 and 9955589677.
"During the lockdown, it may be difficult for complainants to visit police station and they may call up for assistance. There may be people who are facing some problem but want to settle the dispute amicably. Conversely, many facing serious forms of domestic violence may need some kind of legal assistance and counselling. Our legal experts will help them," she said.
"People usually dial 100, a police helpline, if they are facing any problem. We have launched two exclusive numbers. If anybody is facing violence, abuse or distress at home during lockdown, and are looking for legal help or someone to talk to, please get in touch with us. This is basically a legal and counselling helpline," Ray said.
The Telegraph on April 5 had published a report, 'Lockdown key to warring spouses', highlighting how marital disputes had increased during the enforced home stay. The main issues were wives complaining that if they wanted their husbands to share housework, their husbands grew angry or violent.
Shreyashri Ray, who is coordinating the helpline system, however denied any exponential rise in complaints.
"We have analysed the complaints but the rise is not very alarming," Ray said. "However, we do see a psychological impact of the lockdown on behaviour among couples. But this is the period of crisis that we have to fight together. If there is peace in the family and people are responsible and have positive thoughts it will have positive impact on our fight against the coronavirus," she said.
She said they were in touch with the mahila police station which deals with the cases related to domestic disputes.