Ranchi has more Covid patients than dedicated beds in private hospitals
Around 2,500 of 3,665 in home isolation, claims state government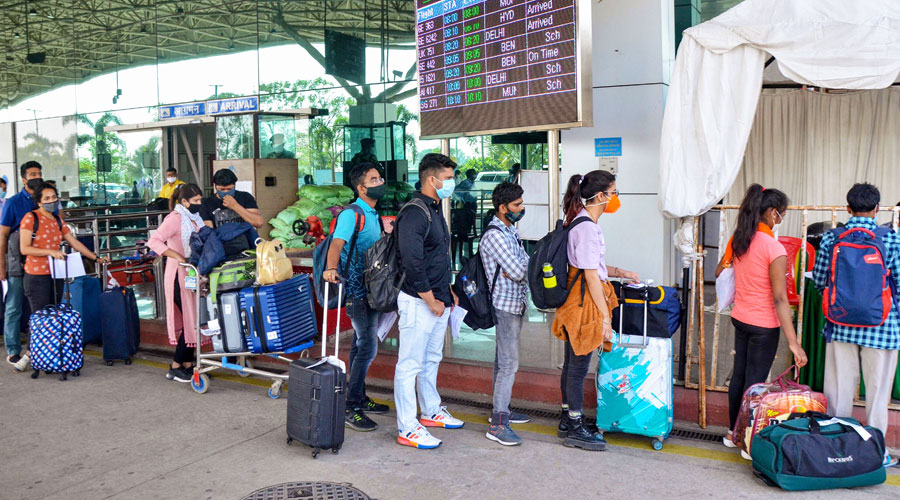 ---
|
Ranchi
|
Published 07.04.21, 08:05 PM
---
The lack of availability of dedicated Covid beds in private hospitals is haunting Ranchi at a time when cases of infection have skyrocketed here in the past fortnight.
While the government claims that many beds were lying vacant in hospitals, the owners of private hospitals beg to differ.
The number of Covid patients undergoing treatment in most of the private healthcare facilities in the state capital was higher than the number of beds assigned for Covid cases, hospital owners said on Wednesday, warning that a further increase in the count of Covid beds may make segregation of Covid and non-Covid patients difficult and create chaos.
Bhagwan Mahavir Medica Superspecialty Hospital, where most VIPs and politicians undergo treatment, had all of its 50 Covid beds occupied. It has had to turn away patients. "We have 50 Covid beds and all of them are occupied. Around 13 Covid patients are on ventilator, while one is on ECMO in our hospital," said Anil Kumar, the Assistant Vice President of Medica, Ranchi.
Kumar added that the last time there were fewer non-Covid patients in the hospital, so the hospital authorities could manage more beds for Covid patients. However, this time around, the number of non-Covid patients was also high, thereby leaving limited scope for increasing Covid beds.
Raj Hospital on MG Road was also dealing with a high demand for Covid beds. Yogesh Gambhir, the owner of the hospital, said that all Covid beds in the facility were occupied and there was limited scope of adding more Covid beds.
"We have 45 dedicated Covid beds and we are treating 50 patients. Similarly, there are four ventilators for Covid patients in our hospital, and at least nine Covid patients are on ventilator here," said Gambhir.
Gambhir, who is also president of the Association of Healthcare Providers of India (AHPI), said that most hospitals have reached a point where adding more Covid beds might affect non-Covid patients. Almost all Covid beds, he said, were occupied.
"Most private hospitals have as many Covid beds as they had during the last peak in 2020," added Gambhir.
As per latest figures released by the health department, there are 2115 dedicated Covid beds in Ranchi, including those in private hospitals. The number of active cases in the district, however, clearly outnumbers the Covid beds available. As per government data, there were 3,665 Covid patients in the district on Wednesday morning, and more than 2,500 of them were in home isolation.
As per records with the state health department, there were 1,211 beds without oxygen, 556 with oxygen, 348 ICU beds and 166 beds with ventilators for Covid patients in Ranchi. While only 215 of the 1,211 non-oxygen support beds were occupied, at least 442 of the 556 beds with oxygen support were occupied. At least 205 patients were in ICU, while 45 were on ventilators, highlights data with the health department.
Even though most Covid patients in the district were either asymptomatic or suffered from minor symptoms, many patients may not be able to meet the requirements for home isolation despite being asymptomatic, health officials said. As per the set protocol, patients are allowed to stay in home isolation only if they have a separate room, separate toilet, utensils and cooperative family members who are aware of the disease and how it spreads.
The government has also launched a 104 helpline number for counselling Covid patients in home isolation and providing them medical assistance in case of an emergency, health officials said. The health department has also appointed a deputy director rank official as the nodal officer for home isolated Covid patients.