Police are planning to launch a drive soon against the use of fancy number plates in Ranchi, perhaps for the first time in years.
A decision to this effect was taken on Thursday by traffic SP Ajit Peter Dungdung following complaints from various police stations about violators of traffic norms who cannot be prosecuted because their vehicles use fancy registration number plates that cannot be read by the automatic number plate recognition (APNR) cameras.
"As of now, APNR cameras are used only for red light violations while other violations, like riding two-wheelers without helmets, are monitored manually by traffic police. We have received complaints that those who use fancy number plates tend to take advantage of the fact that these number plates are difficult to read," Dungdung said, explaining the rationale for launching the drive.
Police sources said that out of every 10 vehicles, more than three use fancy number plates.
"Deciphering fancy number plates has been a problem for traffic policemen. Most users of such number plates are youths and teenagers. Even APNR cameras fail to read the fancy number plates. There is no other alternative but to launch a manual crack down at major roads and prosecute those using fancy number plates on the spot," said a DSP rank officer in the traffic department, adding that they would launch the drive from Republic Day.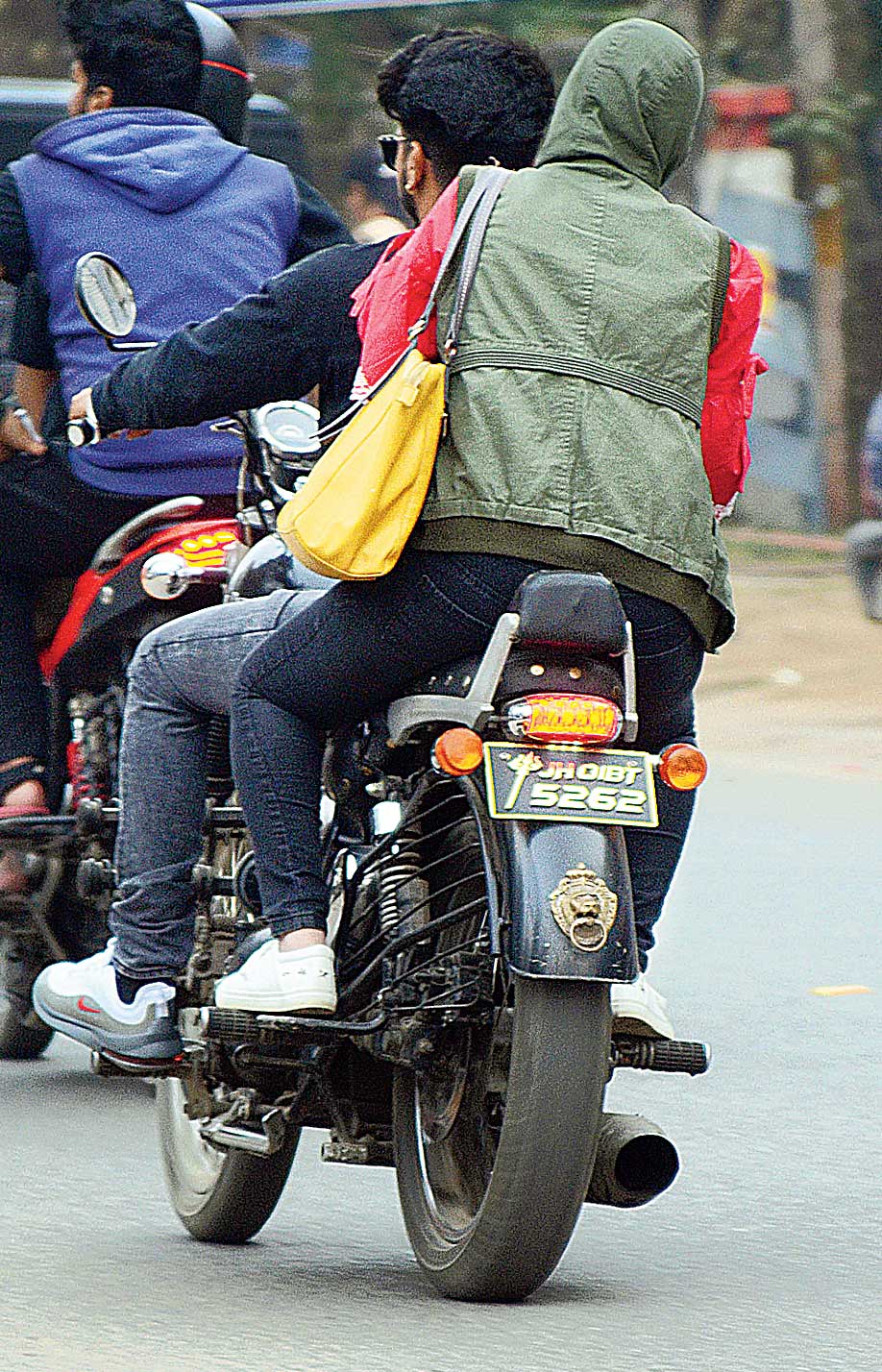 Fancy number plates on Main Road in Ranchi on Thursday. Picture by Manob Chowdhary
DSP traffic–II Ranjit Lakra admitted that a large number of bikes and four-wheelers used fancy number plates.
"There are a large number of vehicles that use fancy number plates and there is every chance of these being used in mishaps and crimes and escaping," he said.
As per the Motor Vehicles Act, letters and numerals on a number plate should be in black against white background for cars and two-wheelers, and black against a yellow background for commercial vehicles. Vehicles should also display number plates prominently in front and rear. The fine using fancy number plates is Rs 500.
Under Jharkhand police modernisation plans, automatic number plate recognition (APNR) cameras have been installed at 16 locations and offenders are being prosecuted for red light violation since January 1.
The APNR cameras can read the number on an offending vehicle which is then transmitted to a police control room where technicians scan them and automatically generate challans for payment of fines. The challan is then sent to the address of the car vehicle owner.
APNR cameras have been placed at Birsa Chowk, Ram Mandir Chowk on Kanke Road, Sujata Chowk, Jail Chowk, Argora Chowk, Chandni Chowk (Kanke Road), Sarjana Chowk, Karamtoli Chowk, Shahjanand Chowk, Hinoo Chowk, Kutchery Chowk, Booty More Chowk, Ratu Road Chowk, AG More Chowk, Siromtoli Chowk and Lalpur Chowk.