Puff ban stares at new deadline
Authorities missed the deadline of declaring Ranchi a smoking-free district on October 2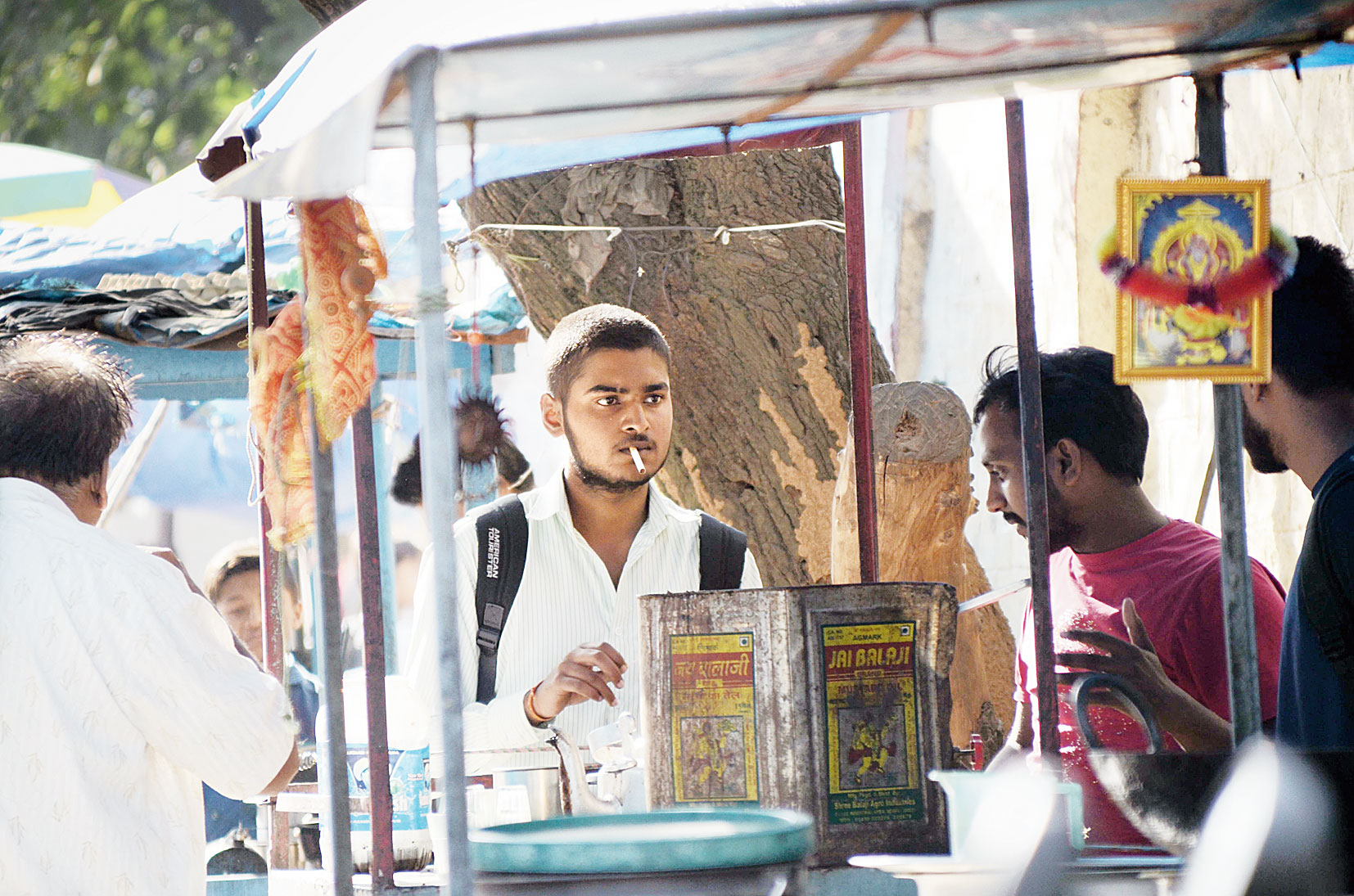 A student smokes outside St Xavier's College on Purulia Road in Ranchi on Thursday.
(Manob Chowdhary)
---
Ranchi
|
Published 05.10.18, 05:31 AM
|
---
Preoccupied with two high-profile visits — that of Prime Minister Narendra Modi and vice-president M. Venkaiah Naidu — and the launch of Ayushman Bharat health scheme, the authorities here missed their own deadline of declaring Ranchi a smoking-free district on October 2.
Now, the announcement has been rescheduled for November 15, the state's foundation day.
Deputy commissioner Rai Mahimapat Ray confirmed the same, but didn't elaborate why. "We had planned a programme on October 2 to reinforce the ban on smoking in public at block level. But, there were some technical difficulties. Now, the same will happen on November 15," he said.
The decision to make Ranchi puff-free was taken on the basis of a third-party field survey commissioned by the state in six districts — Ranchi, East Singhbhum (Jamshedpur), Bokaro, Hazaribagh (urban), Dhanbad and Ramgarh — between November 2016 and April this year. The survey had suggested 90 per cent compliance in rural and urban Ranchi.
On September 14, Ray had issued a circular to all BDOs and head of all district departments, among others, informing them that the ban on smoking in public would be strictly re-imposed from October 2.
It mentioned that all public places and government buildings must flaunt no-smoking signs along with the name and number of nodal officer in case someone wished to lodge a complaint against an offender.
Thrice-a-month drive at block level was made mandatory to enforce provisions of the Cigarettes and Other Tobacco Products Act (COTPA), 2003. The crackdown was supposed to be carried out jointly by police and block officials.
The district transport department was also asked to ensure all public vehicles displayed messages against smoking.
Insiders in the administration conceded that the entire focus quickly shifted to the Prime Minister who visited on September 23 and was followed by the vice-president on September 27.
"Officials at block level had little time to prepare for the anti-smoking campaign. Modiji launched Ayushman Bharat from Ranchi and the entire district was tasked to implement the scheme at grassroots level. It was a good decision to postpone the anti-smoking programme instead of beginning a half-baked drive," said an official.