Poor start to Diwali sales, Dhanbad traders don't expect improvement
Businessmen blame poor supply of products and a fall in confidence levels among consumers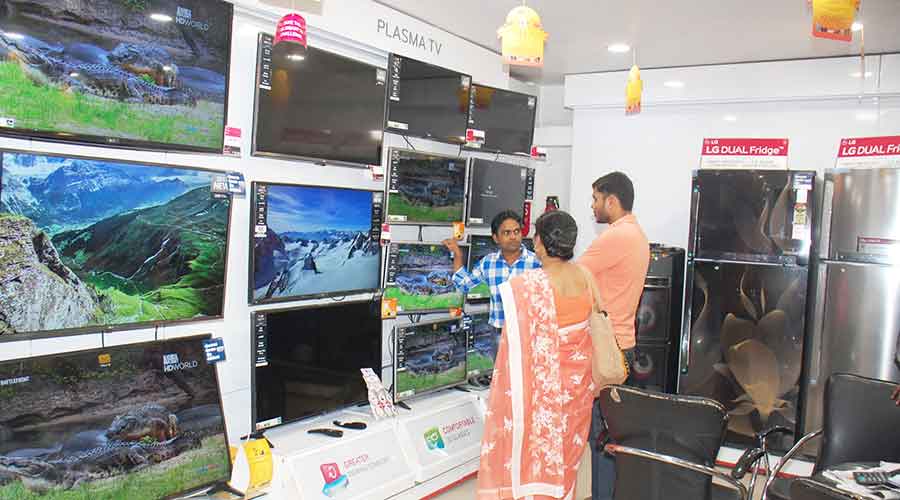 ---
|
Dhanbad
|
Published 28.10.20, 05:49 PM
---
The economy affected by the Covid induced lockdown has led to poor sales during the festive season.
After sluggish trade of garments and footwear during Dura Puja, Diwali sales have also taken a beating.
FMCG products and automobile sales mostly dominate the Diwali period. Lack of liquidity in the market, lesser supply of products and also lack of confidence among consumers are the main factors.
President of Jharia Chamber of Commerce, Amit Sahu who also owns Sahu Electronics said, "We are expecting sell to be less than 50% during this Diwali of usual sell of more than Rs 300 crore of last year as the market position in not good."
"Due to uncertainty in the market the shop keepers have also not added much of the new stock for the Diwali as majority of their old stocks are lying unsold and they are harping on clearing their old stocks instead of adding to new stock," added Sahu.
Echoing Sahu's sentiments, Rajesh Kumar Gupta, Patron of Federation of Dhanbad Zila Chamber of Commerce and Industry, said, "Diwali is primarily the festival of business class and traders but since the trader, shop keepers and business class are worst hit due to Covid we are expecting the business during Diwali to be affected this year."
"Though Dhanbad has large section of service class working with various Public Sector Units, private organization and central and state government institutions like BCCL, ECL, DVC, IIT (ISM), CIMFR, Tata Steel, IIT (ISM), CIMFR, SAIL, HURL, MPL who are largely unaffected due to lockdown but given the present scenario nobody is willing to spend money and rather insisting to save the same for any upcoming exigency in uncertain times," said Gupta.
Manish Kumar, manager of Great Eastern Trading outlet at Dhanbad said, "We are also getting lesser products from different manufacturers despite placing orders and reason might be the complete stalling of industrial activity during the initial phase and lack of complete revival of industrial production due to lack of availability of labourers etc during lockdown."