Poll drum beats across cities
Barb-fest livens up day of nomination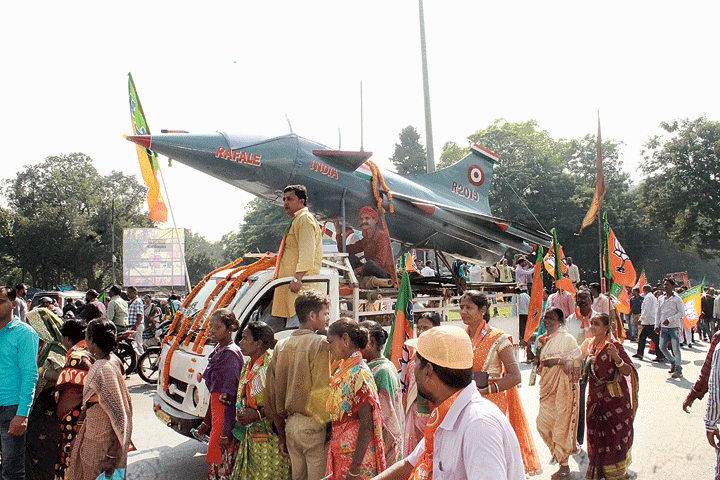 A model of the Rafale jet during CM Raghubar Das's rally near the district collectorate in Jamshedpur on Monday,
Picture by Bhola Prasad & Prashant Mitra
---
Jamshedpur
|
Published 18.11.19, 08:35 PM
|
---
Chief minister Raghubar Das and his rival Saryu Roy on Monday filed their nominations here on Monday for Jamshedpur East in the most stunning face-off this Assembly polls.
Das and Roy were among the 56 candidates who filed their papers from six Assembly seats, those Jamshedpur East, Jamshedpur West, Potka, Jugsalai at the collectorate in Jamshedpur, and those from Ghatshila and Baharagora at the Ghatshila subdivisional office. The last day to file nominations for the second phase of elections, December 7, was replete with displays of power and caustic barbs, The Telegraph found out.
Raghubar's Rafale
CM Das, who is having to defend his five-time seat from his own former party and cabinet colleague, took out a rally from Agrico Transport Ground to the district collectorate with thousands of followers, a wave of BJP flags and, the showstopper, a model of a Rafale jet to showcase the recent Supreme Court judgment dismissing the review petitions on the deal. "I will win by a margin of one lakh votes from Jamshedpur East and the BJP will form government on its own by winning over 65 seats," Das said. "There will be no impact of Ajsu. In the last five years, there has not been a single scam," he added.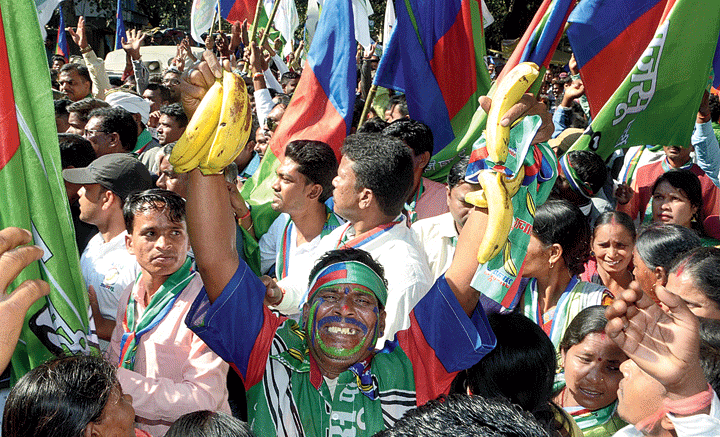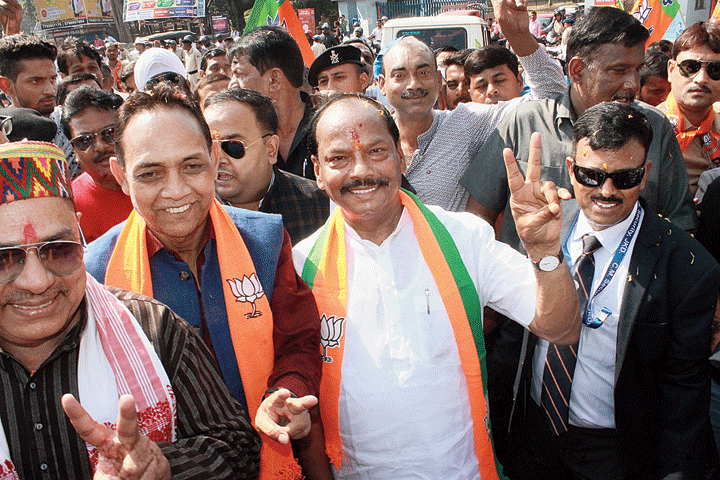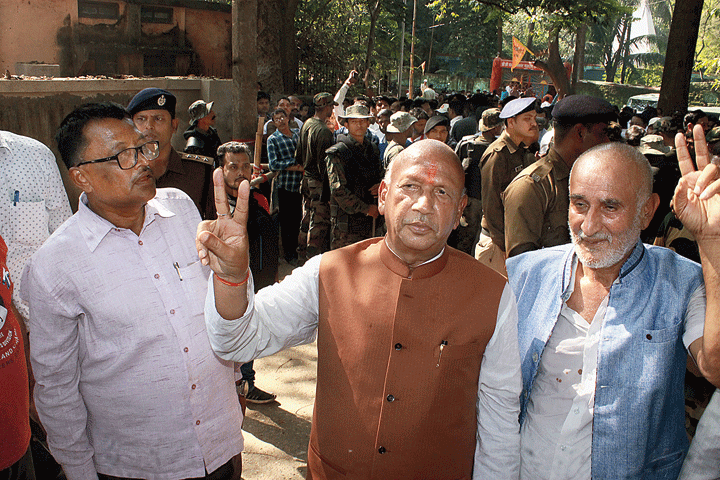 Slum ownership
On his vote plank, land ownership rights to dwellers of 86 urban slums in Jamshedpur, Das said: "We tried to give urban slum dwellers holdings on lease. There can be no comparison between Delhi and Jamshedpur on this issue. Delhi does not face CNT hurdles."
Roy, in a bid to wrest Das's plank, said: "I will try to remind the central government that if ownership rights can be given to urban slum dwellers in Delhi why not in Jamshedpur? I assure voters in Jamshedpur East that demolition of settlements without rehab won't be allowed. If needed, we will meet our PM."
Saryu stirs up lather
Two-times Jamshedpur West MLA Saryu Roy, a whistleblower in the fodder and mining scams, took out a rally from Sakchi's Bodhi Mandir to the collectorate to file his papers to challenge Das as an Independent from the latter's seat. Roy's followers chanted: "Saryu tumse bair nahin, Raghubar teri khair nahin (We have nothing against Saryu, bad days are coming for Raghubar)." Taking a dig at Das, believed to be instrumental in not giving Roy a BJP ticket this time, Roy said, "Raghubar's daag (blot) has tarnished the saffron of BJP. It cannot be cleansed by Modi detergent and Shah laundry. I can see strong resentment among people against him."
Congress factor
Gourav Vallabh, former XLRI Jamshedpur professor and Congress national spokesperson Gourav Vallabh on Monday bowed before the idol of Birsa Munda at Birsanagar and addressed a rally at Aam Bagan in Sakchi before walking to the collectorate to file his papers for the heavyweight constituency Jamshedpur East. Except Congress district president Vijay Khan, no senior Congress leader was with him. But Vallabh put on a brave face. "We have seen companies such as Incab, Agrico and Tata Hitachi shutting shop in Raghubar Das's constituency but our CM claims to fly the elephant," said the former professor, alluding to the flying elephant mascot of Jharkhand's much-hyped investment summit in Ranchi in 2017. "From Tuesday, we will ask 11 questions in 11 days to the CM." On Roy, he said: "No point accusing a party after serving as minister for five years."
Silli goes bananas
Ajsu Party chief Sudesh Mahto filed his nomination from Silli on Monday, his supporters coming with bananas, the party symbol. Others who filed their papers on Monday were Tulsi Oraon (Khijri, Independent), three from Hatia, including Congressman Ajay Nath Sahdeo, 15 from Mandar including BJP's Dev Kumar Dhan, filed papers on Monday.