Poll dates out, publicity out
Sportspersons, model to inspire GENEXT voters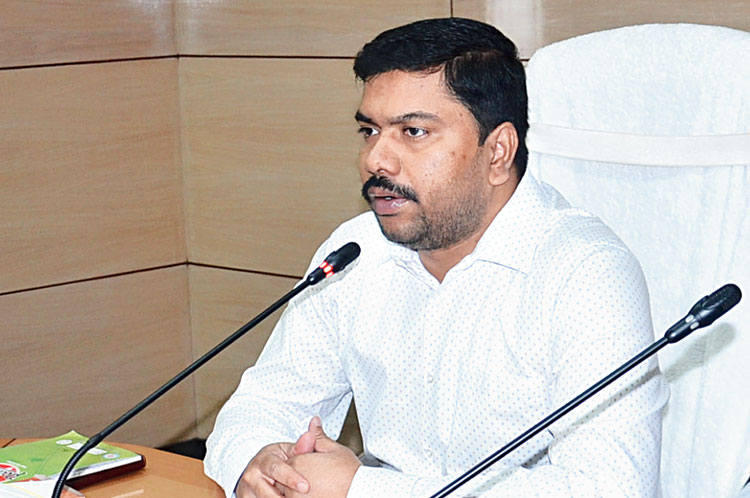 ---
|
Dhanbad
|
Published 12.03.19, 09:10 AM
---
All publicity materials must do the vanishing act now that Lok Sabha poll dates are out, Dhanbad DC Anjaneyulu Dodde said.
As the model code of conduct came into force from Sunday evening with the announcement of poll dates, Dhanbad DC met representatives of political parties on Monday asking them to adhere to the code.
Like everywhere else, directives have been issued to all police stations to take action against party functionaries if their banners, flags or posters are not removed from government offices, public places and private property within 24 hours, 48 hours and 72 hours, respectively.
The DC instructed the representatives to withdraw all banners, posters, pamphlets and publicity materials within stipulated deadline from government offices and other public places, failing which an FIR would be lodged against the district president of the party concerned.
The DC clarified that use of official vehicles by candidates and political leaders would be banned during campaigning, and meetings and rallies could be held only after taking the SDO's permission in advance in order to avoid a clash of routes or venues. He also warned against anyone travelling with cash more than Rs 50,000 without proper documents signifying end use or prior permission.
Lok Sabha polls are scheduled in Dhanbad along with Giridih, Jamshedpur and Singhbhum seats on May 12 for which notification will be issued on April 16 and nominations will be filed between April 16 and 23. Scrutiny of nomination papers would be held on April 24. If a candidate chooses to withdraw, he or she can by April 26. Counting, like elsewhere in India, will be held on May 23.
Dhanbad LS constituency comprises six Assembly constituencies, four in Dhanbad district and two in Bokaro. Sindri, Nirsa, Dhanbad and Jharia fall under Dhanbad and Chandankyari and Bokaro under Bokaro. The constituency has 20,44,802 voters, of which the bulk, or 11,09,541, women. Cricketer Shahbaz Nadeem, model Nidhi Jaiswal and specially abled sportsman Goverdhan Rajak had been roped in as youth icons to inspire youngsters and others to vote, the DC added.
Dhanbad parliamentary seat will have 3,363 booths, including 10 pink or all-woman sakhi and 43 model ones. All booths are supposed to have basic amenities for voters.