Onion prices may cross Rs 50 a kg, fear traders
Rain damaged crops in Andhra, Karnataka forcing farmers to sell high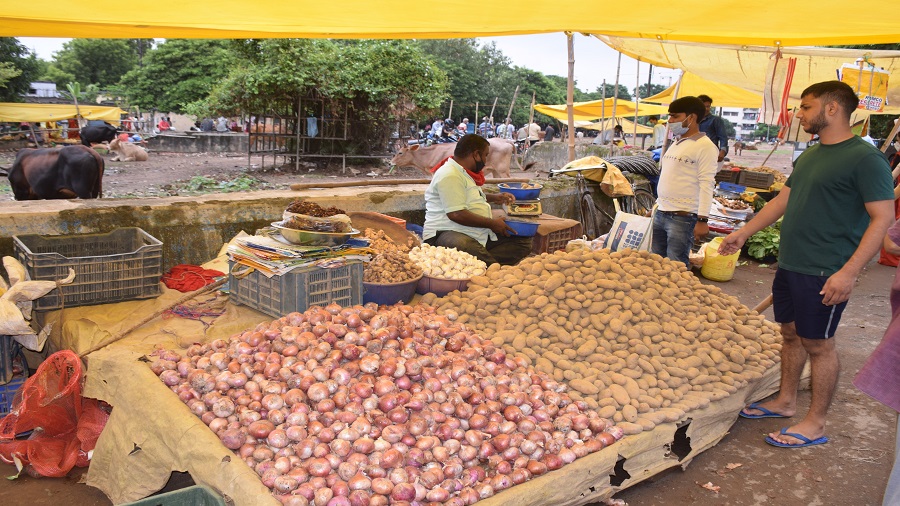 ---
---
After potato and green vegetables, onion prices are now pinching consumer pockets.
For the last couple of days retail vendors in Ranchi and Jamshedpur are selling onions at anywhere between Rs 35 and Rs 40 a kg depending on the quality. Coal town Dhanbad too is buying this key kitchen ingredient for Rs 38 a kg.
Traders in Jamshedpur believe the tear-jerker crop would cross the Rs 50 mark and stay out of reach till October-end when the new crop arrives.
"Onion production in Andhra Pradesh and Karnataka was badly hit this year due to heavy rains which has damaged crops. Farmers themselves are selling at a very high rate. How can you expect a price buffer so soon?" said Ranganath, an onion dealer at Sakchi.
Pritam Sahu, a wholesaler in Ranchi, said: "The rate would come down only after fresh stocks arrive by the end of October." He said onions, which sold at Rs 20 a kg in the retail market even a week ago, was now dearer at Rs 35 a kg in most markets of the state capital.
In the steel city, Dhanbad and Bokaro onions were being sold at anywhere between Rs 20 and Rs 22 earlier this week, while pushcart vendors in some pockets are flaunting a price tag of more than Rs 40 a kg.
Sources at Parsudih-based Krishi Utpad Bazaar Samiti (KUBS) said currently onions in most places across the state were supplied from Nashik and Pune. For the last three to four days five trucks have been carrying the consignment from Nashik and other districts of Maharashtra to Jamshedpur. Each truck carries around 25 tonne of onions.
A wholesale dealer of onions, Rupesh Kumar Saw of Bistupur market, ruled out hoarding by dealers. "Whatever consignment is coming is getting consumed. Neither there is artificial hoarding nor scarcity. The retailers are to be blamed for jacking up the price, " he said
The Union government recently issued a notification banning the export of onions. The trigger for this move was that the wholesale and retail price of onion was witnessing a steady increase.
A wholesale onion dealer at Sakchi said, "If the ban on export of onions would not have been imposed, by now the prices would have crossed Rs 60 per kg."
Homemakers are crying hoarse over the unfair deal and reluctantly making compromises in the kitchen.