NGO moves PM Modi to seek complete ban on tobacco products
The letter informs that pan masala industry is advertising with malicious intent to promote the sale of their products through film stars to woo gullible consumers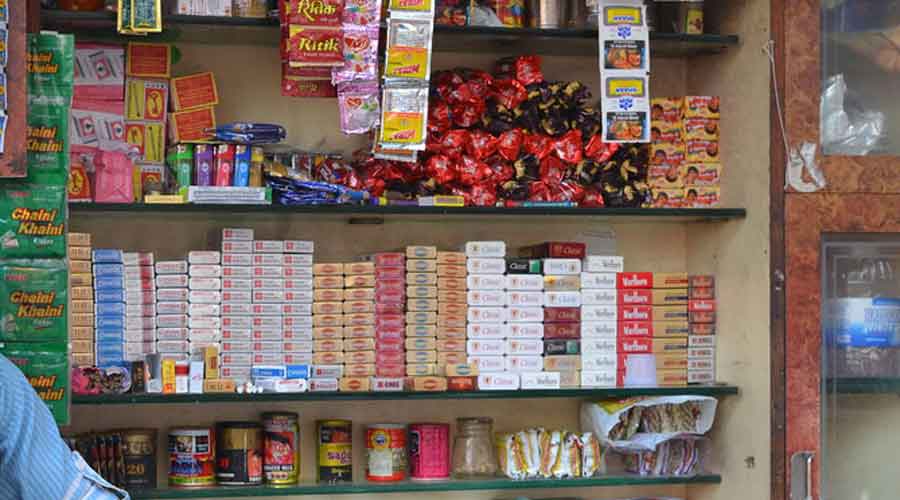 The letter cites the illegal trade of pan masala and SLT causing loss of revenues worth crores of rupees to the government annually.
File photo
---
Jamshedpur
|
Published 06.02.22, 01:33 AM
|
---
Socio-Economic and Educational Development Society (SEEDS), an NGO partnering Jharkhand and Bihar in tobacco control measures, has moved Prime Minister Narendra Modi to seek a complete ban on pan masalas and smokeless tobacco products after taking a cue from Jharkhand.
SEEDS executive director Deepak Mishra in a letter to the Prime Minister on January 27 and released to the media on Saturday, informed about the prohibition on the manufacture, storage, distribution, and sale of 11 brands of packaged and unpackaged pan masala in Jharkhand since May 2020.
"Every year in India more than 13.5 lakhs die due to tobacco use. According to the Global Adult Tobacco Survey Report 2017 (GATS 2), about 270 million people are using tobacco in India, of which 200 million are using (SLT) products, including flavoured tobacco, gutka and pan masala.
"Tobacco consumption is a big challenge to the productivity and economy of the country. According to cancer experts, about 90 per cent of oral cancer occurs in people who smoke tobacco. There has been demand for a complete ban on industries manufacturing pan masalas, gutkas and SLT in the country," the letter states.
The letter informs that the pan masala industry is advertising with malicious intent to promote the sale of their products through film stars to woo gullible consumers.
"The Bihar and Jharkhand governments had got samples of different brands of pan masala tested, in which magnesium carbonate and nicotine were found to be harmful chemicals. Both the state governments had written a letter to the Union health ministry urging them to ban the above pan masala brands while imposing a ban on it in their respective states," the letter informs.
The letter also cites the illegal trade of pan masala and SLT causing loss of revenues worth crores of rupees to the government annually.
"The tobacco industry is causing loss of revenues of crores of rupees to the government every year through tax evasion. The answer of the Union finance minister on a question asked in Parliament on February 8, 2021 states tax evasion of Rs 100 crores or more is being done by about 20 companies in the tobacco industry. There is a large scale illegal and unaccounted trade of tobacco products especially pan masala and SLT products."
The letter also points out recent raids by the Directorate General of GST Intelligence (DGGI) in Kanpur and Kannauj in Uttar Pradesh, which led to the recovery of billions of rupees unaccounted for from the traders of pan masala and other tobacco products.
Both Bihar and Jharkhand have seen a massive decline in the number of tobacco users because of the grassroots campaigns advanced, advocated and implemented by SEEDS.
Data of the Global Adult Tobacco Survey (GATS 2017) suggest that Bihar has reduced its number of tobacco users from 53.5 per cent to 25.9 per cent in the last eight years while the number has come down from 50.1 per cent to 38.9 per cent in Jharkhand.