Mohan Ahuja Stadium in Bistupur cries for attention, shuttlers suffer
Slippery wooden floors, weak pillars and plaster peeling off from walls paint a sorry sight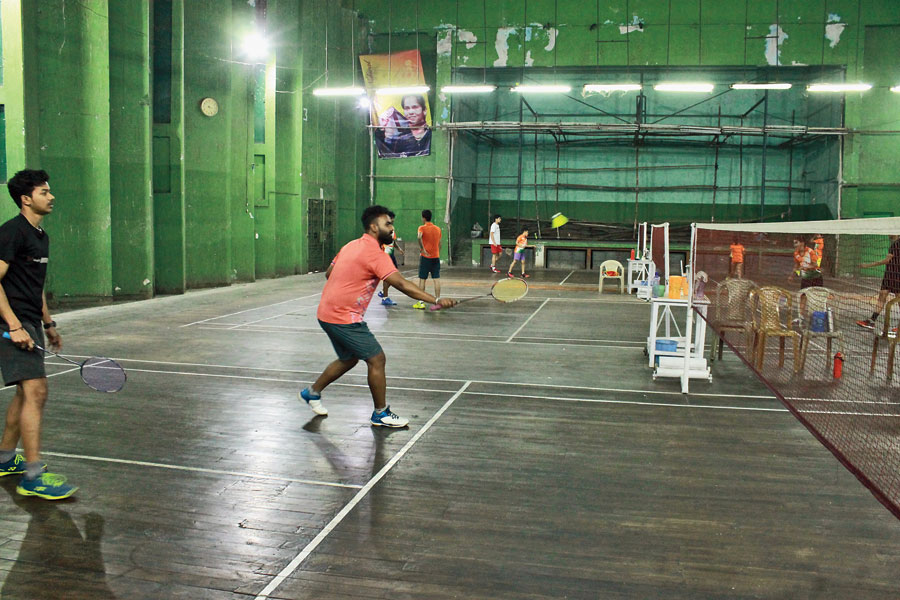 Shuttlers practise at Mohan Ahuja Stadium in Bistupur, Jamshedpur on Saturday.
Picture by Bhola Prasad
---
Jamshedpur
|
Published 22.02.20, 07:20 PM
|
---
The landmark Mohan Ahuja Stadium in Bistupur, which looks worn out in the absence of maintenance, is gradually falling out of favour with badminton players.
The five-decade-old stadium, which has hosted national-level championships, now paints a sorry picture with slippery wooden floors, weak pillars and plaster peeling off from walls.
Trainee shuttlers have started to avoid the stadium because of the pathetic state of affairs.
"The Mohan Ahuja Stadium is not fit for training purpose. The facilities are far from satisfactory. I don't want to risk injury by playing on slippery courts," an aspiring shuttler said.
Most badminton players, who continue to train at the stadium, expressed similar concerns.
"The lighting arrangement is not up to the mark. The entire structure of the stadium has become very weak. I am going to quit training in a day or two," another trainee shuttler said.
The origin of the whole problem is the legal tussle between Tata Steel and Jharkhand Badminton Association (JBA), which is still sub-judice.
Tata Steel, which owns the stadium, had in September 2014 asked JBA to vacate it. But the JBA filed a title suit against Tata Steel at the local court with the plea that the venue had been leased out to it till December 2017.
In 2018, Tata Steel Utilities and Infrastructure Services Limited (erstwhile Jusco) disconnected electricity supply to the stadium for pending dues amounting to over Rs 50 lakh.
The JBA filed a case against Tata Steel Utilities and Infrastructure Services Ltd (formerly Jusco) deputy general manager (electrical) Manmohan Singh for illegally disconnecting power supply under the alleged influence of some of his "friends" who had a grudge against the shuttle outfit.
The JBA had also filed a defamation case against Singh.
The JBA has filed a case against the utility major in the local court.
With both parties not inclined to budge an inch, the aspiring shuttlers are paying a heavy price.
The number of outstation trainees who used to hone their skills at Shuttle Zone run by national coach Sachin Kumar Rana at the stadium has come down.
Similar is the case with local players .
"Training is a continuous process, but we conduct only two sessions. We are managing electricity via generators. However, we are rolling with the punches because we don't want to dent the career prospects of our shuttlers," JBA secretary K. Prabhakar Rao.
The JBA is keen to repair the court and lay three more courts on a vacant space on the stadium premises.
The state shuttle outfit also plans to set up a gymnasium, but it will make no headway till the court disposes of the case.