Mahendra Singh Dhoni's organic farming stint
Before IPL, Dhoni grows watermelons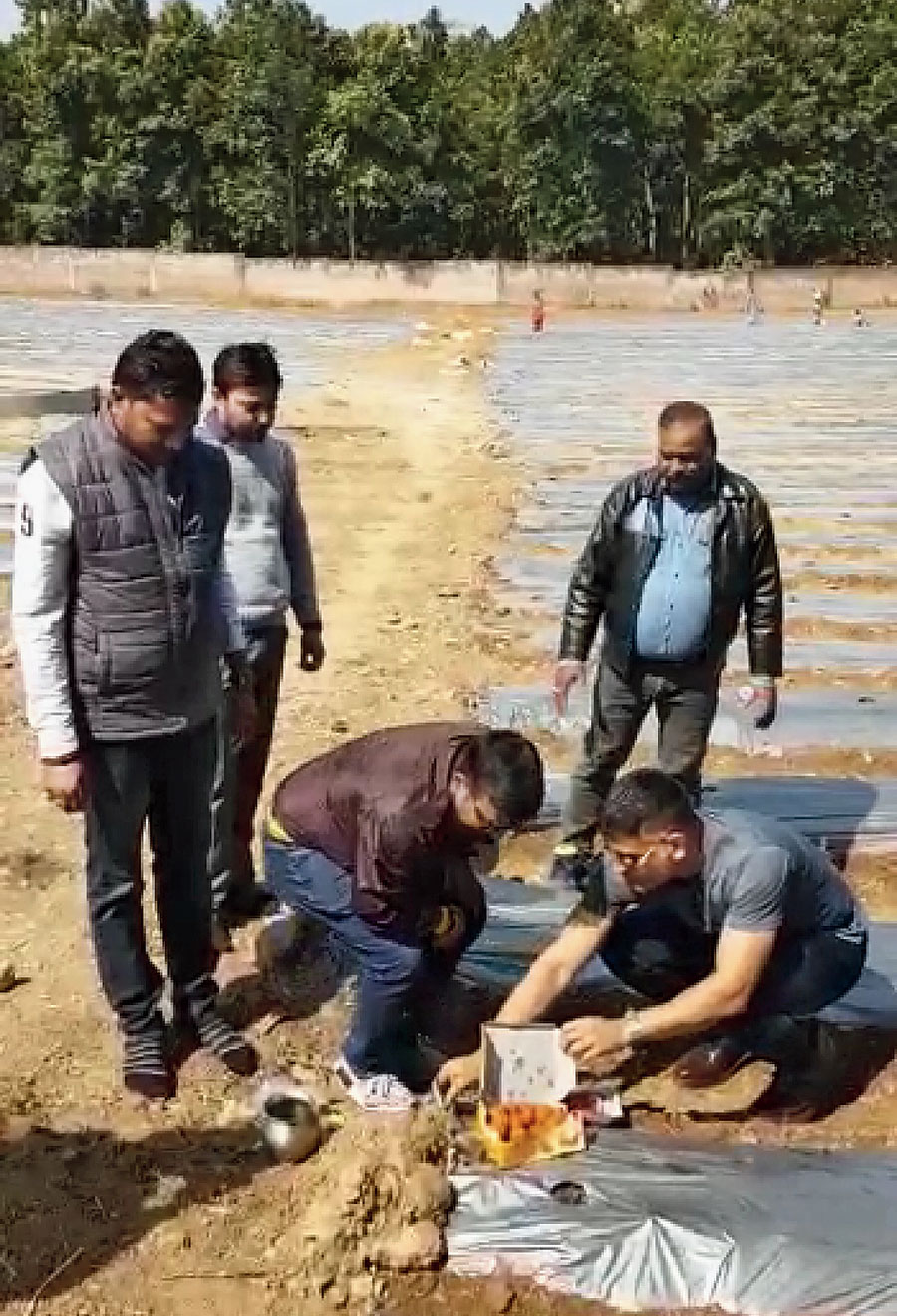 ---
|
Ranchi
|
Published 27.02.20, 06:54 PM
---
Helicopter shots or watermelon seeds, Captain Cool knows how to swing both.
Jharkhand's biggest celebrity Mahendra Singh Dhoni, currently on a sabbatical, is now trying his hand at farming, a 2.03 minute video shared by the charismatic Dhoni on his Facebook account on Wednesday at 7.35pm showed.
"Start of organic farming of watermelon in Ranchi followed by papaya in 20 days' time. First time so very excited," Dhoni wrote, sharing the video in which he and some of his close friends are shown sowing seeds after performing puja with incense and the breaking of a coconut.
A resident of Simalia, where Dhoni now lives in a sprawling campus, having shifted from his Harmu residence, said the cricketer was very fond of farming.
Till 4.30pm on Thursday as many as 3,100 people shared the post and 2,200 people commented on it. As many as 82,000 people liked the post.
Shambhu Nath Mishra, who is chief technical officer of the Institute of Forest Productivity in Ranchi, commented it was a great initiative. He dwelt at length on the goodness of organic farming. "It reduces pollution, improve water conservation, reduces soil erosion, increases soil fertility and saves energy. Farming without pesticides is life saving for nearby birds and animals as well as people who live close to farms. It is a great initiative towards fighting the effects of global warming," Mishra said.
Quoting research from the Rodale Institute, US, Mishra said: "If only 10,000 medium-sized farms in the US converted to organic production…it would be… equivalent to taking 1,174,400 cars off the road, or reducing car miles by 14.62 billion miles." He thanked Dhoni for going green.
A Chennai resident Chandra Mohan Reddy, who identified himself as a farmer's son, also supported Dhoni for taking up organic farming but objected to his "wearing boots" on the farm.
Soon after the 2019 World Cup, where India exited after losing the semi-final to New Zealand in Manchester, speculation about Dhoni's retirement did the rounds. His exclusion from BCCI's central contracts list added fuel to the fire, but Dhoni has not spoken about it. Last year, Dhoni also did a brief stint in the Indian Army.
Dhoni will captain the Chennai Super Kings (CSK) outfit in the IPL starting March 29. The first match of the tournament will be played between Chennai and Rohit Sharma's Mumbai Indians. Dhoni is expected to be seen in Chennai's training camp from March 2.