Left parties back farmers, plan road blockade in Jharkhand
Block level protests on Saturday, candlelight vigil followed by chakka-jam on December 10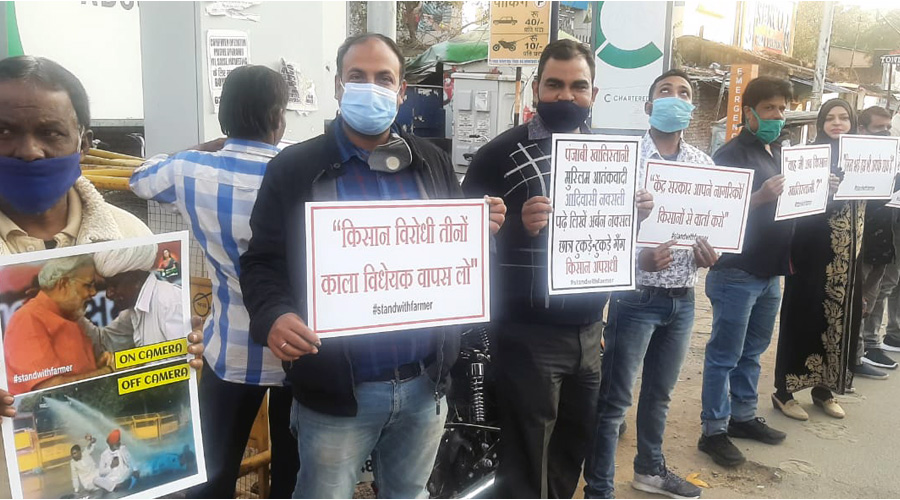 ---
|
Ranchi
|
Published 03.12.20, 05:30 PM
---
Left parties and social groups linked to them have announced statewide road blockades on December 10 in solidarity with protesting farmers, who are camping on the borders of Delhi in support of their demand to repeal the new farm laws enacted by the Narendra Modi government.
As a prelude to the December 10 blockade, Left parties will also hold candlelight processions across district and block levels. Days earlier, on December 5, they will hold block-level demonstrations.
A decision to this effect was taken at a joint meeting, held between representatives of CPI, CPM, CPI (M-L), Marxists Coordination Committee (MCC) on Wednesday, CPM state secretary Prakash Viplav said in a statement on Thursday.
He claimed members of the ruling coalition, namely, JMM, Congress and RJD, would also support the protests.
Viplav called the new farm laws pro-capitalist and anti-farmer. "The farm and labour laws brought by the government are totally pro-capitalist, no wonder the Modi government tries to justify its stand. If farm laws are for the farmers, why are so many farmers on the streets?" he said, adding that the country was united against privatisation of farmland.
"In solidarity with lakhs of protesting farmers, we have also decided to hold chakka-jam on December 10. However, throughout this week, different groups will be staging demonstrations and marches across the state in the run-up to the statewide chakka-jam," he said.
CPI state secretary B.P. Mehta said that the way farmers were beaten up during the protest showed how nervous the Union government was. "We condemn such attacks on farmers," he said.
The state's ruling coalition government, headed by Hemant Soren, has already expressed his views on the legislations by calling them black laws. Reacting to the ongoing protests by farmers in Delhi, Hemant told reporters that he felt sorry for annadatas. "Those who feed the country and are considered as the main drivers of the nation's economy are today forced to fend for their rights on streets. In the current regime at the Centre, farmers, marginalised, labourers and the likes are constantly under threat," he said.