Jharkhand: Tribal scholar gets Padma Shri posthumously
Giridhari Ram Ganjhu died without getting bed in any hospital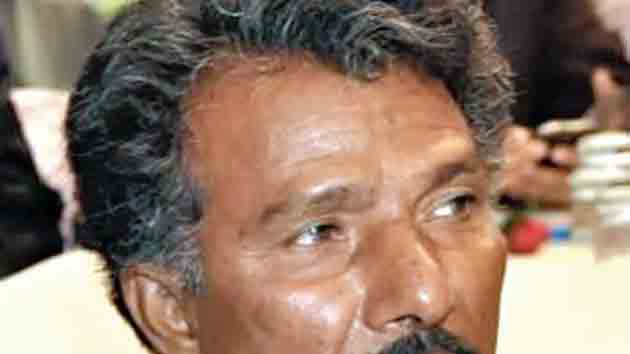 Giridhari Ram Ganjhu
The Telegraph Picture
---
Ranchi
|
Published 10.02.22, 01:38 AM
|
---
He didn't get a bed in any hospital and died without medical attention in Jharkhand capital last year and the Union government decided to recognise his scholastic work by conferring Padma Shri on him this year. 
The family of Giridhari Ram Ganjhu, former head of the tribal and regional languages department of Ranchi University who would be the sole recipient of a Padma award, albeit posthumously, from Jharkhand still finds it difficult to accept these two contradictory experiences. 
"We took him to as many as nine private hospitals in Ranchi since morning on April 15 last year but all refused a bed, insisting production of a negative Covid-19 report, that too through RT-PCR test only," informed his son Gyanottam who teaches at a high school in Khunti, adding they were also denied an ambulance on the same ground. 
"Getting a RT-PCR test done easily was impossible then as it would take at least 3 days those days," he further informed while speaking to The Telegraph, adding that was why they took their father to one hospital after another as his younger brother, Vivek, drove their car. 
"Though it was too crowded, we also thought of taking him to the state-run Rajendra Institute of Medical Sciences (RIMS) when we didn't get a bed in any of those nine hospitals we had approached but papa asked us to take him home instead, citing the case of his friend who had died there a few days ago," he said.
A friendly doctor who examined Ganjhu, however, advised them to take him to RIMS in an ambulance so that he would be admitted as a patient needing emergency care, he added. They then got a rapid antigen test done by a local laboratory that turned a negative result and convinced an ambulance driver to take them to RIMS.
"But when we finally reached RIMS in late afternoon, the doctors declared my father dead on arrival," Gyanottam informed, adding they would never forget the helplessness they experienced that day. "My father used to take medicines as he had gathiya (rheumatism) and use to have cough and cold occasionally," he informed when asked about Ganjhu's health condition, adding he had also suffered from pneumonia once in the past.
"But we desperately wanted to hospitalise him as he developed breathing trouble that morning," he further said. Ganjhu was an acclaimed writer and an expert on Nagpuri language and authored about 25 books including a play on the Oxford educated Marang Gomke (great leader) Jaipal Singh.
"He was entrusted by Ranchi University to make about 40 audio-visual episodes on the local art and culture as a part of an UGC project which he did very sincerely, so much that a draft episode was accepted within hours of submission," informed Hindi and Kurukh writer Mahadev Toppo who was also involved in the same project. 
In recognition of his scholarly contributions, the Union government recently announced Ganjhu would be posthumously awarded Padma Shri this year.