Jharkhand steps up plastic policing at picnic spots
Police to help in drive against picnic litterbugs, banned items to be seized at entry points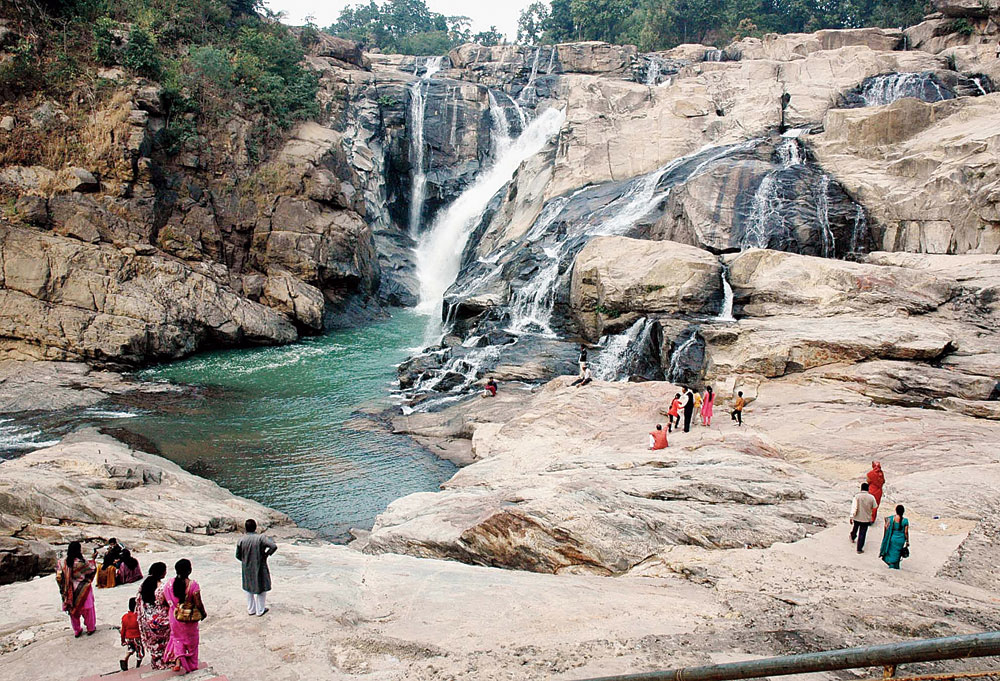 Save nature: Plastic or thermocol plates and cups are banned at Dassam Falls, 40km from capital Ranchi
Telegraph picture
---
Jamshedpur
|
Published 17.12.18, 06:35 PM
|
---
The state tourism department wants picnic spots in and around the capital to remain free of plastic and has decided to involve law enforcement officers to ensure efforts of paryatak mitras to ensure the same do not end up being perfunctory.
Between Xmas and New Year, waterfalls, dams and lakes near Ranchi become powerful crowd magnets with the daily average footfall touching 55,000. Most visitors come equipped with picnicking paraphernalia, including plastic or thermocol plates and cups. These non-biodegradable items are usually discarded on the spot after use and make their way into the water bodies.
"We are in talks with DSP-rank officers and local police stations to intensify vigil against plastic and thermocol items. Paryatak mitras, aided by policemen, will seize all such items at the entry point," said Rajiv Ranjan, general manager, Jharkhand Tourism Development Corporation (JTDC).
The hot spots under lens include Dassam Falls (40km from Ranchi on way to Jamshedpur), Jonha Falls (35km from here on Ranchi-Purulia highway in Angara block), Hundru Falls (45km away on Ranchi-Purulia highway in Sikidiri), Hatia Dam (15km from Ranchi) and Kanke Dam (10km away in Gonda). More than 93 paryatak mitras man the six waterfalls in and around Ranchi.
The JTDC is also hosting nukkad nataks (street plays) to generate awareness on why plastic and thermocol are hazardous for the ecology.
"Students from the Indian Institute of Hotel Management, Bhubaneswar, are helping us in the play project. While plastic will be dumped in bins after being seized, thermocol items will be returned when one leaves the spot. We will offer leaf plates free of cost for use in picnics," said JTDC deputy general manager Alok Prasad.
Insiders in the department conceded that the practice of making paryatak mitras alone persuade visitors not to litter picnic spots with plastic had failed to yield desired results in the past.
"The tourist guides could only request visitors not to use plastic or thermocol, but in the absence of police, there was no one to enforce the rule. This time, men in uniform will be present. There will be static and patrol units to ensure plastic doesn't enter the hot spots," a tourism official said.
Critics said introducing spot fines for those defying the ban on plastic might be a good idea too.
"Police vigil is a welcome step, but a checking drive alone may not serve the purpose. If someone manages to sneak in plastic despite the watch, there should be provision for penalty, which will deter others from breaking the law," said environmentalist and geologist Nitish Priyadarshi.